It is a difficult question to answer. This problem will remain with us for a very long time because we are the only major nation whose elite speaks a language that is a foreign tongue, says Aakar Patel.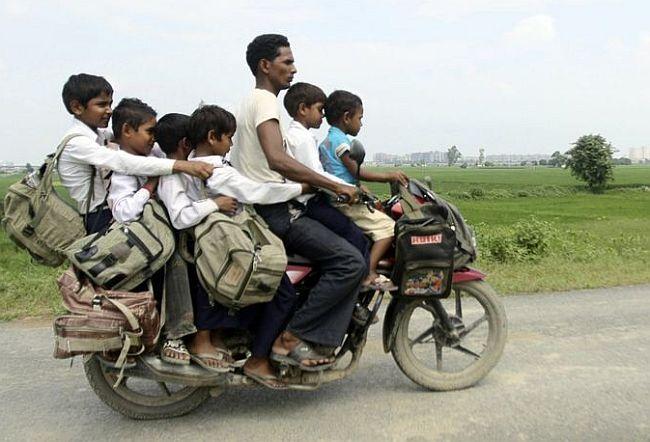 The question 'which language India's children should be schooled in?' is not an easy one to answer. Some years ago, when he was still chief minister of Gujarat, Narendra Modi told me what his solution was to this problem, and I will tell you what he said.
I am writing about this because of four stories that have appeared in recent days. One is from Goa where the Rashtriya Swayamsevak Sangh's state chief has been sacked for opposing Goa's BJP government.
The local RSS unit opposed State financial support to English-medium primary schools in Goa. Specifically, it wants grants to 127 English medium schools, which are run by a church body, stopped. Before it won the Goa elections, the BJP had also insisted on Konkani and Marathi as the medium of instruction in the state. But after winning, it has gone soft on the issue because it feels it is not practical.
The BJP realised the issue is a complicated one with no clear answer. The question of language in schooling has been debated from before independence.
Rabindranath Tagore and Gandhi were of the view that schooling should be in the mother tongue. Tagore in particular felt that India's children would not be able to develop their artistic talent and sensibility if they were schooled in a foreign language.
Gandhi had, I think, more patriotic reasons for taking the same line.
On the other side of the debate were Nehru and Gujarat's scholar-politician KM Munshi. These two did not reject what Tagore and Gandhi said but were concerned about losing the benefits English had given India. These benefits included access to the knowledge of the outside world and a modern legal framework.
All four of these men were bilingual and so they could appreciate the issue from both sides. Where they ultimately stood was based on their priorities.
The second news story connected to this was from Bhopal's Atal Bihari Vajpayee Hindi Vishwavidyalalya. This Hindi-only university is struggling to attract students for its courses. A report said that this was particularly true for the engineering course.
The students' apprehensions were that they would not get jobs with such a degree. And they also were worried about taking a course taught where the engineering terms would be newly coined Hindi words replacing basic English engineering terms they were already familiar with. Because of this only a dozen students have applied for the 90 seats that are available in Nagar (Civil), Vaidyut (Electrical) and Yantrik (Mechanical) streams this year.
However, the university was not discouraged. 'Even if we get just one student, we are committed to starting the course from this year. We are swimming against the tide. English took root 250 years ago, Hindi will require a few years to catch up,' ABVHV vice-chancellor, Prof Mohanlal Chheepa, was quoted by Indian Express as saying.
The third report was about the lack of published laws in Hindi. All legislation is supposed to be passed in English with the Hindi translation. There were approximately 200 Indian laws related to environmental protection in India, according to a report in The Hindu. 'All these acts and rules are available online, including on the new digitised The Gazette of India website that allows you to comfortably search for any law. But only in English,' the report said.
One reason could possibly be the same one that affects the Hindi engineering course. People are familiar with technical terms in English and it is only confusing to change what is already familiar and accessible. Another may also be a lack of demand.
The fourth story is of a boy in Bihar, who has written to Narendra Modi complaining about the poor condition of government schools in his state and urged him to make English a compulsory subject. The boy wrote: 'My father does not earn much and so we had to do our primary education from a government school in Bihar. I urge you to request the Bihar government for English teaching from Class 1, as without it students have to face a lot of difficulty in higher classes.'
This is an issue Modi understands from all sides. In Gujarat, the RSS has blocked teaching of English in government schools till Class V, by when it is too late. Modi's solution, which he explained to me, was to have some subjects taught in Gujarati and others in English. If I remember it right, he was considering maths and science in English and history and geography in Gujarati.
I thought it was an elegant solution though I do not know if he was not ultimately able to implement it, under RSS pressure.
But even here, the question of who will teach children English is also unanswered because it is a language very few Indians know well enough to teach. Certainly we do not have the millions of qualified individuals required.
As I said earlier, it is a difficult question to answer. This problem will remain with us for a very long time because we are the only major nation whose elite speaks a language that is a foreign tongue.
Aakar Patel is Executive Director, Amnesty International India. The views expressed here are his own.
You can read Aakar's earlier columns here.
Image: A man transports school students home from school in Greater Noida, Uttar Pradesh. Photograph: Parivartan Sharma/Reuters.