Our Hindutva fanatics are actually making Hindu society more like Islamists are changing Muslim societies, says Shivam Vij.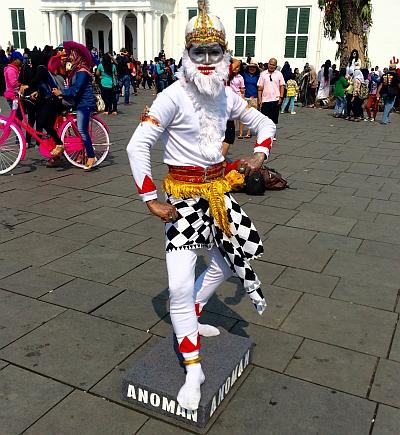 On June 2 this year, I found myself standing at the National Museum square in Jakarta's old Batavia.
It was an India Gate-like holiday scene, the day being a national holiday.
It struck me that the world's largest Muslim country had a public holiday for Buddha Purnima, called Hari Raya Waisak(external link).
Soon, I was in for more surprise.
Among many performers standing around wearing costumes, there was one standing on a pedestal that read 'ANOMAN'. I was with a friend who pointed out that it meant Hanuman. Since he wasn't dressed like (see photograph alongside) how we portray Hanuman in India, I wouldn't have guessed.
The reason why stories from the Ramayana and the Mahabharata continue to be popular in Southeast Asia, especially Indonesia, is because they are stories.
They may be religion for many in India, but they are equally a part of the cultural heritage of Muslim Indonesia.
The human fascination with story telling has been one of the greatest driving forces of most religions.
India's Hindus are proud to think of the popularity of the Ramayana and the Mahabharata in Southeast Asia.
Bharatiya Janata Party veterna L K Advani went to the Hindu island of Bali some years ago, praising Indonesia for keeping alive Hindu heritage.
Kerala's Hanuman Sena, however, would disapprove of Anoman in Old Batavia. How could a Muslim dress up as Hanuman? How can Muslims be allowed to engage with Hindu epics?
The Hanuman Sena in Kerala is one of countless Hindutva vigilante groups across India, trying to make a new, militant and political Hinduism by copying the methods of the Islamists and Christian evangelists: Blasphemy, violence, exclusionism and so on.
The Hanuman Sena has forced an eminent literary scholar in Kerala, M M Basheer, to stop writing a column on the Ramayana, in the Malayalam newspaper, Mathrubhumi.
Basheer had intended to write six columns, but stopped at five, thanks to abusive phone calls to him and the newspaper, and posters put up near the Mathrubhumi office.
In Indonesia, I wondered how the world's largest Muslim country was so at ease with its Buddhist and Hindu past.
Indonesians seem to understand that one's religious affiliation is one of many identities one has.
Indonesia has its own share of rising Islamists, but they seem to be in greater check than Islamists elsewhere, more subdued than Hindutva fanatics in India, who have taken it upon themselves to decide who can write about the Ramayana.
'At the age of 75, I was being reduced to just a Muslim,' the Kozhikode-based Basheer told the Indian Express (external link).
Basheer went on to tell the Express: 'The callers would ask me what right I had to criticise Lord Rama. My series was on Valmiki Ramayana. Valmiki depicts Rama with human characteristics and does not shy away from criticising his actions. The callers were taking exception to the poet's criticism of Rama, which was given in quotes. Most of the callers would not hear out my explanation but just abuse me. To the few who showed patience, I explained that the previous year I had written on Adhyatma Ramayana (the popular foundational text of Malayalam by Thunchathu Ezhuthachhan) and I spoke about Rama the God... But few among the callers knew the difference between the two texts and very few cared. Most callers kept insisting that I tried to attribute human qualities to Rama because I was a Muslim.'
I bet the Hanuman Sena hasn't read Valmiki's Ramayana.
If our Hindutva police were to actually educate themselves with Hindu epics and texts, they would not be policing such critical engagement.
Instead, they would be thanking M M Basheer for talking about the Ramayana, for educating the public.
If they were really proud to be Hindu, they would be happy to see someone with a Muslim name engage with the Ramayana.
But they would rather see him engage with 'Muslim' texts and histories only.
Such division of lines between Hindu and Muslim and Christian is against the ethos of Hindusim, which believes in embracing one and all.
Our Hindutva fanatics are actually making Hindu society more like Islamists are changing Muslim societies.
A trip to Jakarta might be of help to Kerala's Hanuman Sena.
IMAGE: 'Anoman' in Jakarta, Indonesia. Photograph: Shivam Vij.