We get tangled up in our own crooked web on purchases, and the murky arms bazaar knows it, says Shekhar Gupta.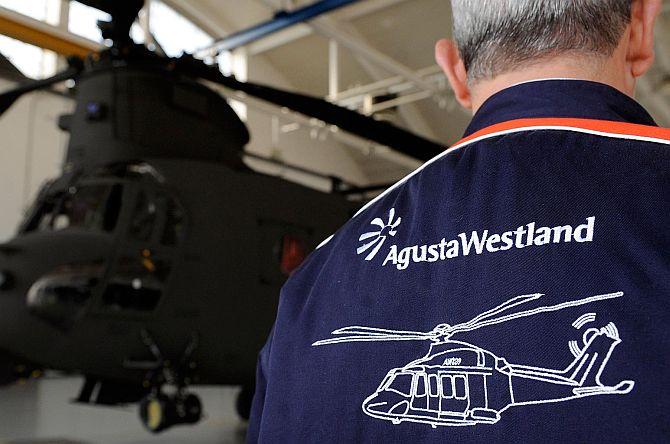 We Indians are beyond boring old grandma's wisdom, like don't throw the baby out with the bath water. We just throw away the baby and keep the bath water.
Take our military acquisitions, for example. Most new acquisitions become scandals. Many are then terminated, leaving our forces with a fraction of the needed inventory, and short of spares and ammunition. Nobody is caught and punished.
Some examples from our times:
1. Bofors is the most storied of our scandals. The Army is left with just the guns bought in the first order. Indigenous production was stalled. Even existing guns are short of spares and ammunition. The Army made distress import of ammunition during the fighting in Kargil which, note, was 17 years ago.
India has acquired no fresh artillery in the 30 years after Bofors. Most importantly, nobody was ever punished for the bribery, no money recovered. A classic case of throwing the baby out but keeping the dirty bath water.
2. German HDW submarines, called Type 209, are a scandal of the same vintage. These were to be the Navy's first SSKs (submarine-to-submarine killers). The programme was scuttled. Only two vessels were bought and two assembled in India, 10 years late. Technology transfer, expansion never happened.
3. This isn't a military acquisition, but I choose the Indian Airlines purchase of its first Airbus A-320s because it became a scandal at exactly the same time as Bofors and Type 209. Just as the rumours of kickbacks emerged, a new A-320 crashed in Bangalore. It was used to damn the aircraft and the entire lot just purchased, was grounded. The A-320 survived fortuitously.
When Saddam Hussein invaded Kuwait, India need to airlift tens of thousands of its citizens out of Kuwait and Akshay Kumar was not available in real life to carry out the airlift. The spare Air India and IAF strength was inadequate.
Then prime minister V P Singh was left with no choice but to de-mothball the A-320s. And once they resumed flying, there was no going back. Indian Airlines never recovered from the financial loss of grounding that fleet. Again, nothing was proven, nobody was caught or punished.
The setback and humiliation of Bofors led to our most vicious political blood feud. The Congress found its opportunity with the Tehelka sting. The NDA cried entrapment, but Bangaru Laxman and George Fernandes lost their jobs (the latter only temporarily). None except Laxman, who actually had nothing to do with any real defence deal, was punished by law.
The Gandhi family saw bitter revenge in Tehelka because it damaged not just the BJP but also Mr Fernandes, the noisiest Rajiv-baiter on Bofors. But, since Mr Vajpayee's credibility and popularity, and dumping of expendable Laxman helped Mr Fernandes recover, the revenge remained incomplete.
A fresh bid was launched towards the later years of the NDA with what was called the 'coffin scam&' though nothing was eventually proven. As a consequence, however, no major acquisitions took place in Mr Vajpayee's six years, in spite of a limited conflict (Kargil) and a near all-out war, Op Parakram. Not one significant non-Russian system was introduced as the government was petrified.
Even the Israeli Barak missile system for protecting our naval assets from enemy aircraft and missiles was rendered ineffective as its maker was banned, leaving the Navy's finest ships unprotected.
Something similar has happened now with the latest submarine Scorpene entering the seas without torpedoes. The company that makes these, WASS, is a subsidiary of Agusta and covered under the A K Antony ban.
When the Congress unexpectedly returned to power in 2004, it was desperate to find something on the NDA's defence 'scandals.' But nothing was found and the first UPA Defence Minister Pranab Mukherjee was much too wise to launch a witch-hunt. He knew the consequences of perpetuating this feud at the cost of the armed forces.
His inability to 'discover' any scandals annoyed 10 Janpath. It probably led to his being moved out of defence, making way for loyalist A K Antony.
Mr Antony also did not launch a witch-hunt. He saw keeping his own back and hands clean as his most important KRA. His typical response to the first rumours of a scam, even anonymous complaints, was to call in the CBI and ban the supplier.
In the process, he became not just India's longest-serving defence minister but also one who banned so many suppliers that it was no longer possible to find one completely chaste, particularly in this fast-moving environment of mergers and acquisitions (M&As) in the multi-national defence industry.
When he banned Germany's Rheinmetall in 2012 for example, it also excluded nearly a hundred other western armament companies that the conglomerate now owned. He banned companies from Europe, Singapore, even Israel. The joke in South Block used to be that soon he would ban the Pakistani army and end the problem altogether.
As the armed forces got frustrated, I described his approach to defence modernisation as 'strapped-in-Latex' and also once called him Indian politics' answer to cricketer Bapu Nadkarni who was known neither to concede runs nor get many batsmen out and holds the world record for the largest number of consecutive maiden overs (21) that will probably never be broken.
The greatest irony of the AgustaWestland bribery is, it took place in spite of Mr Antony. He had to admit that bribes had been taken, cancel the deal, invoke penalty clauses and order inquiries.
It is an indisputable fact that he acted only after Italian authorities had detected wrongdoing and one Indian newspaper and its reporter had broken and pursued the story relentlessly. He continues to do so even today and set the pace for the rest, some of whom then claim retrospective 'news-breaks.'
Since it is a incontrovertible fact that bribes have been paid by Agusta, the case must be speedily investigated and the guilty punished. The test, however is, can we have the sagacity to distinguish this scam from the larger issue of modernisation?
We can talk about Make in India. But most 'Indian' systems will also depend on large foreign imports for engines, avionics, sensors, weapons, guidance systems and so on. These include the most visible ongoing developments like Tejas, ALH, stealth frigates, even the MBT Arjun, nearly 30 years behind schedule.
India has to opt for one of three possibilities now. The first is, to concede that tender-based, vendor purchases are no longer possible in the murky arms bazaar. All future purchases would therefore be purely on government-to-government basis or what the Americans call FMS (Foreign Military Sales). This is how UPA had ordered the IAF and the Navy's new C-130s, C-17s and P-8Is.
A cruel aside: this forced Mr Antony to do what he detested ideologically, to buy from the US, which became our biggest arms supplier under his watch, for the first time in 65 years. The BJP is now buying two squadrons of the French Rafale through the same route and exploring American artillery.
This narrows the buyers' options and negotiating space but get the commission agents out. The second is to bring in a fool-proof system of purchases which is an impossibility given how broken our politics is.
The third is to accept the limitations inherent in our system on timely acquisitions (the need for a so-called VVIP helicopter was first approved in 1999 and we still don't have it). You then mould your diplomacy and strategic posture accordingly. That, nobody would want.
So we will likely keep muddling along, battered by scandals yet shortages, not catching any guilty but getting our soldiers frustrated.
In short, keep flushing away the baby and frolicking in the soiled bath water.