'The existence of Section 295A on the Indian statute books sits uneasily with India's ambitions to be seen as a progressive democracy,' says Kanika Datta.
Illustration: Uttam Ghosh/Rediff.com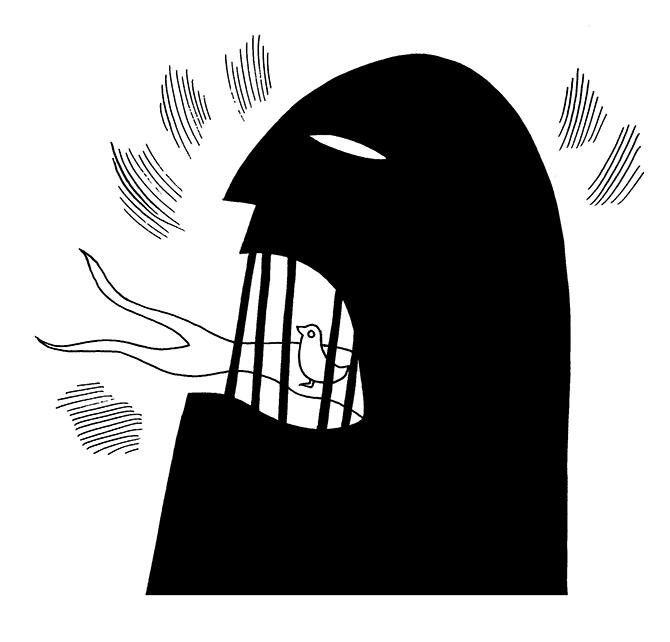 The Indonesian politician Basuki Tjahaja Purnama, popularly known as Ahok, and the English actor Stephen Fry may live at opposite ends of the globe -- 12,000-odd km apart, in fact -- but they share an unlikely controversy: Accusations of blasphemy.
On May 9, however, both faced very different fates on this account.
In the tropical archipelago Mr Ahok was handed a two-year jail sentence, going beyond the suspended one-year sentence that the prosecutors had requested.
In the Atlantic island-nation of Ireland Mr Fry enjoyed a reprieve after the police halted an investigation because they could not find enough people to express outrage against him.
Mr Ahok's 'crime' was to quote during a gubernatorial re-election campaign in late 2016 a verse from the Quran to the effect that there was nothing to stop Muslims voting for a non-Muslim politician.
This was a riposte to an observation by the hardline Islamic opponent, who won the election.
Mr Ahok is a Christian from a minority ethnic Chinese group in Indonesia. The case is said to have cost him the election.
As for Mr Fry, an Englishman of part Hungarian Jewish extraction, his offence was to refer to god as an 'evil, capricious monstrous maniac.'
This eloquent description was part of an interview on an Irish TV show called The Meaning of Life.
This comment so upset one viewer that he complained to the police under the Irish blasphemy laws.
Since no one else came forward to express similar sentiments, the case was dropped.
There are multiple ironies here.
First, the complaint was made under blasphemy laws updated in 2009 to extend the protection of rights from only Christians to other religious communities in recognition of Ireland's multi-faith and multi-ethnic society.
The requirement that proving blasphemy requires a quorum is precisely what worries liberal observers -- the impact of mass demonstrations against blasphemy, which attracts the death penalty in many West Asian regimes, offer disturbing testimony of the incitement to mob violence.
Second, the controversy exploded at a time when there is growing demand in Ireland to abolish blasphemy laws.
As a founder of the abolition movement, Atheist Ireland pointed out, it is a matter of some concern (and shame perhaps?) that Pakistan cites Ireland's blasphemy laws to argue for UN-backed motions denouncing attacks on religious beliefs, in what often amounts to an alibi for curbing civil rights and free speech.
If we exclude Ireland, blasphemy laws have fallen into disuse in most developed countries as well as Eastern powers such as Japan or Taiwan.
In Indonesia, once widely admired for demonstrating the happy convergence of Islam and democracy, they have suddenly acquired greater legitimacy.
There have been over 100 convictions in the past 12 years alone, according to Amnesty International.
The country has had the law on its statute books since 1965, but they were rarely used under the secular 32-year dictatorship of Suharto.
Paradoxically, it was the country's ascent to a noisy, multi-party democracy after 1998 that activated the use of this provision, mostly against Muslim minorities (as in Pakistan, the Ahmadiyyas have been chosen ones), but also against the occasional atheist.
The verdict against Mr Ahok is by no means uncontested. There have been mass demonstrations against his conviction and for a repeal of blasphemy laws.
Legal experts have also expressed concern that the verdict was principally a response to mass protests organised by the increasingly powerful hardline Islamic groups -- easy to do in a nation in which 87 per cent of the population is Muslim.
The relevance of the Indonesian experience for India -- with a party espousing majoritarian politico-religious ideology in power at the Centre and more than half the states -- is hard to miss.
India does not have an explicit blasphemy law, but something approximating it under Section 295A of the Indian Penal Code, which penalises anyone deemed to outrage the religious feelings of any class by insulting its religion or religious belief.
As Indonesia has underlined, the line between blasphemy and curbing free speech is a fine one, and those margins become wafer-thin in societies where politics is roiled by religious dogma.
It was under Section 295A, that the hapless comedian Kiku Sharda was arrested for imitating Gurmeet Ram Rahim Singh, the leader of the Dera Sacha Sauda cult.
If the state police can entertain such frivolous appeals -- Mr Singh is extremely powerful in Haryana -- the scope for enhanced harassment can easily be imagined in a country where the 'godman' cult is being mainstreamed into politics and business, and religion dominates the public discourse.
Recall the late M F Husain's tragic self-exile following similar complaints by Hindus and Christians.
The existence of Section 295A on the Indian statute books sits uneasily with India's ambitions to be seen as a progressive democracy.
Together with a draconian sedition law it deserves to be excised from the statute book immediately.