Non-performers were not punished, performers were not rewarded, points out Utkarsh Mishra.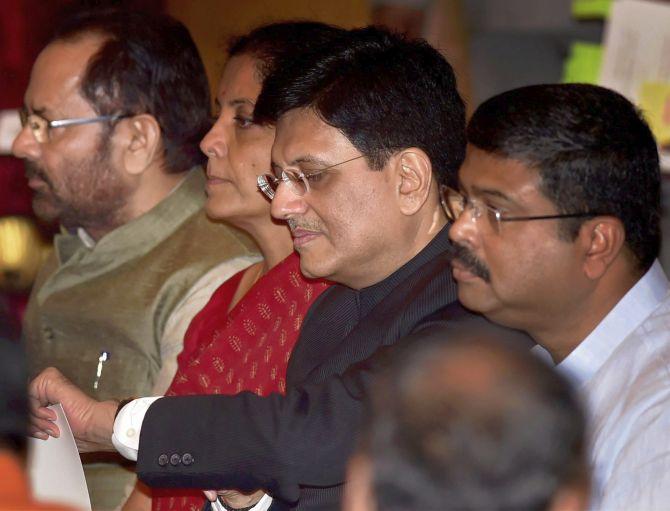 IMAGE: Mukhtar Abbas Naqvi, Nirmala Sitharaman, Piyush Goyal and Dharmendra Pradhan were all elevated to Cabinet rank on September 3, 2017.
Photograph: PTI Photo
Last week, AltNews put out a report 'exposing copy-paste tweeting' by members of the Bharatiya Janata Party IT cell and some central ministers tweeting with #DemonetisationSuccess which, the report said, were based on a template provided to them.
Reading reports of Sunday's reshuffle of the Union council of ministers across various media platforms, I felt a similar template had been provided to them.
Most of them toed the line that the rejig was to reward performers and punish laggards.
'Perform or perish', they said, was the message given by Prime Minister Narendra D Modi to his ministers. However, observing closely, one may find that the exercise was anything but that.
The biggest surprise was then commerce and industry minister Nirmala Sitharaman's elevation to the prestigious ministry of defence.
This certainly wasn't a reward for her 'good work' in her previous ministry, where her performance was not encouraging.
The commerce ministry's annual report for 2015-2016 showed that exports fell gradually from 2013-2014 to 2015-2016 -- from $465.89 billion in 2013-2014 to $403.38 billion in 2015-2016.
A press release by the ministry issued on August 14 said exports fell in rupee terms during the year 2016-2017.
It also said that the overall trade deficit for April-July 2017-2018 is estimated at $34,072 million as compared to $10,799 million the current year.
Clearly, not a great performance by any yardstick.
But there are a couple of other 'non-performers' who were not 'punished'. Health Minister J P Nadda is one of them.
<pclass='rbig">Along with Agriculture Minister Radha Mohan Singh, Labour Minister Bandaru Dattatreya and Food Minister Ram Vilas Paswan, Nadda was listed as a 'non-performer' in an independent study conducted by the Centre for Media Studies last year.
Data released by the health ministry in August said that till August 20 this year, 1,094 people have died of swine flu in the country.
The worst-hit states are Maharashtra and Gujarat which recorded 437 and 269 deaths respectively. The number of deaths is significantly higher than last year.
Similar is the case with deaths of children in the hospitals of Gorakhpur and Farrukhabad in Uttar Pradesh and Jamshedpur in Jharkhand.
All these are BJP-ruled states. Yet, the situation everywhere seems to be worse than what it was during August last year. But Nadda has not been moved from the health ministry.
In the latest reshuffle, Dr Harsh Vardhan could have been shifted back to the health ministry. Or Jitendra Singh, also a doctor by training, could have been given charge.
Similarly, there was speculation that Agriculture Minister Radha Mohan Singh would be shifted out. And the speculation was not out of place.
This year, the country saw farmers' agitations in Uttar Pradesh, Madhya Pradesh, Gujarat, Maharashtra and Tamil Nadu.
In June, when the farmers of Mandsaur, MP, were agitating and six of them were shot by the police, television channels flashed visuals of the agriculture minister doing yoga on stage with Baba Ramdev in Motihari, Bihar.
The farmers were not merely agitating for a debt waiver, which the Union finance minister had asked the states to tackle from their own resources.
They were also demanding the promised hike in minimum support price. They were throwing their produce on the road, to demonstrate that it was worth nothing until their demands are met.
And, strictly speaking, isn't Finance Minister Arun Jaitley a 'non-performer' too?
Apart from the introduction of goods and services tax, he has little achievement to show. On the other hand, the mishandling of the note ban and declining economic growth in two subsequent quarters call for some strong action.
There was little debate on some far-reaching amendments introduced by him in the Finance Act.
A report by the Labour Bureau last year showed that while the fall in job creation started in 2009-2010 showing no sign of recovery, it has registered a steeper fall.
A report by the labour ministry said that the unemployment rate has increased slightly in the year 2015-2016.
The latest Economic Survey also said that 'employment growth has been sluggish'.
So the reshuffle showed few signs of performance being rewarded and 'non-performers' being stripped off key responsibilities.
However, there were some welcome changes like Piyush Goyal being sent to the railway ministry and Colonel Rajyavardhan Singh Rathore (retd) getting the sports ministry.
It would have been even better had Minister of State for External Affairs General V K Singh (retd) been rewarded for his good work and replaced Sushma Swaraj as Cabinet minister.
Swaraj could have been sent to the defence ministry as she reportedly wanted.
Besides having all the 'qualities' attributed to Nirmala Sitharaman, Swaraj is more experienced and influential. And she is a better performer, too.
Her experience in the external affairs ministry would have helped her address the thorny issues between India and its neighbours, especially China, better.
And the country would not have missed the euphoria of getting a first full-time woman defence minister either. She would have raised more expectations than Sitharaman does.
But then, if only the reshuffle was based solely on performance!