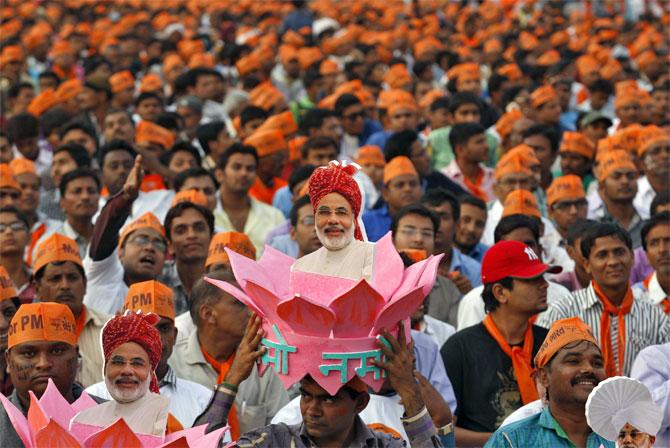 'The main ploy of the BJP's pre-poll proclamations on corruption was so cacophonous and resounding that it unexpectedly worked out to its greatest advantage. But there seems to be a lull after the sound and fury over corruption,' says Ram Ugrah.
The main ploy of the Bharatiya Janata Party's pre-poll proclamations on corruption was so cacophonous and resounding that it unexpectedly worked out to its greatest advantage. The party finally attained its long-awaited goal of power after a decade. But there seems to be a lull after the sound and fury over corruption.
Before the elections, the BJP's anti-corruption chant was music to the ears of the electorate. The party tactically put its core but contentious stands on communalism and secularism on the backburner.
All sorts of accusations and counter-accusations of dishonesty of every political party were deliberately and willfully wielded as a political weapon to tarnish the image of each other in public. None of the parties, including the BJP, admitted to their unabashed pumping of unaccounted money to hold unprecedented massive rallies not seen ever before.
Remembering former chief election commissioner T N Seshan's observation that 'Elections are vitiated so much by cash, criminality and corruption that Indian elections have become a joke?' Corruption dominates the ballot box, the legislatures and all political parties.
According to the Transparency International estimates, Rs 21,068 crore (Rs 210.68 trillion) is paid as bribes annually by ordinary Indian citizens for obtaining legitimate services from government functionaries. Memories of Rajiv Gandhi have not yet faded when he had ruefully remarked that out of every rupee provided for the welfare of the people, only about 15 paisa reached the actual beneficiaries.
All eyes are now eagerly on Prime Minister Narendra Modi's maiden bid to dig out black money stashed in Swiss and other foreign banks through a Special Investigation Team, that he has been constituted in compliance with a Supreme Court directive. The high-level SIT will most likely end up as a cosmetic exercise, Rudolf Elener, a former insider to Swiss banking turned whistleblower, has recently asserted.
The Aam Aadmi Party that owed its birth to Anna Hazare's much trumpeted India Against Corruption movement, has dashed the public anticipation on the question of corruption and is presently at odds to keep its own house in order. All stakeholders -- be it the Congress, the BJP or other regional outfits like the Samajwadi Party and Bahujan Samaj Party -- have enough skeletons in their closets to kindle any hope for a genuine process to be initiated to end corruption.
The question arises whether the scourge of corruption can be constrained or restrained by a Lokpal Act alone. In fact, all parties know it well that corruption can never be eliminated. It might be minimised under the present 'system' of administration.
It is our 'system' which allowed the BJP's extravagant election blitzkrieg to outsmart its main rivals. The AAP, especially its cheerleaders, who boastfully blew their own trumpets on corruption, even while persisting with their own opaque ways of fundraising for dharnas and road shows from home and abroad, with pronouncements of uprooting corruption.
It is no secret that Anna Hazare's initiative against corruption was based on moral grounds. Hazare wanted to keep the movement politically neutral. Apart from targeting individuals for corruption, his campaign was about what he said the unshakeable 'system'. He also realised that with the liberalisation of the economy, the collection of huge funds through the 'system' makes it difficult to curb corruption.
In contrast to Anna Hazare's approach, the AAP adopted its own self-serving political plan. An AAP coterie of Team Anna members, claiming to don Anna's mantle, broke away to push their own ambitions of grabbing political power by opting to be part of the same 'system' which they decried when they were with Hazare. Earlier, the anti-graft Right to Information crusaders were themselves mired with unexplained charges of misusing Rs 3 crore (Rs 30 million) collected for their agitation.
Having ridden on the anti-corruption wave, and with electoral success in Delhi on civic issues and through anti-graft street campaign, the AAP could not take any discernible steps directed against corruption. Instead, Arvind Kejriwal cleverly announced his resignation as Delhi chief minister on the issue of the Jan Lokpal Bill. By doing so, he hit two birds with one arrow. He blamed Congress non-cooperation to get time enough for rallies across the country, with an eye on the Lok Sabha polls, in which he expectedly failed miserably.
It is now apparent that the AAP propagandists' focus on corruption was merely to draw public attention to their own political agenda. Kejriwal's coterie is now found to belong to questionable background. The Frankenstein's monster of corruption continues to rake up news eyeballs only when it comes to contesting elections.
It is known that conundrum of corruption has been around since the time governance started in the world. It had many forms of manifestations. It is a political problem involving politicians or corporate houses as well as bureaucrats. Every country has a multi-layered administration by officers, ministers and administrative chiefs who indulged in frauds.
Chanakya, the prime minister of India's first great empire of Chandragupta Maurya, who wrote Arthashastra, had an interesting take on statecraft and economic policy to combat corruption. Known for pragmatism, he did not want people to be hundred per cent honest. He was highly critical of a weak administration. He remarked: 'Prostitutes don't live in the company of poor men; birds don't build nests on a tree that doesn't bear fruits and citizens never support a weak administration.' May be it is still a lesson for the government of every party.
Chanakya Niti also stated: 'Just as it is impossible not to taste the honey or the poison that finds itself at the tip of the tongue, so it is impossible for a government servant not to eat at least a bit of the king's revenue. Also, it is impossible to know when a fish moving in water is drinking it, so it is not possible to find out when government servants in charge of undertakings misappropriate money.'
In fact, Chanakya suggests that a king should adopt saam, daam, dand and bhed for properly ruling his country. He observed that for those who guard the treasury, the temptation to be dishonest is almost a natural instinct.
The problem of corruption in India, coupled with bribery, continues to infest our society at an unbridled rate. It is fatal to public life and administration. It also erodes the authority of the State, promotes crime and violence and undermines the rule of law. 'When one gets in bed with government, one must expect the disease it spreads,' said American author and politician Ron Paul.
We have enough of examples of laws passed but not effectively enforced. Unless we take some drastic constitutional steps against corruption, we would fail to reach the goal and frauds and scandals will continue to make news.
Corruption has become endemic to the country as has the hypocrisy that accompanies it. All of us -- from netas to common citizens -- publically denounce it as the greatest sin besetting our body politic but privately we accept it as being part and parcel of our daily life, almost as indispensible as the air we breathe and the food we eat.
The government of any party can't combat corruption because the culture of bribery and graft is ingrained in governance systems affecting public life. Are we not habituated to indulging in corrupt practices?
We bribe schools for admission of wards; for driving licenses; for birth and death certificates from the municipality; for electric and water connection, house registration; for admission of wards to medical/engineering colleges; getting a job; for admission in hospitals; for getting the bodies from hospitals for cremation; getting sons/daughters married; The list is very long. The process is continuous. The 'system' is running smoothly. Any disruption in this process is disturbing us. We are used to living with it. Corruption is the rule, not the exception.
Everybody has a price depending upon the investment for that price. Any effort to remove corruption disturbs us because we don't want to be disturbed. Edmund Burke said that "among a people generally corrupt, liberty cannot long last." Romain Rolland observed that "France fell because there was corruption without indignation."
Ram Ugrah is a senior journalist based in Lucknow.