'Make in India is one of the priorities identified by Nirmala Sitharaman and this is our great weakness,' warns Vice Admiral Premvir Das.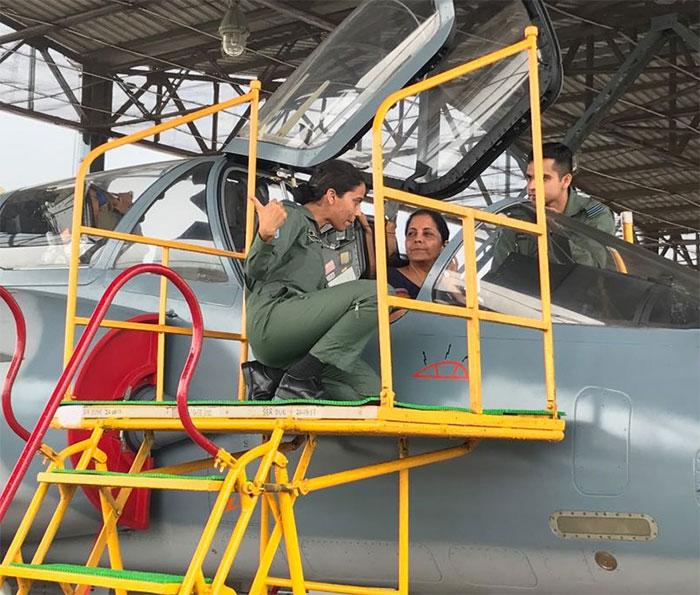 With Nirmala Sitharaman's appointment as defence minister India has a woman in that pivotal position for the first time.
The notion that Indira Gandhi had preceded her is not entirely correct. While the then prime minister had, indeed, held additional charge of defence for a while, the ministry was ,em>de facto run by the minister of state, or MoS, for defence.
In later years, Prime Minister Rajiv Gandhi held charge of defence, but the ministry was run by the MoS, Arun Singh.
So, Ms Sitharaman is, indeed, our first de jure and de facto full-time woman defence minister and full marks to her for saying that, for her, it will be a full-time job. It needs to be.
India's armed forces have come a long way in the last seven decades. From less than 300,000 in early the 1960s, the army now numbers 1.2 million.
In this same period, the navy has grown from a motley dozen-odd sea-going ships to a force that fields more than a hundred long-range vessels including an aircraft carrier, ships and submarines, at least two of them nuclear-propelled and one capable of launching nuclear weapons.
Our air force now operates hundreds of contemporary aircraft of different types which have extended our 'reach' very considerably.
All three wings have special forces which can perform the most complex tasks and are equipped with modern weapons.
In these 70 years the armed forces have fought three full-scale wars, a rather unfortunate one with China in 1962, another with Pakistan in 1965 with honours more or less even, and one in 1971, again with the same country, this one leading to bifurcation of that country.
There was another war with Pakistan in 1999 in which some of our posts captured by its troops in the Kargil mountain ranges were recaptured by use of force.
Add to this some tense moments with the Chinese in the mid-1980s and one standoff that has just ended at Doklam, and it becomes apparent that our military is a battle-hardened one.
This is quite aside from almost continuous deployment in counter-insurgency operations, which is unlikely to cease anytime soon.
In short, India's armed forces have seen seven decades of almost continuous combat and are battle-proven.
On land, at sea and in the air, they rate among the top five or six military capabilities in the world.
This is the power that the incoming minister is inheriting.
Yet, there are some serious inadequacies to our defence preparedness.
From two aircraft carriers in the mid-1980s the navy is down to just one; from 20-odd submarines of contemporary technology at that time, it is now down to a dozen, the most modern of which is more than two decades old; their replacements will only now begin to make their appearance.
The indigenous aircraft carrier being built at Kochi will not see operations for another few years and multi-purpose helicopters essentially required for ocean-going ships, whose numbers are not enough, are nowhere in sight.
The strength of fighter aircraft squadrons in the air force has fallen to less than 35 and dwindling, against an authorised strength of 45; the indigenous light combat aircraft continues to struggle for operational certification.
In the army, the indigenous Arjun tank is heavier than specified and, therefore, constrained in its deployment.
The 155 mm artillery gun is three decades old.
There are shortages in important ammunition categories which have been articulated often; all this when the army chief seeks readiness for a two-front war.
'Make in India' is one of the priorities identified by Minister Sitharaman and this is our great weakness, leave aside some strengths in ship design and construction.
Draft policies in process centre on identifying some groups in the private sector as 'strategic' agencies that can tie up with foreign vendors for transfer of technology and production.
Following this direction of the government some of them have already entered into joint venture arrangements with those Indian private sector companies which, in their assessment, might enter this 'strategic' space.
This is a great idea were it to be practicable.
None of these parties, even the largest, have any experience in the manufacture of sophisticated platforms or equipment needed by the military and the last thing that the country can afford is to waste time in getting them to learn these sophisticated processes.
The public sector may not have produced the most efficient value for money invested, but its expertise and capabilities are unmatched and it would be unwise not to exploit them fully.
It would, therefore, be advisable if 'Make in India' policies involve the public sector more proactively.
Concurrently, measures could be taken to build capacities in the private companies so that the two, together, produce the desired results.
The men - and women - of our armed forces, despite the occasional unfortunate incident that comes to light, are among the most motivated and their professional skills unmatched.
They constitute a very important arm of our military power and their needs, not many, require considerate and sympathetic attention albeit consistent with 'good order and military discipline'.
Finally, at less than two per cent of GDP, the funds allotted for defence are not enough but, in absolute terms, Rs 2.74 lakh crore is not a small sum.
Inability to utilise even the small amount allotted for modernisation -- year after year, including in the last three -- is a cause for serious concern.
There is neither enough clarity on the fundamentals of our national strategy nor articulation of the required interfaces that it must generate with military and economic imperatives.
A visibly inefficient higher defence organisation which essentially follows practices passed down decades ago continues to bedevil our system and absence of time-bound implementation of even funded projects adds to this negative baggage.
The border roads infrastructure limps along and its inadequacy imposes limitations on deployment.
In sum, the new defence minister inherits a well-trained and professional armed force with capabilities as well as shortcomings.
It is now her job to look at some things afresh and to fill in the blanks.
Vice Admiral Premvir Das is a former Director General Defence Planning Staff. He has also served in the National Security Advisory Board.
IMAGE: Squadron Leader Vidhu and Flight Lieutenant Kishan explain to Defence Minister Nirmala Sitharaman the working of the cockpit of a Mirage fighter at the Indian Air Force Station in Gwalior. Photograph: Kind courtesy @nsitharaman/Twitter