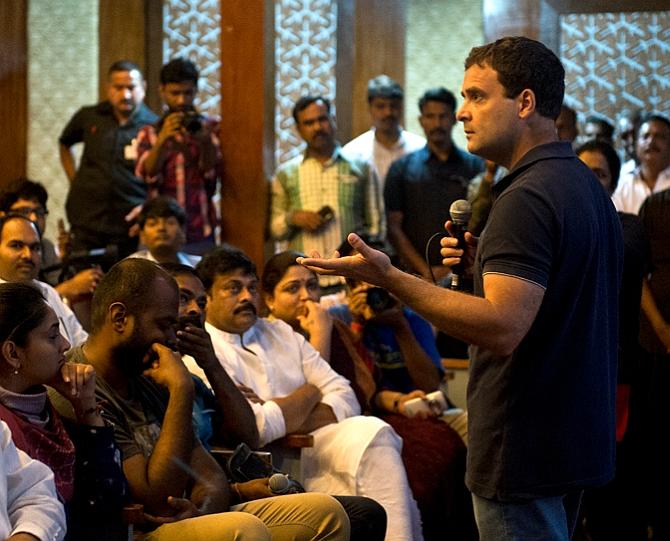 'His poise and body language were 'cool. He brought a whiff of fresh air to our television screens, a welcome break from not-so-fit loud politicians and male anchors,' says Neeta Kolhatkar.
In what could be termed his best move in recent weeks, Rahul Gandhi took up the issue of the protesting students at the Film and Television Institute of India and went to meet them on campus.
He mingled with the striking students, was seen without his security detail, and assured them of his support in their struggle to have FTII Chairman Gajendra Chauhan replaced.
He was clean shaven, dressed in a pair of chic jeans and T-shirt. Best of all, his poise and body language were 'cool. He brought a whiff of fresh air to our television screens, a welcome break from not-so-fit loud politicians and male anchors.
Rahul's move to interact with the FTII students took his detractors by surprise. His fit, rejuvenated, look is such a winner. Rahul seems to have come a long way from his previous avatar as a confused, seemingly-in-a-hurry, leader.
Earlier, he looked like he was impatient to break into the big boys's political league. He seemed under immense pressure from his band of advisors and that made him look quite lost.
The new confident Rahul Gandhi indicate he is in command and knows where he is leading his party to.
My do paisa worth of do's and don'ts for this young leader who has been a favourite since the moment I came face to face with him at Mumbai's Ghatkopar railway station all those years ago, when he caught a suburban train during a visit to the city.
Rahul Gandhi, I felt, was the much-needed young leader who has it in him to unnerve the old political guard across all parties, including within the Congress.
The Congress has been disconnected from the Indian reality for many years now. It is more like a corporate outfit controlling India's body politic. Rahul needs to first eliminate this culture and compel Congressmen to be in touch with the grassroots more often.
Congress old-timers need to travel through the Indian countryside, visit slums in cities, remote tribal areas in their constituencies, encounter real stories and learn firsthand how ineffective they have been. The younger lot of Congress leaders are far too elitist and removed from the Indian reality.
Next, Rahul needs to stop former elected representatives from running personal public relations campaigns. These Congress leaders need to know they are out of a job (being voted out by the people means they have been sacked). Get them to do some real work.
Most Congress leaders are inaccessible. They should be travelling by public transport, face the travails of potholed roads and smell the dirty garbage, all of which they have forgotten about.
Rahul needs to be seen as the one leading them and not be seen as being guided by them.
Rahul's wanting to be sensitive, to know the people's problems, are vital to the growth of the Congress party. It is definitely a winning strategy. Being seen with the people and listening to them pays in the long run.
I hope Rahul ensures he follows up on the implementation of assurances he gives common people. Out of sight is out of mind and the recall of an absent leader's name is minimal.
Avoid chai pe charchas, but break a roti or bhakri with the poor. Food always bonds people better.
It's time Rahul is seen with hard-working party workers who keep a low profile and are the party's real leaders. It is time the Congress built second- third- tier leaders, which has been missing from the party for a while now.
As for the issues to be raised, they are available on a platter, waiting for Rahul to pick and choose -- the youth interest in being involved with India's development and progress.
The Congress needs to make women's security a high priority issue. Link it to current issues -- the cleanliness drive, building toilets which are both important for women's security and their health.
Infrastructure and safe roads are important too. Each day scores of Indians die on our roads. For a young, smart, leader to come out and say 'Drive responsibly and save a life' is as important as waving out to those who come out for a glimpse. In Maharashtra alone, 35 people die in road accidents every day.
I hope Rahul and other leaders realise that the Congress failed miserably because they forgot to provide basics to the people for many decades.
And I hope Rahul Gandhi stays as fit he can. It is the best way to beat the competition and make them uncomfortable.
Most Indian politicians have no clue about fitness, shape and fashion. He has it in him to make self-professed 56-inch-chest politicians very uncomfortable.
IMAGE: Rahul Gandhi speaks to FTII students in Pune.