I hope Rahul Gandhi's interventions in Parliament are not flashes in the pan and that he is in it for the long haul, says Syed Firdaus Ashraf.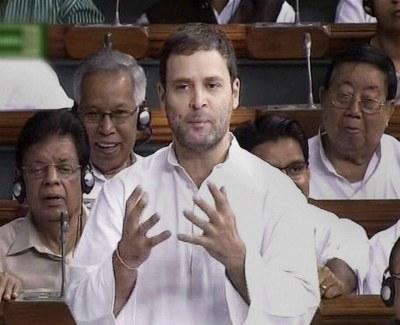 My first encounter with Rahul Gandhi was eight years ago, in 2007, at Bharthana in Etawah district, Uttar Pradesh. Saifai -- where Samajwadi Party supremo Mulayam Singh Yadav was born on 22/11/1939 -- was just 45 kilometres away, part of the same district.
It was April and Rahul was to address an election rally in Bharthana; a frisson of excitement ran through the crowd because Rahul was challenging mighty Mulayam's might in the latter's assembly constituency.
Many felt Rahul was wasting his time; there was no way the Congress candidate could defeat 'Netaji' -- as Mulayam is known in his party and in these parts -- in his stronghold.
"The fight is between the BSP (Bahujan Samaj Party) and the SP (Samajwadi party)," one farmer told me. "The Congress has no chance of even coming second."
Rahul turned up three hours late. The media party virtually melted in the sweltering April heat that day, but we stuck around because we'd heard Rahul was trying to revive his party in what was once its domain, the politically crucial state of Uttar Pradesh.
When Rahul arrived, he spoke for just 10 minutes. 'All other parties have divided you along caste and religion. Uttar Pradesh was once number 5 in India, but it has now fallen to 20th. Vote for the Congress for a better future.'
A large section of the crowd booed Rahul -- what did he expect in a rival's constituency?.
Before leaving, Rahul promised Bharthana that he would return and that he was in it for the long haul.
The 2007 UP assembly election results showed up Rahul's alleged 'magic' as non-existent. The Congress fared worse than it had five years earlier, winning just 22 out of the 403 seats it contested -- five less than in 2002. Mayawati and her BSP romped home.
Two years later, when I visited Uttar Pradesh to cover the 2009 parliamentary election, I detected a new vigour in Congress workers. Large crowds gathered for Rahul's rallies.
Congress workers appeared gung-ho. They felt the party's prospects had improved under Rahul's leadership.
Among the folks I met was Shailendra Singh, a former deputy superintendent of police who had joined the Congress party.
Singh, an upright police officer, had taken on both the Mulayam and Mayawati governments and decided that only the Congress could help the country.
"If you need to help the poor," Singh told me, "you need to join politics. The Congress is the right party to lead the nation."
Singh came to the Congress party office every Tuesday.
"Why Tuesday?" I asked.
"Tuesday is tehsil divas in Uttar Pradesh where any villager can contact the local authorities with their grievances," Singh said. "Rahul wants all Congress leaders to be present and help the rural poor if the authorities don't act on their grievances. We carry a Congress banner to almost every village and if the government does not act, we will."
How could the Congress do anything when it was not in power in the state?
With a smile, Singh answered: "The Right to Information Act."
"It is a very powerful act. When Justice M A Khan did not act on complaints, we went to the Supreme Court and got him suspended as chief information commissioner. Scared of the RTI Act, bureaucrats now work for the poor.".
When the 2009 general election results came in, the Congress party startled the pundits by winning 21 Lok Sabha seats in Uttar Pradesh.
My final (so far) encounter with Rahul was when he visited Mumbai in February 2010. The Shiv Sena had decided to wave black flags over his comment, 'Mumbai for all.'
He was to address a meeting at a college in Juhu, north-west Mumbai, and head to Ghatkopar, a north-east suburb. Sena chief Bal Thackeray asked Sainiks to vigorously protest Rahul's visit to the city.
Those days Mumbai caught a cold when Thackeray sneezed, and the city was tense about what would happen, Would there be violence? How would Rahul get around? Would he take a helicopter to avoid a confrontation?
To everyone's surprise, Rahul did the unexpected. He caught a suburban train, interacted with commuters, even had an ATM pit-stop to withdraw cash.
His aam-aadmi gesture, before a certain politician made it his brand, stumped Sainiks and thrilled the public.
The next day's headlines reflected this sense of awe and spoke of how Rahul had won the day, outwitting the Sena in its den.
Sadly, all it took was a few months for this version of Rahul Gandhi, who had stirred up such excitement among the masses, to disappear. As scam after scam rocked his party-led government, Rahul went mum.
The Rahul who stood up to Mulayam in Bharthana in 2007; the Rahul who turned his party around in UP in 2009; the Rahul who caught cynical Mumbaikars' imagination in 2010, went missing.
Rahul Gandhi was deemed Missing In Action.
Did the series of electoral defeats -- losing state after state and finally the Centre last May -- destruct Rahul's self-belief?
But he is back now, after a 57-day absence from the heat of action.
As someone who has watched Rahul Gandhi ebb, rise and ebb again, I hope his interventions on the Land Acquisition Bill and Net Neutrality are not flashes in the pan. I hope that wherever he went, whatever he did these last few weeks, gives him the staying power till 2019 and beyond.
Image: Rahul Gandhi speaks in the Lok Sabha on Wednesday, April 22, when he charged the Modi government with 'selling off the Internet to corporates.' Photograph: PTI Photo/TV grab.