Punjab politics has produced a dog's breakfast on the river waters issue. Except, you'd see even dogs eat better, says Shekhar Gupta.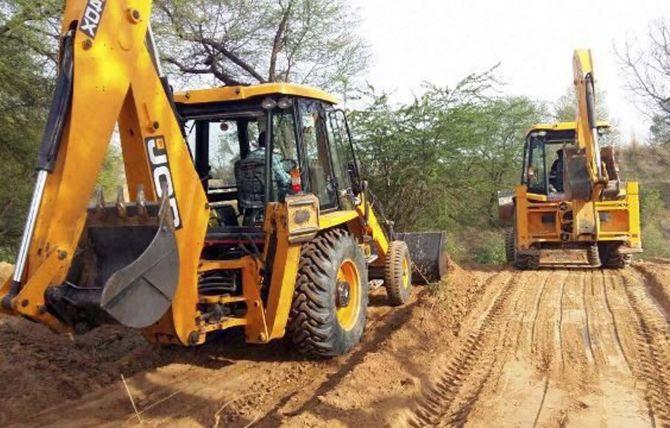 IMAGE:

Farmers filling the Sutlej-Yamuna Link canal with the help of excavators in Saini Majra village in Punjab.

Photograph: PTI Photo.
I
t is tough for us to focus on something as unfamiliar as the Sutlej-Yamuna Link, or SYL (no, SYL isn't a mistype for YSL, the more familiar French designer label). A fight between Punjab and Haryana, states that together send only 23 MPs to the Lok Sabha, too doesn't shake us. Let me, therefore, try a little sensationalism, or what a journalist might call, dateline-sensationalism. So forget Haryana and Punjab, Sutlej and even Yamuna now that Sri Sri has gone. Think Pathankot.
Better still, move your eye 10 miles north of Pathankot where the state of Jammu and Kashmir begins. Now imagine its state assembly passing a law abrogating the Indus Water Treaty. Or, closer home, withdrawing permission for the railways to construct in the state, barring the Indian Army from operating, rejecting the imposition of AFSPA. Some of us would go straight to the rooftops, some distinguished grey moustaches would go to TV studios shouting treason, some would load the rifles, and the rest would say, see, we told you so. What did you expect from Kashmiris? Bury that wretched Article 370. Right now.
Enough sensationalism, so shift your gaze back below Pathankot. The state to which it belongs, Punjab, has just passed a law killing its solemn river-water agreement with neighbour and younger sibling Haryana and returned to its farmers land acquired from them more 38 years ago for digging the 213-km SYL canal. Just one newspaper, The Tribune, has kept us posted and forewarned of this incredible constitutional anarchy.
The fact is the governor, Kaptan Singh Solanki, hasn't even signed Punjab's new law returning these lands, but who cares. The "law"is being implemented. With JCBs and bulldozers to fell thousands of trees and to fill up the canal with them, debris and soil. The entire country and its institutions have been given a fait accompli. The Supreme Court of India, which ordered that status quo be maintained, has been told where to get off: we've got no water for anybody, says Punjab.
If all this isn't absurd, His Excellency Mr Solanki is currently the governor of both Punjab and Haryana. Both assemblies are in their budget sessions and he has dutifully read the addresses provided by each government. For Punjab, he said, we won't give any water, and for Haryana, of course, that we shan't accept such injustice. Still not absurd enough? Both Haryana and Punjab are ruled by the Bharatiya Janata Party, the latter with Shiromani Akali Dal as the leading partner.
Others are joining in the fun. In Haryana, the Congress and Om Prakash Chautala's party (actually a loyal Akali ally electorally) are backing the BJP government in fighting for their state's rights. In Punjab the Congress is fully backing the Akali Dal's anarchism. The always holier-than-cow Aam Aadmi Party has jumped in too, with Arvind Kejriwal saying that Punjab shouldn't give its water to Haryana which, in turn, is saying, thank you, we won't give any to Delhi.
Since the AAP is rising as a common thread in Punjab, both the Badals and Amarinder Singh are telling the voters that Mr Kejriwal is a Haryanavi out to steal your water. In Haryana, where the government has been so busy hiding from the Jats while protecting the cow (in a state where nobody would ever dare harm one) and re-discovering
the Saraswati, the SYL canal has meanwhile gone extinct and the Yamuna too might soon enough.
T
he only thing we now need to complete this constitutional nonsense is a National Green Tribunal order to Punjab to stop felling trees. It will get the same answer that the Supreme Court has: we've got no trees left to save, just as we have no water to give. The NGT would be better off trying to recover the Rs 4.75 crore of fine still owed to it by Art of Living.
This is what you would usually describe as the witch's brew, can of worms, or dog's breakfast. It is just that I have seen dogs, even those that lounge on Delhi's increasingly higher garbage heaps, eat better. Amazing new precedents are being set as the Centre seems distracted and the nodal ministry, home affairs, is tilting at its chosen windmills of the day, from a "Hafeez Saeed-backed" revolt in JNU to dreaded Pakistani "terrorists" out to bomb Somnath Temple in Gujarat but caught robbing an ATM because they apparently weren't given sufficient TA/DA by the ISI.
This isn't sensationalism. Everything I have said, from the moment we descended to Pathankot and below, is fact. This is history in making -- of constitutional subversion, anarchy and chaos. All it needs now is for other upper riparians, Maharashtra, Karnataka, Madhya Pradesh and, why not, even Himachal Pradesh to abrogate their own water-sharing accords on the Krishna, Godavari, Kaveri, Narmada, even the Sutlej, Beas and Ravi, with the simple truth: we ain't got no water to spare.
In fact, the only upper riparian that may not be able to do this is poor Arunachal Pradesh. The Brahmaputra and its tributaries bring in just too much water and with too much force. So, a hint probably, to the Chinese in Tibet. By the way, that is where Punjab's Sutlej comes from.
R
ecounting the history of this dispute will consume this entire page and still only reach, with much abridgement, around 2004. It is much better that I refer you to my Chandigarh-based friend and colleague Vipin Pubby's
piece
(
external link
) pithily listing the 10 turning points in the SYL story.
But just to underline: land acquisition for SYL began in 1978 when the Akalis were in power in Punjab and Delhi with the Janata Party (which then included the Jan Sangh). The same Parkash Singh Badal was then chief minister. A tripartite agreement was signed between Punjab, Haryana and Rajasthan in 1981 when the Congress was in power in Punjab and the Centre. Indira Gandhi laid its foundation stone in 1982 and Amarinder Singh hailed it as a great step for Punjabi mankind.
In 1985, the accord was reaffirmed in the Rajiv-Longowal Accord. But in 2004 Amarinder Singh made history in constitutional defiance by passing a law called (seriously, this is no parody) the Punjab Termination of Agreements Act. It was passed unanimously, and though he lost power in spite of it, the Akalis are doing just the same to deny him a return to power.
On top of all this, a presidential reference on this law to Supreme Court has only now come up for consideration, 12 years later, just in time for the election build-up in Punjab.
Just one more landmark in this shameful history deserves mention. Even when everybody seemed to agree on the canal and construction was proceeding, the terrorists would have none of it. In 1990 they massacred the project's chief engineer, his deputy and 35 workers, and work stopped.
Between the Akali Dal, the BJP and of course the Congress, cheered on by the AAP, the terrorists' objective has now been achieved.