The recent postings and promotions of three-star generals in the Pakistan Army have propelled some of former chief Ashfaq Parvez Kayani's favourites to traditionally important positions, says Rana Banerji.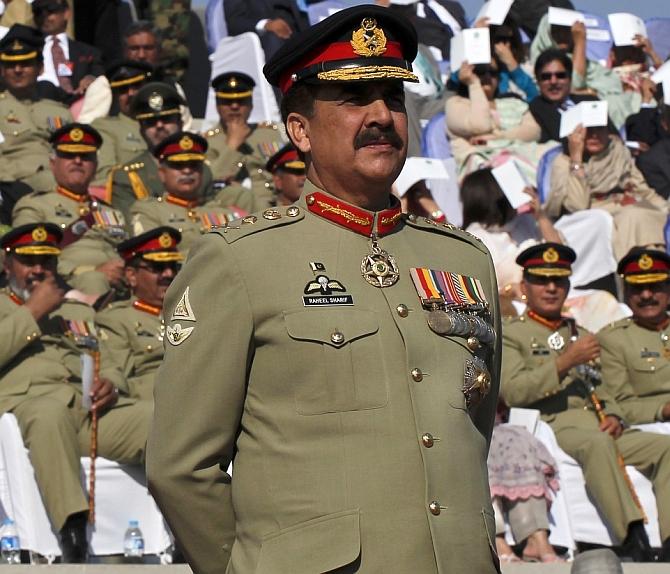 The recent promotions of three-star generals in the Pakistan Army went almost unnoticed, except for a small disclosure on the Inter-Services Public Relations website on April 9, 2015, but they indicate an interesting course correction that may alter the succession stakes when General Raheel Sharif's term as chief concludes in November, 2016.

Sharif's first reshuffle of senior lieutenants general last year had seen Lt General Zubair Mohd Hayat, an artillery officer being sent to replace the famed Lt Gen (retd) Khalid Kidwai as director-general, Strategic Plans Directorate.
Earlier chiefs had not disturbed Kidwai, as he enjoyed great prestige in the West as someone who had introduced a fairly secure system of checks and balances in Pakistan's nuclear control hierarchy, a welcome respite from the lax days of A Q Khan.

There may have been a design to this move.
Hayat was perceived as Ashfaq Parvez Kayani's choice to head the army down the line. He had been Kayani's director-general of staff earlier.
When Sharif moved him out of the 31 Corps, Bahawalpur command after he had done barely 10 months there, many believed he was being side-tracked to make way for Sharif favourites, Chief of General Staff Lt General Ishfaq Nadeem and newly promoted Director-General, Inter-Services Intelligence, Rizwan Akhtar, in the succession stakes for next chief.
However, this time, even as Nadeem is moved out to complete a customary Corps command at II Corps, Multan, replacing Lt General Abid Pervaiz, retired, Hayat makes a comeback to the traditionally important CGS slot.
He will now be the senior most lieutenant general with command of a corps, strategic command and CGS under his belt, suddenly making him the front-runner for chief in 2016.
Two other Kayani favourites have gained momentum in the recent changes.
Shahid Baig Mirza has been promoted as military secretary, with Mazhar Jamil, the current MS and another artillery man moved to the director-general, SPD slot vacated by Hayat.
Mirza also served on Kayani's personal staff and was given a prized posting to command 10 Division, Lahore (which usually helps army generals get good plots in Defence Housing Society, Lahore).
Hayat's other brother, Omar Mohd Hayat, who is from Ordnance, is also promoted and sent to the lucrative post of chairman, Ordnance Factories.
The Hayat brothers now become a singularly fortunate army family -- sons of a brigadier, with two enjoying three-star status and a third, Major General Ahmed Mahmood Hayat holding the important deputy director-general, analysis slot in the ISI.
There has been criticism in the recent past about Sharif's promotions, alleging that a disproportionately large number of serving and retired Piffers (Frontier Force regiment) officers were promoted (five out of the 15 infantry complement in 28 posts of lieutenant general) or given key slots last time, such as defence secretary (Lt General retd Alam Khattak).
This time, Sharif has been more circumspect. Of the six given lieutenant general ranks this time, only one is from Piffers, Lt Gen Anwar Ali Hyder, who was director-general, staff duties in COAS (Chief of Army Staff)' Secretariat.
He now goes as president, National Defence University (previously known as NDC), Rawalpindi. Its previous incumbent, Lt Gen Javed Iqbal Ramday, a Sind Infantry officer, was moved as Corps Commander, 31 Corps, Bahawalpur, replacing the other Javed Iqbal, now retired.
Another major general promoted, Lt General Malik Zafar Iqbal, a Baloch regiment officer still awaits a posting. He may go as director-general, joint staff, Chaklala, vice Lt General Muhd Asif, retired, or be accommodated in a Corps command, either at Lahore (4 Corps) or Quetta (12 Corps) if these slots fall vacant and if he is in Sharif's good books.
Javed Mohd Bukhari is promoted as quartermaster general. He is from Engineers, raising their share of lieutenants general to three. The last promotion is of Surgeon General, Lt General Syed Muhd Imran Majeed, who is from Army Medical Corps and succeeds Lt General Azhar Rashid, retired.
Overall, the postings/promotions could be indicative of new constraints on the army chief from within the senior collegiate generals' lobby, who usually sit in on the vetting of promotions from two stars to three-star generals but do not have a final say in actual postings, which remain the chief's prerogative.
These pulls and pressures also reflect a more hard-line position taken by Sharif on India policy lately, with hawkish ISPR criticism made public against India's Research and Analysis Wing on Muttahida Qaumi Movement instigation, allegations about involvement in Baluchistan and Federally Administered Tribal Areas.
Political observers in Pakistan see these as "a balancing act", which may help the army chief to "gain more space" on the continuing crackdown against Islamic radical militants and others of criminal hue, in Karachi.
The next set of army three-stars promotions will become due in October, 2015.
The author is a retired special secretary, Cabinet Secretariat, Government of India