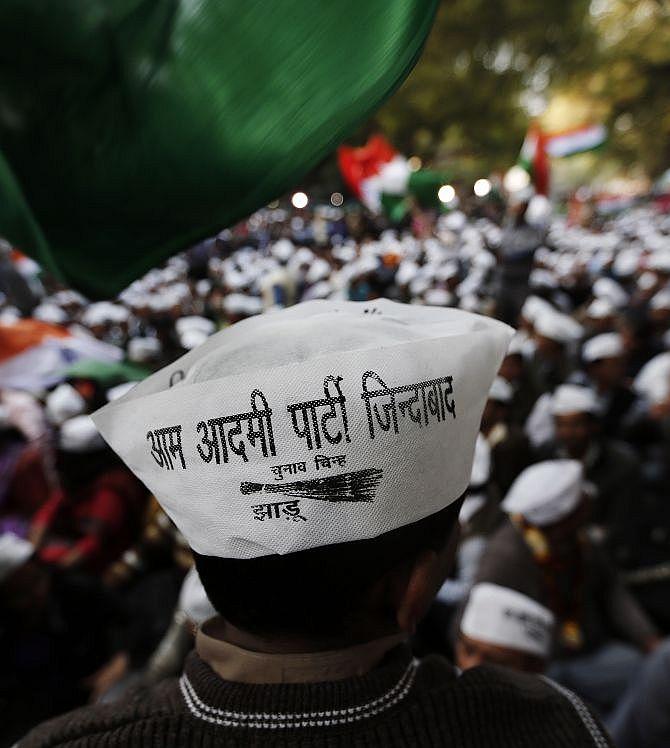 The AAP has adopted policies in an ad hoc manner, without thinking them through, says Praful Bidwai.
As the Lok Sabha election looms, India's political battle-lines are being redrawn.
The Congress, mauled in recent elections, and loathed for high prices and corruption, seems dispirited, confused and unwilling to fight.
Rahul Gandhi's likely nomination as its prime ministerial candidate -- on the unproven, media-propagated, and probably mistaken, premise that such advance announcements significantly alter election results -- won't lift the party's morale.
Sonia Gandhi has stepped back from active party leadership for undisclosed reasons. Her son shows no understanding of the huge challenge confronting the United Progressive Alliance. Dr Manmohan Singh has exited, absurdly citing the so-far-infructuous US-India nuclear deal as his 'greatest achievement'.
Rahul imperiously exercises veto power over Congress decisions, but has given it no political mobilisation or coalition-building strategy. Obsessed with being 'investor-friendly', the UPA is hewing to right-wing positions on the economy, energy and the environment, as the clearance to POSCO, near-burial of the Western Ghats report and allowing field-trials of GM crops prove.
The UPA's sullied image, and its move to cut social sector spending, can only make it even more unpopular. Its Lok Sabha tally is likely to fall steeply.
The Bharatiya Janata Party, under Narendra Modi's communal-authoritarian and demagogic leadership, is embracing crassly obscurantist agendas.
The Aam Aadmi Party's rise has rattled Modi and driven him into the arms of discredited godman Ramdev and pro-corporate lobbies which want all taxes abolished and replaced by a bank transaction charge.
This ultra-regressive proposal, which would have shocked even Margaret Thatcher, makes no distinction between the rich and poor, and leaves cash transactions (four-fifths of the total) out of the reckoning.
It is a despicable recipe for pampering businessmen, further widening disparities in India's hideously unequal society, and bankrupting the State.
Whether this idea sails or not, it shows the BJP is floundering as it faces the formidable challenge of expanding its own base and shoring up the shrunken National Democratic Alliance.
Modi has no positive agenda. He peddles hatred, retrograde social views and shamelessly pro-rich policies. But these cannot win elections despite the communal polarisation wrought by Muzaffarnagar. The BJP has failed to knit together a viable social-group coalition.
Given this, it would be a surprise if the Congress and BJP's combined share of the national vote doesn't fall below the 37 percent recorded in 2009. The bulk of the rest will be claimed by regional parties.
Since 1984, their vote-share has almost tripled, and their number represented in the Lok Sabha has more than doubled as India's politics became increasingly multi-polar.
The regional parties include formations both of the ethnic, state-based type -- like the All India Anna Dravida Munnetra Kazhagam in Tamil Nadu, the Trinamool Congress in West Bengal and the Biju Janata Dal in Odisha -- and the caste- and community-based variety -- like the Samajwadi Party and Bahujan Samaj Party in Uttar Pradesh, and the Janata Dal-United and the Rashtriya Janata Dal in Bihar (where the RJD's stock is apparently rising).
Now added to these seven big regional players is the newcomer AAP, a party of a third kind, without a crystallised caste or ethnic-state identity. It is so far electorally confined to one region (Delhi), but has decided to throw its hat into the national ring by fielding as many as 300 candidates for the 543 Lok Sabha seats.
The AAP may not win too many seats outside Delhi, Haryana and some cities (Mumbai, Bangalore, Chennai?) in other states. But it could conceivably win five to seven percent of the vote, similar in size to the BSP's.
If this is concentrated in the cities, it will probably damage both the BJP and the Congress and possibly translate into a sizeable number of seats for the AAP, such as 20, 30, even 40.
Any party which wins a bloc of 20 to 30 seats within a fragmented polity can become a significant player in a multi-party coalition. It can practise a 'strategy of denial' (of power) vis-a-vis other parties, or insist on including or excluding certain demands in the common agenda to be pursued.
What the AAP will do with its growing leverage remains unknown. Its character is as yet somewhat hazy and fluid.
The AAP is India's first political-party product of a civil society mobilisation since the 1970s.
Its leadership (or political base) is strongly middle-class and dominated by technocrats and professionals. But its social base, which voted for it, is a 'coalition of extremes'.
At one end are sections of the upper-middle class and lower-middle class, many of them young first-time voters, who were drawn to Anna Hazare's anti-corruption movement, but have a largely apolitical or anti-political past and aren't ideologically motivated.
At the other end are strata of the poor such as the slumdwellers that Arvind Kejriwal's NGO Parivartan earlier worked with.
The two components pull in different directions -- the first rightwards, the second leftwards.
The first wants less government, more market freedom. The second wants a strong State that can give rights and entitlements and deliver services.
To balance the two, the AAP has evaded issues of ideology or a long-term political framework. Its 'vision' statement is silent on these -- and on vital questions like poverty, inequality, communalism, caste and economic policy, leave alone international relations.
Yet the AAP has managed to present an inclusive image. It has all of Delhi's three women MLAs, and nine of its 12 Dalit (reserved constituency) MLAs.
Its seven-member cabinet includes three engineers, one multinational corporation executive, and two Dalits, one of them a woman.
Some AAP leaders are right-leaning. For instance, the transport minister opposes bicycle lanes and Bus Rapid Transit although it is superior to the Metro.
Some leaders are more radical, like Prashant Bhushan. But he had to recant his statements on Kashmir to fall in line with 'mainstream' views.
The AAP is disturbingly silent on Modi. Some AAP supporters are pro-Modi. The AAP probably reckons opposing him will polarise voters; it is safer to duck the issue. It is not clear if this tactic will work.
As the AAP recruits MNC executives, bankers, IT honchos, and middle-class professionals, its composition will become more elitist and its positions more conformist.
This bias became evident in its government's decision to supply 700 litres of water a day free to each Delhi household and halve electricity tariffs for domestic monthly consumption up to 400 units.
The Right has criticised this as pro-poor populism. In fact, it favours the middle and upper-middle class, leaving the issues of universal access and equity unresolved.
Consider water. The Delhi Jal Board's pipelines exclude at least one-third of Delhi's 3 million-plus households. The poorer ones depend on exorbitantly priced water supplied by tankers controlled by a mafia. The mafia mines water haphazardly, contaminating groundwater and lowering the water-table.
Worse, 54 percent of the water is criminally wasted.
Sixty two percent of Delhi households get less than 50 litres per capita per day, and 25 percent less than a paltry 20 lppd. But 17 percent, living in central Delhi's bungalows and flats, get 390 lppd.
The priority is to reduce waste, extend the piped-water network to create universal access, and meet the needs of the bottom 25 percent, while doubling the number of meters from today's 1.4 million.
But the AAP promises 140 lppd free to everybody with a piped connection. Now, a person doesn't need 140 litres. More realistic estimates are 50 to 60 litres, the highest being 85.
Subsidising water for the poor is justified. But giving it free to all will encourage waste, water logging, pollution and disease.
The Delhi Jal Board has been systematically weakened through privatisation of services and huge staff reductions. Starved of funds, it cannot extend or even maintain its infrastructure. Yet, it raises rates by 10 percent annually. The AAP has ignored these irrationalities to please the middle-class.
The hasty halving of electricity rates is equally iniquitous -- although it may seem justified because of the malpractices indulged in by the private distribution companies (Discoms), including tampering with metres, exaggerating electricity purchase costs, forming cartels, and overcharging in other ways.
The AAP government should have first ordered an audit establishing the extent of the malfeasance and inefficiencies, and then recommended that the Delhi Electricity Regulatory Commission lower tariffs accordingly.
The government has no tariff-fixing power, only the DERC does.
Yet, instead of waiting for audit results, the AAP raised subsidies to Discoms, thus accepting inefficiencies and legitimising profiteering. Worse, the 400-unit ceiling is excessive. A two-or three-bedroom home without an air-conditioner, say energy experts, uses less than 200 units.
Halving tariffs for 400 units means subsidising the rich -- even while 800,000 poor families remain unconnected and must buy electricity from polluting diesel-generators at double the official tariff.
Overconsumption by the rich also promotes coal-burning, with environmental and climate-change consequences. Ultimately, the costs are dumped on society. This is doubly iniquitous.
The AAP has adopted policies in an ad hoc manner, without thinking them through or deriving them from a broader framework. This must change if the AAP is to become a credible alternative.