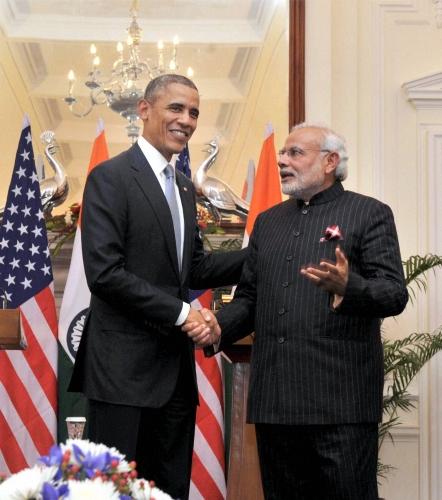 'Striking a balance between elegance and image is a challenging task. Mahatma Gandhi succeeded by stressing his humble image, while others suffered setbacks on account of their flashy and extravagant attire,' says Ambassador T P Sreenivasan.
Statesmen and politicians around the world tend to make fashion statements through their attire knowingly or unknowingly. Some win approbation for their originality and appropriateness, while others attract criticism for extravagance or for lack of taste or imagination.
Choosing the appropriate apparel is as important as being well mannered and sophisticated enough to be worthy of the position they hold. It takes considerable effort and attention to make the right impression by the right apparel. Apparel not only proclaims the man, but also makes and unmakes leaders.
Long time ago, when Bhutan joined the United Nations, I was surprised to see that Foreign Minister Dawa Tsering appeared at the General Assembly not in the traditional Bhutanese clothes, which are mandatory back home, but in a well-stitched suit and tie.
When asked, he said that he had observed that those who wore traditional clothes, whether scantily or in panoply, were from the least developed countries. Though Bhutan was one of the least developed countries, he did not want his country to be identified as such wherever he went. Wearing a western suit was the easiest way to attain a level playing field.
Coming to think of it, I realised that no Australian or US diplomat had ever appeared in aboriginal clothes. It was Guatemalan, Malawian and Western Samoan diplomats, who came in colorful skirts and plumes. Now, even they appear in western suits, following the Bhutanese foreign minister's example.
Even the Chinese have abandoned Mao suits in favour of mass produced blue western suits and ties. Today, the General Assembly sessions are no more the riot of colours that it once was. Only a few African chiefs sport their national costumes on the inaugural day.
Indian diplomats wear the 'bandhgala' often, but that is hardly noticed as distinct from the suit. I have not seen any Indian in a kurta in the sanctum sanctorum of the United Nations. The thermostats in the halls of the United Nations are kept so low that light clothes attract not only stares, but also cold and cough.
Diplomacy is the most conservative profession, when it comes to clothes and fashion. But there are many countries where much variety is offered even for diplomats.
In Tonga, a little island in the Pacific, to which I was concurrently accredited as high commissioner while stationed in Fiji, every occasion had its dress code prescribed. We spent five days on the island to celebrate the birthday of the king and we had to change clothes three times every day -- morning coat with tails for breakfast, suit for lunch and the dinner jacket for dinner.
For the audience with the king, we needed to carry a silk hat (never worn), which we had to hire from New Zealand!
On the other hand, in the neighbouring Kiribati, the president appeared in shorts and a colourful 'bula' shirt, when I was dressed up in a suit in 35 degrees Celsius to present my credentials.
Seeing my discomfort at being over dressed, he pointed to his shining shoes and said that he was wearing the shoes in my honour. Normally, he would have worn Hawaii chappals!
Generally in the Pacific, the dress code is fairly relaxed, though members of Parliament wear suits and ties inside the house, regardless of the weather. In many African countries, woolen suits are worn in office, defying the dictates of the weather. The general rule in most countries on the dress code is, 'when in doubt, wear a lounge suit.'
The exceptions to this general rule on dress are made by some to develop fashion statements of their own to make an impact. Mahatma Gandhi made the biggest fashion statement by having no fashion, not even enough clothes to cover himself fully. When he was asked why he went to see the British Emperor half naked, he said: "His majesty was wearing enough clothes for the two of us."
The hat and cigar of Winston Churchill were a similar fashion statement. Charlie Chaplin's walking stick was in a genre of its own. None of Gandhiji's followers adopted his dress style. Nehru had a rose bud on the lapel of his achkan, adding a royal touch. He is reported to have changed clothes three times when he was in Cambridge.
Indira Gandhi wore very fashionable saris and set a fashion trend. Rajiv Gandhi's 'bandhgalas' were very elegant.
More recently, Hamid Karzai of Afghanistan sported his own fashionable clothes even when he was moving from crisis to crisis. He looked elegant among the suited and booted gentry around him. But the dress sense of an Indian home minister, who changed his clothes three times on a day of crisis led to his downfall.
Shashi Tharoor, who came to politics after many years at the UN, decided to dress like an ordinary Kerala Congressman in white dhoti and shirt and did very well in his first election. But when he adopted his own fashion of colourful kurtas with tricolour shawls, he began to appear different from his colleagues and the fact of his being an outsider came to be accentuated.
There were many factors in his loss of votes in his second election, but his distinctive dress sense was one of them.
APJ Abdul Kalam, when he became President, having been a scientist all his life, developed a new hairstyle and his own distinctive suit. It made up for his short stature and gave him a new personality. Together with his erudition and energy, he has become the most popular former President ever.
Narendra Modi's sartorial journey is the opposite of Mahatma Gandhi's. While Mahatma Gandhi dressed like a peasant after having been a fashionable barrister, Modi adopted aristocratic attire, even while being proud of his humble origins as a tea-seller.
His brand of the kurta became famous for its colours and styles, but his ten lakh rupee suit with his own name embroidered on it, which he wore at the time of the visit of President Obama, damaged his image considerably.
Arvind Kejriwal, in his humble muffler and Gandhi cap, which he has hijacked from the Congress, swept the polls in Delhi as the 'aam admi' not only in name, but also in appearance.
At global summits of groupings like APEC and G-20, the leaders appear in traditional costumes of the host country on one occasion. It must be a major effort to get these clothes stitched to measurements in advance, but it creates an atmosphere of easy informality and even banter, contributing to the success of the summits.
There was a chuckle on the lips of the guests at Rashtrapati Bhavan, when Obama said that he was thinking of wearing a 'Modi kurta' at the banquet.
Striking a balance between elegance and image is a challenging task. Mahatma Gandhi succeeded by stressing his humble image, while others suffered setbacks on account of their flashy and extravagant attire.
Kejriwal stumbled upon his own fashion statement, which caught the imagination of the people of Delhi. Apparel can be used to great advantage by statesmen and politicians, but its perils are also real.
T P Sreenivasan, (IFS 1967), is a former Ambassador of India and Governor for India of the IAEA Executive Vice-Chairman, Kerala State Higher Education Council, Director General, Kerala International Centre.
Image: Prime Minister Narendra Modi wore a suit with his name woven into the pin stripes during President Obama's visit. Photo: PTI.