'Where is the analysis that we need to spend at least Rs 4 trillion to keep India safe?' asks Aakar Patel.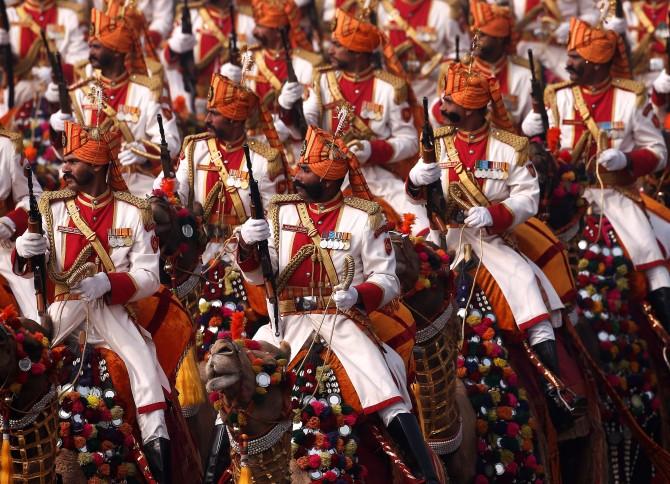 IMAGE: The BSF Camel Contingent at the Republic Day parade, January 26, 2018.
The camel-mounted troops have been instrumental in successfully tracking down extremists and smugglers on the Rajasthan-Gujarat frontier.
Their motto -- Duty unto Death. Photograph: Adnan Abidi/Reuters
One area where Finance Minister Arun Jaitley will be under no pressure when he presents his Budget is defence spending.
Under no pressure because there is a remarkable consensus among our political parties that we continue our wild and wholly disproportionate splurge on a bloated army.
Let's have a look at the numbers.
Last year, Mr Jaitley allocated Rs 3.59 trillion to the ministry of defence, 57 per cent of which went to the army, 22 per cent to the air force, 14 per cent to the navy and much of the remaining 7 per cent went to the Defence Research and Development Organisation.
But this is not all that is spent on what we would call 'defence'.
Much of India's 'defence' action is taken internally against other Indians.
The Central Reserve Police Force, which has been saving India from Adivasis, Nagas, Kashmiris and Manipuris, got another Rs 170 billion.
The CRPF is, of course, only one of several paramilitaries the home ministry maintains.
If we honestly add up what India actually spends on defence we arrive at a number in excess of Rs 4 trillion, taking up a fifth of all spending.
To put that in perspective, India's Union government allocates Rs 480 billion to health and Rs 790 billion to education.
The debate is not over whether we should spend on defence at all (though it would be appropriate to ask why we are maintaining one of the world's three largest armies).
The debate is whether we have our priorities right.
India is a country where 38 per cent of children are stunted, leaving them no chance of a fulfilling intellectual and physical life as all the data show.
What will these children make of the fact that India is the world's largest importer of arms?
The Stockholm International Peace Research Institute reported last year that 'India was the world's largest importer of major arms in 2012 -- 16, accounting for 13 per cent of the global total'.
Congratulations to us, and please note the years in which this happened.
The blame is as much on the Congress party (which is highly nationalistic in the negative sense despite its reputation for softness, and as demented on the issue of priorities as is the 'right').
These are arms that are almost never used, incidentally.
The last time we used fighter planes, in an offensive war that we chose to launch it should be noted, was in 1971. And yet we have just bought 36 new ones for Rs 590 billion.
Last year's scuffles, actually little more than pushing and shoving, in Doklam against the Chinese happened with both sides totally unarmed because they are afraid things will get out of hand.
Now consider the report that India is buying 160,000 new assault rifles and carbines because the old toys are not good enough (the rifle the German army of the World War II used is called the Mauser 98K because it is a design from 1898, four decades before the war. It was good enough for the German infantryman to conquer all of Western Europe).
What the prime minister said a few months ago should be repeated here: 'In the last 40 years, not a single bullet has been fired (on the India-China border).' Should this nation not ask then why we are buying new rifles instead of something else?
One day before that, on January 16, came the report that India is getting a new missile system for its tanks, increasing the range from 5.5 km to 8 km. Against whom are we going to use these tanks? This the report did not say.
One of Make in India's great ambitions is to indigenise arms manufacturing. The government's Web site says that the 'government is focusing its efforts on increasing indigenous defence manufacturing and becoming self-reliant. The opening up of the defence sector for private sector participation is helping foreign original equipment manufacturers enter into strategic partnerships with Indian companies and leverage opportunities in the domestic market as well as global markets'.
So we will now spend national treasure ourselves making arms that we will not use, instead of others making them.
As an aside, I should mention here that given how this government and those before it have squeezed the funding of India's civil society organisations and non-governmental organisations or NGOs, it is actually easier to bring in foreign funding to build bombs than schools and hospitals.
Business Standard reported last week that 'about 60 per cent of rural youth have never used a computer or accessed the Internet; 57 per cent cannot solve a division problem; 40 per cent struggle to tell time in hours and minutes, while around 14 per cent of them cannot measure length using a reference scale properly'.
This was according to the latest Annual Status of Education Report, with a sample size of 28,000. The youths were in the age group 14 to 18 years, meaning those who are to deliver our fabled demographic dividend.
The report added that 'only 54 per cent could understand three out of four instructions written on a food packet, and further down the complexity line, only 38 per cent could find a particular count after applying a discount, and only 15 per cent could calculate a loan repayment amount exercise'.
None of this is new and every year we are faced with the same results, showing that our choices in where we spend our money have serious consequences for the weakest Indians.
All of this would be a total scandal in another country, particularly a democracy. It is in colonial powers and tyrannies, where the State expands its least productive parts because it is constantly threatened.
Where is the analysis that we need to spend at least Rs 4 trillion to keep India safe?
If it doesn't exist, and it doesn't, it is only because we are totally fine with spending vast sums on useless things while hundreds of millions of Indians suffer.