'The only forum for resistance and dissent has become the university.'
'Free thinking is the right our brave students have been demanding.'
'As another round of violence and hatred against 'anti-nationals' begins, all of us, whether or not we agree with their views, should support and defend them,' says Aakar Patel.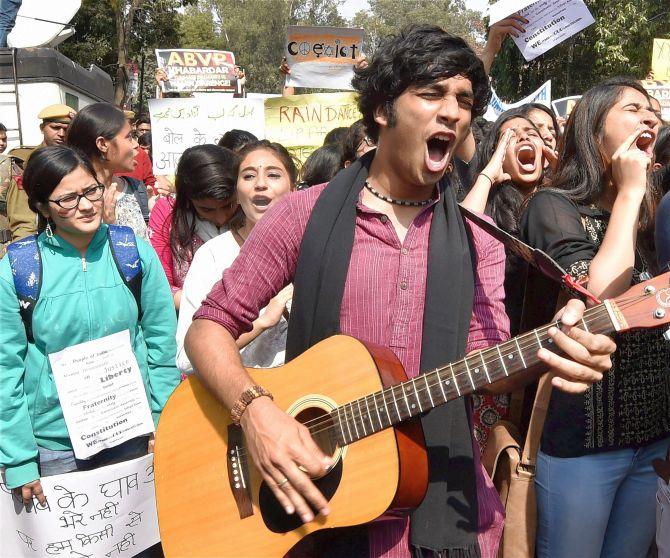 Recent reports say that no evidence of sedition has been found against Kanhaiyya Kumar by the Delhi police, which is controlled by the Modi government.
For those who do not know him, Kanhaiyya is the Jawaharlal Nehru University student who one year ago became a nationally hated figure. He was accused of shouting anti-India slogans.
This phrase 'anti-India slogan' in fact became prominent because of him and his case.
However, not many know what an anti-India slogan actually is. 'Kashmir maange azaadi' is thought to be anti-India, though 'azaadi' can have many forms and meanings.
Even if we are to accept it is 'anti-India', it is not seditious.
The Supreme Court is absolutely clear that someone can only be charged with sedition if they specifically call for violence.
Now we are being told that Kanhaiyya's voice cannot be heard in the tapes. He should not have been accused of sedition for this reason, should not have been arrested and jailed, and it was a criminal offence for lawyers to have attacked him in court.
He is owed an apology by the prime minister and Smriti Irani who tweeted and made strong statements on the JNU matter.
When he was released, Kanhaiyya made a speech which many thought was brilliant. I was one of them and I wrote that the BJP should not finger him further because he was dangerous for them.
He has a silver tongue and can effectively counter the pompous bombast of the prime minister in a way leaders like Rahul Gandhi are unable to.
After he was out of jail I visited Kanhaiyya and the meeting validated what was obvious in his speech.
He is an attractive man: A serious, thoughtful and modest individual, who does not like speaking about himself but prefers to discuss deeper issues.
Since his release, the BJP's students wing has ignored him and the party also has stayed away from engaging him, wisely denying him media attention.
The leaking of the news that there is no evidence against him is probably to seal this and move on.
But the anti-national issue has again risen in universities.
This time other young people have become national figures, like Gurmeher Kaur, the daughter of a martyred soldier, whose statements against war, cricketer Virendra Sehwag joked about.
There are, of course, two sides to the anti-national debate, but we must accept that only one side is violent and condones violence, and that is the government and its allied groups like the ABVP.
The question is: Why are students so willing to get into trouble when it is clear that their actions are detested by the media and the general population and they face violence?
The reason is that there is no other forum today in India for resistance to an essentially majoritarian ideology.
The BJP and its Hindutva groups are pushing the hard nationalism agenda. They do not tolerate an opinion on anthem, flag, Kashmir, Maoism or minority rights that is at variance with their own.
The other political parties have run away from the nationalism debate.
The Congress believes that there is not much electoral benefit in standing for individual rights, free speech and civil liberties.
The courts have also decided that the mood is in favour of greater nationalism and recent judgments, such as the one forcing all Indians to listen to and stand for the national anthem before a movie, indicate this.
The media, of course, is a business and must bow to popular opinion. To some extent newspapers can allow dissenting opinions on their edit and oped pages but for television this is not really possible.
The news channels have to stand with the majority if they want to keep their ratings high.
The only forum for resistance and dissent has become the university.
And this is where brave young women and men like Kanhaiyya, Umar Khaled, Gurmeher and Shehla Rashid are standing up against Hindutva.
They are saying nothing wrong. What is wrong in opening a dialogue with Kashmiris and what is wrong in accepting that we are mistreating our Adivasis and Dalits? It is the truth.
I was speaking to former chief election commissioner M S Gill (who brought in the electronic voting machine, making India's electoral process one of the world's best) about this issue and I asked him what makes a great university.
He has been to Cambridge and he said that it was allowing free thinking. This is the right that our brave students have been demanding.
They demanded this last year, and were abused and thrashed at the time, though now the Modi government's police force quietly leaks the news that the man they demonised most did nothing illegal.
As another round of violence and hatred against 'anti-nationals' begins, all of us, whether or not we agree with their views, should support and defend them.
Aakar Patel is Executive Director, Amnesty International India. The views expressed here are his own.
You can read Aakar's earlier columns here.
IMAGE: JNU students at a proest march. Photograph: PTI Photo
MORE columns and interviews on this issue in the RELATED LINKS below...