'To all those then who talk about ending Brahminical hegemony, my advice is: Get the Brahmins on your side,' says Syed Firdaus Ashraf.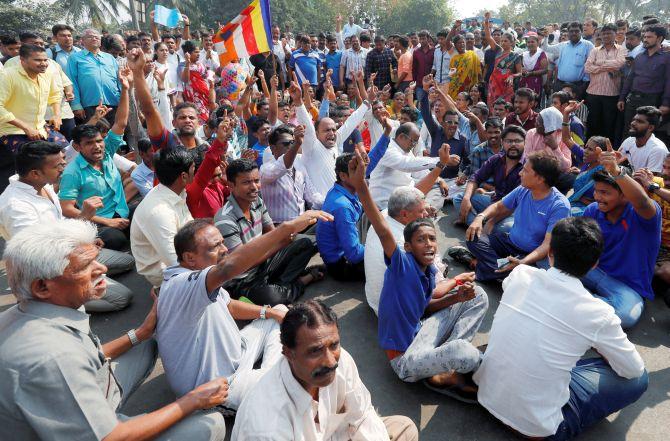 IMAGE: Dalits block a highway during the Maharashtra bandh, January 3, 2018. Photograph: Danish Siddiqui/Reuters
As a student of journalism in the early 1990s, I once attended a Dalit rally where speaker after speaker spoke about the atrocities Brahmins had unleashed against the Dalit community.
After the rally, I called on my journalism guru, the venerable M V Kamath, who happened to be a Brahmin, but that fact didn't strike me till we started discussing the rally.
'Sir, is there Brahminical hegemony in the Indian political system?' I asked. 'And is it true that Brahmins made Dalits suffer for 2,000 years?'
I told him about the Dalit rally where every speaker had denounced the Brahminical hegemony.
'Do you know who the biggest enemy of the Brahminical order is and who can defeat it?' Mr Kamath asked.
His answer shocked me.
'Only Brahmins can defeat Brahminical hegemony. No one else,' Mr Kamath pointed out.
Illustrating his point, he provided the example of Kerala, of E M S Namboodiripad, its first Communist chief minister, a Brahmin, who, Mr Kamath, argued, had successfully defeated Brahminical hegemony in the southern state.
'Look at Kerala today. Where is Brahminical hegemony in the state?' Mr Kamath asked, adding, 'It is dead.'
'Namboodripad systematically killed the caste hierarchy in the state. Today, Brahmins are more or less restricted to temples,' Mr Kamath explained.
'Mark my words, Firdaus,' Mr Kamath, who once edited The Illustrated Weekly of India, Asia's oldest English magazine, asserted. 'Nobody in India can defeat Brahminical hegemony, only Brahmins can do it.'
As events later unfolded in my life, I realised how prophetic Mr Kamath's words were.
In today's India, Jawaharlal Nehru is often ridiculed by the Hindu Right for his secular beliefs, but his adversaries forget that India's first prime minister was a Brahmin who wanted to lead India into the modern age with a unique vision.
Nehru wanted to build India as a democratic, secular, State. Few dared to question Nehru then. Is it because he was a Brahmin, I wonder.
During the 2017 Gujarat election campaign, his great-grandson's supporters declared that Rahul Gandhi was a 'sacred thread-wearing' Hindu, as if it was enough qualification to rule India, that assertion clearly negating his mother's Christian antecedents.
When I witnessed the Bahujan Samaj Party's ascendance, first under Kanshi Ram and then Mayawati, I felt the Brahminical order in India would soon end and Mr Kamath's prophecy would be proven wrong.
But the anti-upper caste BSP formed the government in Uttar Pradesh in 1995 with the Bharatiya Janata Party's help. A party perceived to be a party of the upper castes and the trader community.
And guess who helped the BSP and BJP strike a deal?
A veteran journalist who was a Brahmin.
I realised how prophetic Mr Kamath was about Brahmins. Here was the Brahminical BJP stepping aside from power and handing the reins over to the BSP, a Dalit party, with a Brahmin's help.
In 2007, Mayawati donned a new avatar. This time she spoke about Dalit-Brahmin unity and portrayed herself as a messiah of the Brahmins.
BSP MP Satish Chandra Mishra, a Brahmin, did a wonderful job winning sections of his community to his party's side.
For the first time, a Dalit woman became chief minister of Uttar Pradesh -- India's most significant political state -- and formed a government on her own -- but with the help of Brahmins.
If you think all this is mere coincidence, read Audrey Truschke's controversial book, Aurangzeb, The Man and The Myth.
Emperor Aurangzeb in 1679, Truschke notes, levied the jiziya (the tax on non-Muslims living under Muslim rule) on most non-Muslims in his empire.
The Rajputs and Marathas didn't have to pay jiziya as they provided military services to Aurangzeb's army.
One other community did not pay jiziya in Aurangzeb's time -- Brahmin religious leaders!
Disappointingly, Truschke does not reveal why Brahmins were exempted from jiziya, while Jains, Sikhs and all other non-Muslims were obliged to pay the levy.
Once again, I thought about how right Mr Kamath was about Brahmins.
'If you want to rule India,' he had told me, 'then you have to make peace with Brahmins, even Aurangzeb knew this.'
To all those then who talk about ending Brahminical hegemony, my advice is: Get the Brahmins on your side.