Just like with millions of Indian Muslims, even the vice president of India has been forced to undergo the covert loyalty test: 'you are presumed to be pro-Pakistan until you demonstrably prove you are a nationalist', says Shehzad Poonawalla.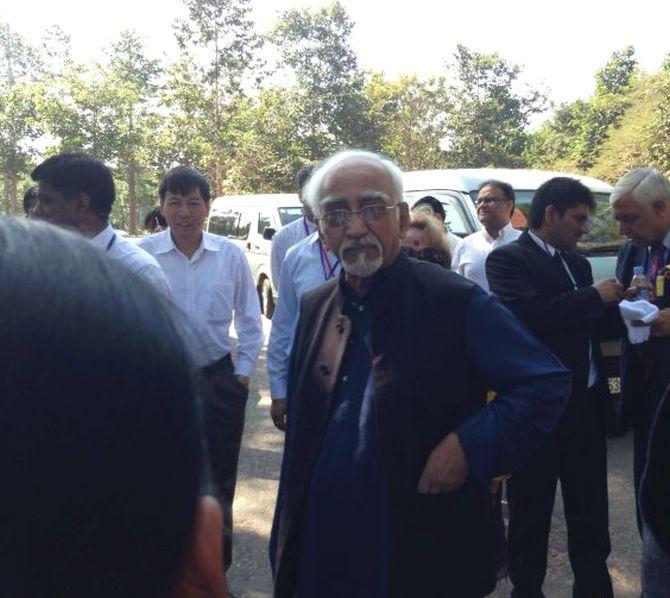 Image: Vice President Hamid Ansari in Vietnam in 2013. Photograph: Saisuresh Sivaswamy/Rediff.com
It seems to have almost become like a reflex action of sorts for the Bharatiya Janata Party and its die-hard supporters, particularly on social media, to target the vice president at every event of national consequence.
On Republic Day, it was alleged that the he showed 'disrespect' to the tricolour by not saluting it during the parade. As it turned out, the vice president was actually correct as protocol required only the President of India to salute the flag. Defence Minister Manohar Parrikar and Prime Minister Narendra Modi were not supposed to render the salute, but they did. Home Minister Rajnath Singh and External Affairs Minister Sushma Swaraj also stood in attention without saluting the flag, but their patriotism wasn't called into question, nor was former PM A B Vajpayee's or former vice president Bhairon Singh Shekhawat's patriotism doubted when pictures showed that they too had stood in attention without saluting the flag at previous R-Day parades.
Was it because Singh, Shekhawat and Vajpayee are assumed to be patriots but an Ansari or a Khan are not?
Hamid Ansari's office had to clarify that whenever the VP is the principal dignitary, for instance at the NCC camp earlier in 2015, he does render the salute during the national anthem.
So, just like with millions of Indian Muslims, even the vice president of India was forced to undergo the covert loyalty test: 'you are presumed to be pro-Pakistan until you demonstrably prove you are a nationalist' -- a maxim that very often defines the relationship of the State with its largest minority and consequently instils a sense of alienation and insecurity into those citizens, particularly at the behest of a certain ideological and political dispensation.
The latest controversy involving the vice president was stoked by BJP leader Ram Madhav who questioned the former's absence from the International Yoga Day event held in Delhi on June 21 where PM Modi was seen performing yoga asanas on Rajpath. Ram Madhav, a leader who has been groomed and reared in the RSS ideology and has been recently deputed to the BJP as one of its powerful general secretaries, tweeted his thoughts.

In his first tweet, Ram Madhav not only questioned the VP's absence but also raised questions on his impartiality by alleging that Rajya Sabha TV, headed by the VP, had completely blacked out the yoga day event! Now, one look at the official video channel of RSTV reveals a different story. The videos sections shows that not only did RSTV show the live coverage of the entire yoga day event but also showed additional programming related to yoga. In another tweet he questioned the VP's absence at the yoga day event.

Not only was Ram Madhav grossly misinformed (or was he lying?) about RSTV's programming and alleged 'blackout' of yoga day but he was also rebuffed by his own government which cited protocol constraints due to which the VP had not been invited. Minister Sripad Naik explained that 'when the PM is chief guest, it was not appropriate to invite the VP, a higher constitutional authority'.

If that was not enough, Ram Madhav sent out another tweet that the 'VP was unwell', and Madhav was apologising for his tweets as the 'institution of VP deserved respect'.
This was again found to be incorrect. The VP was in good health and his office indicated that 'Mr Ansari, a regular practitioner of yoga, would have attended the event if he had been invited'. It also added that the VP had performed yoga in his residence on Sunday as well.

When social media went berserk over these baseless tweets put out by the RSS ideologue, an obviously embarrassed Ram Madhav deleted both tweets. But it would be naïve for us to believe he made an innocent gaffe.

What he did was and is part of the deep communal indoctrination that forms an inalienable part of the RSS system which entertains a worldview that all Muslims, including ones like Vice President Hamid Ansari, notwithstanding their stellar contribution to public service and the nation, cannot be trusted. Their patriotism and nationalism are always in question. That somehow the allegiance of Indian Muslims is not to India, a country they chose to remain in after Partition, but to Pakistan, an idea they rejected despite how appealing that idea was projected to be back in 1947.
This is exactly why Ram Madhav in his follow up 'apology tweet' says that the 'institution of VP deserves respect'. He thus implies that Hamid Ansari the person, the career diplomat, the dedicated public servant and human being par excellence doesn't deserve respect – and that is only because of his religion? Even if Dr Ansari did not want to do yoga (which is clearly not the case), why should it become a touchstone of his patriotism towards India, his commitment or his sense of impartiality?
Did Ram Madhav question his own party president Amit Shah who did not perform any asanas as per reports? You don't need the IQ of an Einstein (or should I say Aryabhatta, to be politically correct in these times) to understand the communally laden subtext of Ram Madhav's unwarranted attack on Hamid Ansari.
But the problem isn't Ram Madhav or his tweets or the abusive right-wing army of trolls. Ram Madhav's worldview is actually a reflection of the regressive worldview within the RSS shakha, where propaganda replaces facts and religio-cultural nationalism, preached by the likes M S Golwalkar and Veer Savarkar, replaces the more evolved ideas of civic nationalism, which was bred into us by likes of Mahatma Gandhi and Jawaharlal Nehru, one that predicates itself on judging people for their worth and character, not their religion or caste.
For instance, in his book Bunch Of Thoughts, Golwalkar categorises 'Indian Muslims and Christians' as internal threats. Till date the propaganda in RSS shakhas breeds the fear that the Muslim population will overtake Hindu population in the next few decades, leading to a 'Muslim takeover' of India, something that did not happen despite 800 years of what the RSS terms 'oppressive Muslim Mughal rule'.
Today, those with RSS affiliations are being given important places in our education set-up in an attempt to communalise our history and syllabi. The entire Maharana Pratap-Akbar controversy, bringing in controversial author Dinanath Batra, known for his regressive views, as an advisor to the government of Haryana, and enforcing Surya Namaskar, are a few examples.
But the most worrying trend is that the prime minister himself hails from the very same RSS background to which Ram Madhav belongs. And he chose to remain silent even on this issue, rather than stand up for the vice president of India.
Doesn't that tell us all we ought to know about his commitment to 'Sabka Saath, Sabka Vikas'?
Shehzad Poonawalla is a lawyer-activist and founder-member of the governing body of the think-tank PolicySamvad.