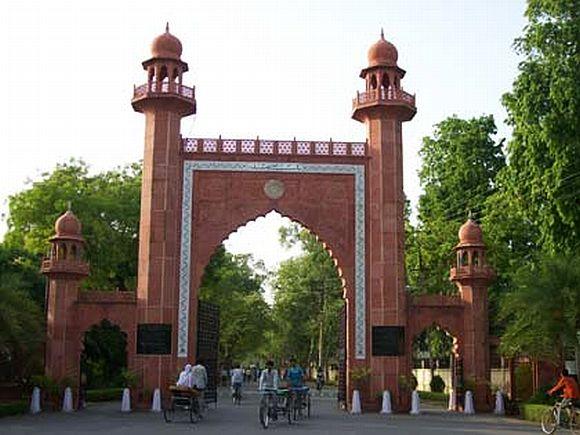 The hounding of former AMU students by some alumni over their 'wining and dining' during Ramzan is deeply disturbing, says AMU Professor Mohammad Sajjad.
'Intolerance, irrationality, bigotry, religious/sectarian hatred, and all such pernicious tendencies must be fought and resisted, more particularly by university campuses, in order to build a better society.'
Something very disturbing has happened which has some relationship with my alma mater, where I also live and teach.
It all began when five friends, including a girl, all bearing 'Muslim' names, were seen at a restobar in New Delhi's Khan Market, consuming food and alcohol in the holy month of Ramzan.
This was possibly on June 3, 2018. Four of them are said to be former students of Aligarh Muslim University.
At least two of these five are alleged to have been mocking all religions on social media for the last one year or so.
The fivesome's photograph was posted on Facebook by someone whose posts are generally identified as pro-Hindutva and Islamophobic. One does not know if it was a fake identity or real.
Soon after, self-appointed custodians of Islam and AMU tehzeeb, including some former student leaders of the university, went to the police to lodge an FIR against the five friends under Section 295A of the IPC for hurting their religious sentiments.
Through their Facebook comments they also claim that the friends' wining and dining has brought disrepute to AMU.
Soon, physical threats too followed.
Reports came out that after receiving the threats, and coming to know of the FIR lodged against them, the four male students went into hiding, while the fifth one, the girl, apologised. Some portals circulated a video of the girl's apology.
I ask myself, have we, as academics, failed, and that too, quite miserably?
I feel like confessing and saying yes, we have indeed failed.
Or, we can possibly console ourselves that only a minuscule fringe of former students have indulged in moral policing on social media, expressing extreme intolerance, hurling the filthiest of abuses against some former students, while some of them even threatened to lynch and kill the alleged 'wrongdoers'.
All this has disturbed me terribly. A friend of mine rightly reminded our students, 'If you did not learn empathy, argument and gallows humour at university, either your university was sleeping or else you were on extended holiday.'
Just as there are some saffron fanatics distributing patriotism certificates, there are some Islamic fanatics distributing faith certificates.
These self-appointed custodians (thekedars) of imaan (faith) and Islam have obtained (perhaps coercively, or under unethical social pressure?) a video of contrition from the girl and are circulating it on social media. Why didn't they, including some news portals, keep the girl's identity anonymous?
I could not stand the video. Hounding them is deplorable.
To my understanding, such reactions typify and testify to the symptoms of pernicious right wing reaction. That it is happening on a historic campus of higher learning is all the more worrisome and reprehensible.
These fanatics forget the objectives of a university.
Sir Syed Ahmad, AMU's founder, had delineated in 1877, while addressing the ceremony of laying foundation stone of M A O College, Aligarh (with aspiration of developing it into a university), that the objectives of the Aligarh Muslim University would be 'to preach the gospel of free enquiry, of large hearted tolerance and of pure morality.'
Quite rightly, an alumnus angrily asked, 'Who is the AMU community to demand a retraction from the girl? Is AMU the conscience-keeper of thoughts and beliefs of its Muslim students?'
'I would like to be enlightened as to what code of conduct did the students break by trying to be funny, maybe provocative to some. But an FIR is there. The law will take its own course.'
'The ex-student leaders of the university must define whether it is the protector of imaan first and foremost or a centre of modern learning where human spirit and human mind is given full play including non-conformity and lapses with established canons of accepted behaviour.'
'The kind of abusive language employed against the students is vulgar and uncouth and shows not class but that the masses of these students are the crassest. Grow up please!'
Another alumna expressed her outrage: 'The worst part is among the three the girl is being hounded the most.'
My colleague Professor Asim Siddiqui said this hounding was 'sexual harassment of the highest order.'
In my view, the girl and her parents too should lodge an FIR with the police against these trollers and self-styled custodians of Islam. Gender activists should extend their help to the girl.
The point is: Intolerance, irrationality, bigotry, religious/sectarian hatred, and all such pernicious traits and tendencies must be fought and resisted, more particularly by university campuses, in order to build a better society.
Thankfully, many students, former students and teachers have now begun to come out against the moral policing.
Let us recall what Jawaharlal Nehru had said: 'A university stands for humanism, for tolerance, for reason, for progress, for the adventure of ideas and for the search of truth. It stands for the onward march of the human race towards even higher objectives.'
'If the universities discharge their duty adequately, then it is well with the nation and the people. But if the temple of learning itself becomes a home of narrow bigotry and petty objectives, how then will the nation prosper or a people grow in stature?'
'A vast responsibility, therefore, rests on our universities and educational institutions and those who guide their destinies.'
'They have to keep their lights burning and must not stray from the right path even when passion convulses the multitude and blinds many amongst those whose duty it is to set an example to others, we are not going to reach our goal through crookedness or flirting with evil in the hope that it may lead to good.'
'The right end can never be truly achieved through wrong means.'
Professor Mohammad Sajjad is at the Centre of Advanced Study in History, Aligarh Muslim University and has published two books: ,Muslim Politics in Bihar: Changing Contours (Routledge, 2014/2018 reprint); Contesting Colonialism and Separatism: Muslims of Muzaffarpur since 1857 (Primus, 2014).