'Opposition to the idea of a state flag has come from the small thinking pseudo-nationalists, who are the ones pushing Hindi-Hindu-Hindustan.'
'Identifying India wrongly as a one language, one religion nation,' says Aakar Patel.
Illustration: Dominic Xavier/Rediff.com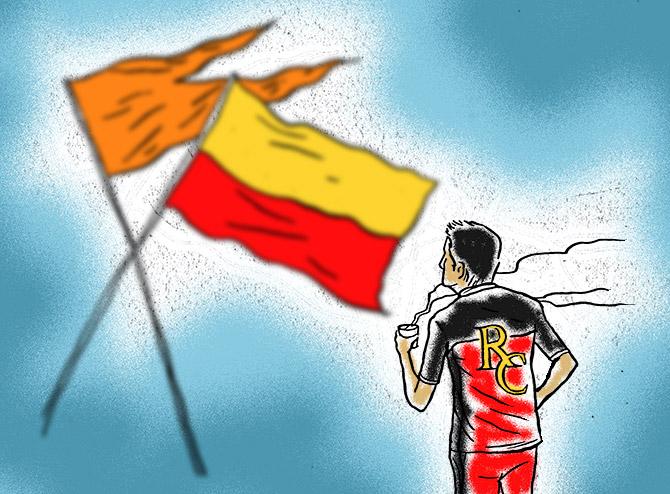 I am a Gujarati who lives in Karnataka. Both states have individual identities.
Surat, where my parents still live, was an international port town till about 1700. It has a mix of people, all sorts of castes and communities, who have visited and stayed over centuries.
It is the only city in India to have multiple indigenous merchant castes: Bania, Jain, Shia Bohras and Khojas, Sunni Bohras and Memons, Parsis, and since the 1970s, even Agarwals and Oswals by the thousands.
In previous centuries, even foreigners would live and trade in the city. Leo Tolstoy has written a short story called 'The coffee house of Surat'.
In it, at a cafe in Surat, a Persian, an African, an Indian, an Italian, a Jewish trader, a Chinese, a Turk and an Englishman discuss the nature of god.
It is difficult to imagine such a gathering in Surat today, about 150 years after the story was written.
Indeed, it is difficult even to imagine the story in the 1800s because by then the port on the Tapti river had silted over and large ships could no longer sail up the Arabian sea to Surat.
The new port on the west was Bombay. Today it is possible to imagine all those different nationalities accidentally gathering in one Mumbai restaurant.
Bangalore is a more recent city than Surat, but it has just as rich a history. It is a city that is international brand recognition.
When I travel around the world to Europe or Africa or South East Asia, people ask me where I am from. It is sufficient to say I am from Bangalore.
They understand, because of the superb work being done here in information technology. But this city has many charms, even outside its economy and ability to produce jobs.
Bangalore has people of many languages. The woman who comes to clean our house is illiterate, but she can speak fluently in four languages: Kannada, Telugu, Tamil and Hindi. She also understands Malayalam.
I don't think there are many north Indians, even the literate, who have this diversity in their cities. We Bangaloreans are very proud of this fact.
Even though there is an insistence on primacy to Kannada (and I support this), there is great tolerance in this city to other languages and this is quite unique.
There is nothing wrong in our celebrating our city and our state.
I am writing this because of the recent controversy over the Karnataka flag. The chief minister has asked to committee to examine whether it is all right for the state to have an official flag.
It already has a flag, yellow and red, which all Kannadigas, (including Gujarati Kannadigas like me) recognise. This flag has acceptance in all our political parties and it is not offensive to anyone.
Unlike the saffron flag, the Karnataka flag does not stand for one religion.
There is absolutely no problem with the state using this as a symbol of the rich and proud heritage of Karnataka.
Opposition to the idea of a state flag has come from the small thinking pseudo-nationalists, who are the ones pushing Hindi-Hindu-Hindustan. Identifying India wrongly as a one language, one religion nation.
To a large extent this issue is being used to abuse the Congress, but I think Chief Minister Siddaramaiah is within his rights. He has said quite clearly that the state flag comes below the national flag. So he is already disarming those who think this is the first step towards some sort of separatism.
He is also absolutely correct on the Constitutional side and I suspect that is what his committee will also tell him.
The first line of the Indian Constitution is: 'India, that is Bharat, shall be a Union of States.' And so we are starting by accepting the idea of different states.
If we look around us, there is already a sort of sub-nationalism with its own flags. We have city specific (Chennai Super Kings) or state specific (Kings XI Punjab) IPL teams and that is another form of sub nationalism.
These teams all have their own flags and we don't have a problem with that. Nor is there a problem with political parties and their flags.
The other thing is that if we look at other nations similar to ours, the idea of a state identity is quite common. All American states have their own flags and there is no accusation that this in any way goes against national unity.
All of our states have unique histories and because of that they have unique identities.
These identities should be allowed to express themselves. They are not in contradiction with our Constitution and there is no reason for them to be suppressed.
Aakar Patel is Executive Director, Amnesty International India. The views expressed here are his own.