'The days when less government, more governance were spoken of are well and truly behind us.'
'More government, it is now believed, means more governance,' says Saisuresh Sivaswamy.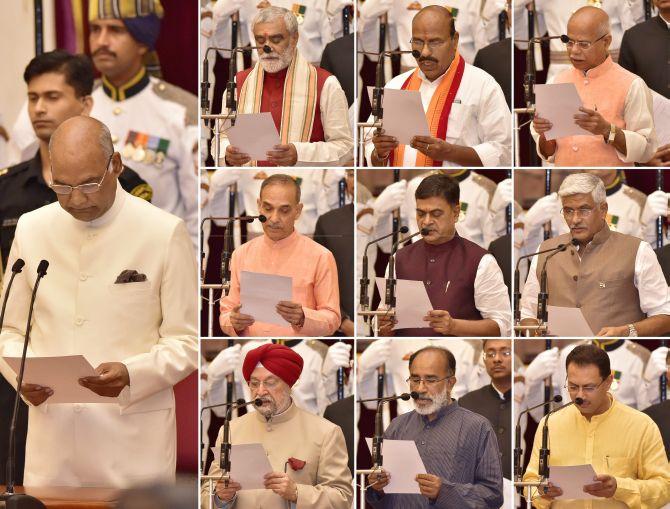 Ahead of the exercise, Prime Minister Narendra Modi's third reshuffle of his Union council of ministers was touted as one that would set the stage for the 2019 general election even while preparing the ground for the slew of assembly elections that will be kickstarted by Himachal Pradesh and Gujarat this year.
But a scrutiny of the latest Union council betrays no such thing.
There are many takeaways from Modi's latest rejig of his ministers, but to posit it as one that has its eye on 2019 is a bit of a stretch.
The major and much commented upon takeaway, of course, is the elevation of Nirmala Sitharaman from commerce and industry to the heavyweight defence portfolio which makes her an ex-officio member of the Cabinet Committee on Security.
It could be either a reward for Sitharaman's past performance as MoS commerce (independent charge), or an elevation keeping in mind the Bharatiya Janata Party's southern forays, or even both, though it is well acknowledged that given the multi-border challenges facing India, the defence ministry needs unwavering, laser-like focus.
Hopefully the new minister won't be weighed down by other considerations, and devote to her new portfolio the attention it so deserves and sorely lacked these last few months.
The other takeaway is the elevation, along with Dharmendra Pradhan, of the skill development and entrepreneurship portfolio, earlier under the independent charge of minister of state Rajiv Pratap Rudy.
Given that this was one of the Modi government's pet initiatives, and given the tremendous potential this ministry packs in a world that is fast being redrawn by the inexorable advance of technology, it is a singular measure.
Pradhan, too, has impressed his political bosses with his handling of the petroleum and natural gas ministry which he held as independent charge earlier, so this clearly is a reward for a job well done.
Also welcome is the elevation of the portfolios of coal and minority affairs, along with MoSes Piyush Goyal and Mukhtar Abbas Naqvi.
If the elevation of Pradhan and skill development can be seen positively in light of this government's initiatives, the contrary is the case with another crucial sector.
The role of the micro, small and medium enterprises in employment generation cannot be over-emphasised, especially at a time when this government has made suitable noises in favour of the sector.
It is also no secret that the depredations of the demonetisation move, never mind the positive spin put on it, were particularly harsh on the MSME sector.
Given that a helping hand for it was the need of the hour, it is inexplicable why the portfolio was moved down from Cabinet (under Kalraj Mishra) with two MoSes assisting him, and put solely under an MoS, Giriraj Singh, never mind he now holds independent charge of it.
Contrast this with how another of this government's pet initiatives is being handled.
The ministry of social justice and empowerment has one Cabinet minister (Thawar Chand Gehlot) assisted by three ministers of state -- Ramdas Athawale, Krishan Pal and Vijay Sampla.
Or take agriculture and farmers welfare, which too has a Cabinet minister (Radha Mohan Singh) and three MoSes (Parshottam Rupala, Krishna Raj and Gajendra Singh Shekhawat).
Even an old bromide like Ganga rejuvenation, which all of us know is really going nowhere, has been put under one of the better performing Cabinet ministers (Nitin Jairam Gadkari), and with two MoSes (Arjun Ram Meghwal and Satya Pal Singh) to assist him.
Some of the ministerial allocations are indeed mystifying.
However, the government has also shown that it is willing to coopt talent from outside the political spectrum, as evidenced by the inclusion of career diplomat Hardeep Singh Puri and K Alphons, without waiting for them to run the electoral gauntlet first.
Perhaps it is also a tacit admission of the dearth of talent that is available to the government to shape policy and ensure effective implementation.
With the latest expansion of the Union council, its number now stands at 76, just five short of the Constitutional limit of 81.
Clearly, the limit will be reached at the next, and possibly final, reshuffle before this government goes to the hustings.
Obviously, the days when less government, more governance were spoken of are well and truly behind us.
More government, it is now believed, means more governance.
IMAGE: President Ram Nath Kovind administers the oath of office to the ministers of state.