Taking away free healthcare facilities, as recommended by the Aayog, would place a huge burden on the people, especially in rural areas, says Devanik Saha.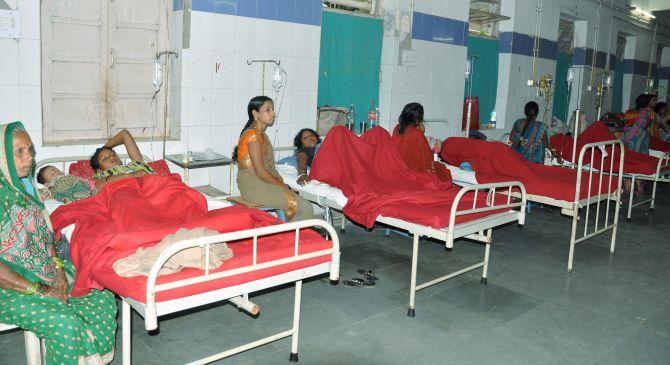 NITI Aayog has objected to increasing investments and focusing on the public health sector as well as providing free drugs and diagnostics, as suggested in the updated draft National Health Policy of the National Democratic Alliance government, according a report by Business Standard.
The Aayog's proposal has recommended that the private sector and insurance-based models be given a greater role in a public health system that would require people to pay for health services. While advocating against free health services to the people, it has asked that a contributory sickness fund be created. People would contribute to this fund and through it be able to purchase health services from private and public sectors, according to their choice.
It further added that providing free treatment, diagnostics and medicines would be anachronistic at a time when the government was trying to rationalise and target the subsidy regime.
India's healthcare indicators are some of the worst in the world -- 21 per cent of the global disease burden, home to the greatest burden of maternal, newborn and child deaths in the world, losing more than six per cent of its GDP annually due to premature deaths and preventable illnesses, and more than 90 per cent of treatments for childhood diarrhoea and pneumonia are incorrect, to mention a few.
Furthermore, 86 per cent of the rural population is still not covered under any scheme of health expenditure support, according to the Key Indicators of Social Consumption 2014: Health survey by National Sample Survey Office.
Such gloomy statistics would ideally call for an increased spending in healthcare -- India spends the least on health among BRICS countries, but as I argued in an earlier column, just increasing allocation doesn't make sense -- effective utilisation of already allocated money is important too.
But taking away free healthcare facilities would place a huge burden on the people, especially in rural areas. Here are three reasons why:
Deplorable incomes of rural households: 75 per cent of rural households in India have a monthly income of less than Rs 5,000, and no more than eight per cent of rural households earn more than Rs 10,000, according to the recently released Socio-Economic Caste Survey, which indicates that they hardly have savings for extra expenditures. Taking away free healthcare services would be disastrous as they would have to spend and borrow more for medical treatment. Furthermore, it will spell doom for tribals, whose health indicators are much worse off than the general population, and for whom community health centres and primary health centres are the only resort, irrespective of their awful state of affairs.
Increasing private influence: Currently, when healthcare services are supposed to be free, still more than 50 per cent of rural households resort to private healthcare, which costs the poorest 20 per cent more than 15 times their average monthly expenditure, according to the NSSO survey. The survey further revealed that in rural India, 58 per cent of hospitalised treatment was carried out in private hospitals while in urban India the figure was 68 per cent, and for non-hospitalised treatment, more than 70 per cent (72 per cent in the rural areas and 79 per cent in the urban areas) spells of ailment were treated in the private sector (consisting of private doctors, nursing homes and private hospitals, charitable institutions, etc).
If NITI Aayog's recommendation is implemented, it will lead to further mushrooming of private hospitals and institutes and encourage more quackery, which is immensely worrying. The private hospitals will also get a leeway to raise their charges exorbitantly as they would take advantage of the fact that patients have nowhere to go as opposed to earlier where they could have chosen the government route.
Rampant corruption in government schemes: NITI Aayog says the government should focus on the recently launched insurance scheme to rework the health scheme but globally (external link), such schemes haven't worked well as they are much more expensive than single-payer systems and quite complex to regulate and monitor. Most public welfare schemes in India are marred by excessive levels of corruption.
Out of every Rs 100 spent on the PDS, the poor received 12 per cent, while for NREGA the same figure stood at Rs 20 out of every Rs 100, Rs 8 higher than the PDS, as this column (external link) by noted economist Surjit Bhalla mentions. Such rampant levels of corruption would make it extremely difficult for poor patients to demand their due coverage from insurers. P Sainath, Magsaysay award-winner and who reported extensively on rural India, wrote in one of his essays that even doctors at PHCs charge money for doing check-ups and tests, which they are supposed to do for free. Therefore, if free healthcare is done away with, one cannot even begin to imagine the situation.
Though NITI Aayog's proposal is only a suggestion, it will definitely run into roadblocks in Parliament, should the government decide to go ahead with it.
However, the more worrying aspect is the anti-poor sentiment of India's economic and policy advisors at the cost of economic development.
In 2014, Arvind Subramanian, India's current chief economic advisor, had urged the US (while he was in that country) to initiate disputes against India at the World Trade Organization and sought changes in provisions within Indian patent law aimed at preventing frivolous patenting and preventing pharmaceutical companies from getting extensions on patents by tweaking existing drugs and passing them off as innovations, which is a lifeline for millions of patients worldwide who cannot afford super expensive drugs.
Image used only for representational purpose.