With India lagging behind on several human development indices including healthcare and education, the Union government's decision to up the spending on these sectors is a step in the right direction. However, much more needs to be done in the way of increasing accountability and arresting corruption if headway is to be made on these fronts, says Devanik Saha.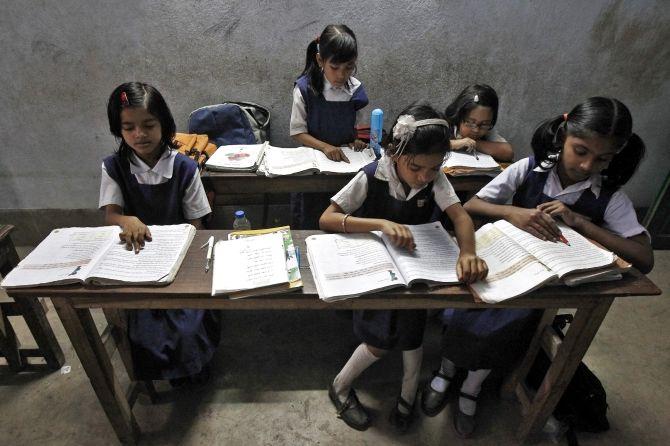 Schoolchildren study inside their classroom at a government-run school. Photograph: Reuters
The 2015 Union Budget announced in February witnessed huge cuts in social sector spending. While many schemes were delinked from the central government's support, steep cuts across the major three sectors -- healthcare (15 per cent), education (16 per cent) and women & child development (50 per cent), attracted criticism from NGOs and civil society experts.
In its 2014 election manifesto, the Bharatiya Janata Party had promised to increase the spending on health to three per cent of India's GDP.
In a recent move, the government has sought parliamentary approval to raise the budget for healthcare, sanitation and child development programmes, according to a report by Reuters.
In this context, two critical questions arise:
Should the government increase the budget given the dismal conditions of public institutions despite huge spending in the past decade? Does spending more money mean better outcomes?
In education, Rs 5,86,085 crore has been spent on primary education in the past 10 years, but learning outcomes leave a lot to be desired.
Only 25 per cent of all children in class III can read a class II text fluently, a drop of more than five per cent over four years, according to the 2014 Annual Status of Education Report by Pratham.
The report further revealed that the percentage of class III children who could do a two-digit subtraction decreased from 26.3 per cent in 2012 to 25.3 per cent in 2014.
Additionally, private school enrollment in India increased from 18.7 per cent in 2006 to 30.8 per cent in 2014 and almost 25 per cent of all children in rural India hire private tutors.
In March this year, an evaluation test for government teachers was conducted in Maharashtra, the results of which were appalling -- only 2.5 per cent cleared the test, demonstrating the gross incompetency of the teachers.
These statistics demonstrate the increasingly deteriorating standards of public education in India, despite gigantic sums of money being spent by the government.
When it comes to healthcare, the situation is even drearier. India shares 21 per cent of the global disease burden, according to the World Health Organisation.
In rural India 58 per cent of hospitalised treatment was carried out in private hospitals while in urban India the figure was 68 per cent, according to the key indicators of social consumption on health 2014 survey carried out by National Sample Survey Office.
The survey further revealed that for non-hospitalised treatment, more than 70 per cent (72 per cent in the rural areas and 79 per cent in the urban areas) spells of ailment were treated in the private sector (consisting of private doctors, nursing homes and private hospitals, charitable institutions, etc).
Every one out of three malnourished children is from India. India accounts for the highest maternal deaths in the world and shares the highest burden of tuberculosis in the world.
These statistics portray the pitiable situation of healthcare in India.
The pathetic conditions of public systems place a huge burden on people in rural India. Some 75 per cent of rural households in India live on less than Rs 5,000 per month, which implies that sending their children to private schools and treating themselves in private hospitals adds a lot of financial burden and pushes them into debt.
Even in the case of farmers who, probably, are among the most depressed demographic in rural India, loans for healthcare purposes have risen from three per cent in 2002 to six per cent in 2012, according to data from the All India Debt and Investment Survey 2013 by NSSO.
There are several arguments from NGOs and development sector professionals which advocate further increase in spending to solve the impending crises. However, as witnessed, despite allocating thousands of crores to social sectors, public systems remain lacklustre.
A major issue which cripples public systems is corruption and lack of accountability. The recent Vyapam teacher recruitment scam is an example of how mediocre candidates got jobs after paying huge sums of money. Recently, 3,000 teachers in Bihar, who allegedly got jobs through fake degrees, quit their jobs fearing legal action.
Such incidents portray the miserable state of affairs. To improve public systems, three issues are important -- focus on strengthening the recruitment process of government jobs in these sectors, promoting accountability and reducing corruption.
Although the BJP government has bowed to pressure and increased spendings, it must focus on these key aspects to improve the deteriorating public systems.
Even if the government is able to utilise the already allocated money effectively, there will be a significant improvement. Parallelly, NGOs should focus on strengthening the public systems rather than advocating for private sector interventions.