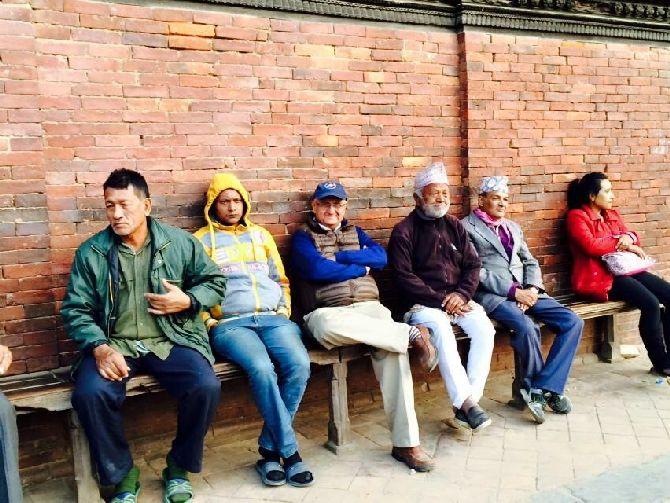 IMAGE: Kanak Mani Dixit, third from left, with other citizens at Kathmandu's Patan Square. Photograph: Aseem Chhabra.
Aseem Chhabra on his friend, firebrand Nepali journalist Kanak Mani Dixit, who was arrested last week.
Aseem, who has known Dixit for 35 years, believes the charges are trumped up.
I arrived in New York City in the fall of 1981. In my jet-lagged state I came directly from the airport to International House -- a student dorm near Columbia University. There I met a beautiful young woman who I mistook to be from India.
She was manning the front desk at I-House and she corrected me by saying she was from Nepal. I think I made a flippant, politically incorrect, remark, 'Well, it's the same thing!'
For that remark, the young woman -- who now runs a major school in Kathmandu -- has never forgiven me even though we laugh about it now.
Her name was Shanta Dixit and soon after I met her equally charming young husband, Kanak Mani Dixit, who at that time was a student at Columbia University's Graduate School of Journalism.
Kanak went on to become one of Nepal's leading journalists, a fearless man who has encountered a lot of challenges in his life and career. But through it all he has loved his country and its people.
Last Friday, I woke up to the news that Kanak had been arrested on trumped up charges. Having known Kanak for 35 years, his passions and his commitment to the establishment of democracy in Nepal, I know for sure that the charges against him are false and politically motivated.
Kanak has openly criticised the appointment of a former monarchist to head the country's Commission for Investigation of Abuse of Authority. His arrest on a Friday, when he could not apply for bail, was clearly a case of political vendetta.
In the last year Kanak has written extensively against the blockade of essential goods to Nepal. And he has again and again accused India for initiating the blockade. Kanak and his supporters believe that these writings have made him unpopular in some official circles in India.
This weekend, a signature campaign started through Change.org demanding that Kanak should be released. And a group of journalists, professors and artists from South Asia and around the world issued a statement calling for Kanak's release.
Right now Kanak's health is big concern for those who love him.
Shanta posted on Facebook that after his arrest on Friday he was taken to hospital where his blood pressure was 210/90. His son Eelum -- a film student in California -- told me on Sunday that his father was still in the ICU with high blood pressure.
***
Life was a lot simpler in the early 1980s. A group of friends would often gather in Kanak and Shanta's tiny married students' apartment. We would cook desi meals and then have long night sessions of singing Bollywood songs. In the early 1980s songs from Yash Chopra's Silsila were very popular. But I remember my Nepali friends also loved songs from Kabhi Kabhie.
It was with Kanak's support that I joined Columbia University's Journalism School. And through his vision, I developed a sense of the South Asian identity. For the first time I understood that while we were similar, a Nepali identity was unique and different than what it means to be Indian.
(A few years ago I organised a conversation between Kanak and the Pakistani journalist Beena Sarwar at Columbia University where he again emphasised the need for a South Asian unity. Perhaps, he said, we should all refer to each other as desis, thereby finding a common ground, a connection.)
When Kanak and Shanta moved out of I-House, they rented a lovely apartment in the Washington Heights section of Manhattan, overlooking the magnificent George Washington Bridge. Again we would meet on weekends to cook food. And it was with the Dixits that I first went on a long walk on the G W Bridge, over the vast Hudson River, from the Manhattan side all the way to New Jersey.
After a few years when Kanak worked with the United Nations, he and Shanta moved back to Nepal. His South Asian monthly publication -- Himal -- was launched around that time. Later, Kanak was also involved in starting a South Asian documentary festival in Kathmandu.
We stayed connected. Kanak and Shanta would often visit New York, and there were picnics in Central Park with all their friends.
Then in August 2000, Kanak's friends from around the world connected via email over a disturbing news. Kanak had gone hiking in the mountains of Nepal. And then he was missing. After an extensive search a team in a helicopter spotted Kanak hanging from the rocks. He survived the hiking accident, despite a serious spinal cord injury.
Once he was up and about, Kanak showed everyone that he could take actions and initiatives. He established the Spinal Injury Rehabilitation Centre in Nepal. And a few years ago he and Shanta went on an 1,800 km journey from Agra to Peshawar, along the Grand Trunk Road, to raise funds for the centre and also to bring awareness about spinal cord injuries in India and Pakistan.
Last December I made a short trip to Nepal for a journalist friend's wedding in Pokhara. And before I headed for the wedding I spent a couple of days in Kathmandu with the Dixits.
Nepal was struggling with the double challenge -- the after affects of the devastating earthquake of April 25, 2015, followed by the blockade that had resulted in shortages of fuel and other essential goods. And Kanak was very concerned about the state of his country.
One afternoon Kanak took me for a walk in the historic Patan Square area. After looking at the damage to several of the structures, we walked at the back of the square. There I witnessed all the restoration work that was being done to small objects. Workers were painstakingly cleaning small statues with water and toothbrushes. Kanak, who was part of the organisation to preserve Nepal's heritage, took pride in this work.
Later as we walked out, Kanak told me that a lot of Kathmandu's senior citizens would come and sit along one of the Patan Square buildings. And then he mentioned that he had always wanted to get a picture taken at that spot.
So Kanak went and sat in the middle of a group of old men and I took his picture. He smiled for the picture, proud of the city that he loved, and facing the glorious late afternoon December sun.
I hope to see that same smiling face when Kanak is out of prison soon.