Naidu, who has served BJP in several capacities, will also be a saviour for the NDA in the Rajya Sabha, where they are still in minority, notes Onkareshwar Pande.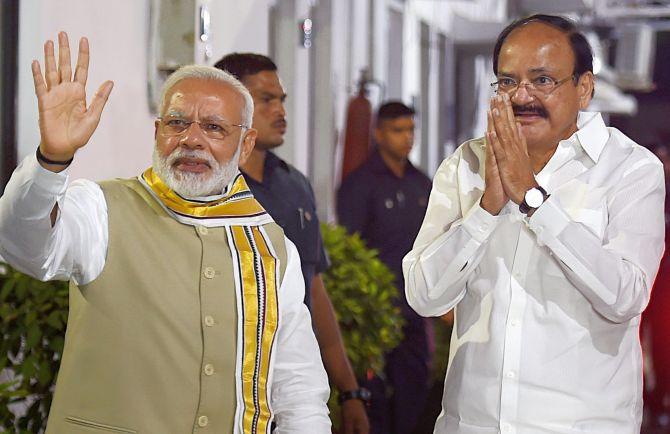 IMAGE: Prime Minister Narendra Modi with Union Minister M Venkaiah Naidu who was announced as the BJP's vice-presidential candidate at the party's parliamentary board meeting, in New Delhi.
Photograph: Atul Yadav/PTI Photo
Senior Bharatiya Janata Party leader and Union Housing and Urban Affairs, and Information and Broadcasting Minister Muppavarapu Venkaiah Naidu is the National Democratic Alliance' candidate for the post of vice president.
By finalising the name of Naidu as a candidate for the vice presidential elections, the NDA has tried to balance the political equations between North and South, as Naidu hails from Andhra Pradesh and NDA has already nominated a north Indian Ram Nath Kovind as the Presidential candidate who comes from Kanpur in Uttar Pradesh.
Bharatiya Janata Party president Amt Shah announced Naidu's name in Delhi on Monday.
Naidu has been pitted against the Opposition's vice presidential candidate Gopal Krishna Gandhi who had already filed his nominations.
Considered a fire-fighter for Prime Minister Narendra Modi, defending him on several issues in and outside the Parliament, Naidu may act as NDA's saviour in the Rajya Sabha, where NDA is still in minority.
Very few people are aware of the fact that during the Emergency, Naidu was imprisoned under Maintenance of Internal Security Act between 1975 and 1977.
In 1974, he became the convener of the anti-corruption Jayaprakash Narayan Chhatra Sangharsh Samiti of Andhra Pradesh. He took to the streets in protest against the Emergency and was imprisoned. From 1977-80, he was designated as the president of its youth wing.
Before this, he came into spotlight for his prominent role in the Jai Andhra Movement of 1972. While Kakani Venkata Ratnam led the movement from Vijayawada, Naidu took active part in the agitation in Nellore.
A member of in the Rashtriya Swayamsevak Sangh, Naidu joined the Akhil Bharatiya Vidyarthi Parishad during his college days. He was elected as the president of the students union of colleges affiliated to the Andhra University.
However, his political career started with the Janata Party, in which he joined as the youth wing president of Andhra Pradesh unit between 1977 and 1980.
He was elected as a MLA in the Andhra Pradesh assembly in 1978 after he got released from the jail.
In the BJP, Naidu first became the national vice-president of the BJP's youth wing in 1980 and worked till 1983 and during the same period he was also the leader of BJP's legislature party in the Andhra Pradesh assembly from 1980 to 1985.
Naidu also held the post of the state president of BJP's Andhra Pradesh unit from 1988 to 1993 and was the BJP's national general secretary between 1993 and 2000.
Naidu has been the BJP's national president on two occasions. First, he rose to become the BJP's chief in July 2002 and held the post till December 2002. The second time it was between January 2004 and October 2004.
He was also BJP's senior vice president between April 2005 and January 2006.
He was the party's national spokesperson between 1996 and 2000. From January 2006 onwards, he is a member of BJP's Parliamentary Board and Central Election Committee.
Naidu enjoys the fifth position in the seniority list of Prime Minister Narendra Modi's Union Cabinet after Home Affairs Minister Rajnath Singh, External Affairs Minister Sushma Swaraj and Finance Minister Arun Jaitley.
Born on July 1, 1949 at Chavatapalem under Nellore district of Andhra Pradesh has been famous for his rhymes and one-liners.
Naidu, got married to M Usha on April 14, 1970. He has a son and a daughter. Naidu also runs the Swarna Bharath Trust, a social service organisation founded by him in Nellore which runs a school for poor, orphaned and special-needs children and imparts self-employment training programmes especially for women and youth.
Being a fourth term Rajya Sabha MP from Rajasthan, Naidu has long experience as a member of the Upper House of the Parliament and also in the Union Cabinet as the Minister.
He was Union minister for rural development between September 30, 2000 and June 30, 2002 in the Atal Bihari Vajpayee government.
Again he became a Union minister in Prime Minister Modi's government on May 26, 2014.
Naidu was elected first to the Rajya Sabha in April 1998. He was re-elected to the house in 2004, 2010 and 2016. He has been a member of several parliamentary committees and even chaired some of them.