Notionally, the proud Indian Army will be entering its 64th year of existence on January 15. This is because, in fact, the Indian Army is as old as the idea of India.
The killing fields of Kurukshetra have resounded with the resounding cry of Naam, Namak and Nishan, since the days of the cataclysmic Mahabharata War. 
Field Marshal Philip Chetwode, a British cavalry officer, who became Commander-in-Chief in India, gave this work ethic of the army a new name during his address delivered at the formal inauguration of the Indian Military Academy in 1932 -- "The safety, honour and welfare of your country come first, always and every time. The honour, welfare and comfort of the men you command come next. Your own ease, comfort and safety come last, always and every time."
What is it that makes brave men and women in uniform live and die for the tricolour, over personal considerations? Since profit obviously isn't their motive, it has to be a spirit of selflessness and sacrifice; a feeling of oneness and unity with a grand idea; a dream; a commitment that leads them to sacrifice their comfort and even lives for an idea called India.
Should one term such people idealists, dreamers, impractical people, who lived and died for Naam, Namak, Nishan…the timeless culture and ethos of the Indian Army; or should one say in the language that emerging India speaks in, that it is this "corporate governance" credo that the country needs to follow implicitly, if it is to take its place in the hierarchy of developed and progressive nations.
Let us take a few examples to illustrate what this idea has meant to some brave hearts who have worn the India "colours" and the lessons we can take home from their achievements and sacrifices.
What can one say of a shy, self effacing, embodiment of the Chetwode motto who died? That he was disarmingly handsome and brave; that he was an inspirational leader and the Fakhr-e-Hind of his beloved country, India? That he was admired in death by his opposing number in the Pakistani Armoured Corps.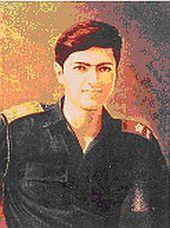 2/Lt Arun Khetarpal, PVC (Posthmous)
2/Lt Arun Khetarpal, Param Vir Chakra, (Posthumous), by the manner of his military skills and deathless spirit  brought rare honour to his distinguished regiment, The Poona Horse and to soldiering, during the Battle of Basantar, in the 1971 Indo-Pak War.
The visitor to Dras, coping with the freezing wind with balaclava, mittens, layered socks, insulated boots, thermal under and over garments, is shown a craggy ridgeline that divides India from Pakistan. The gaunt peaks that made Kargil famous are all there; paying homage to their uncrowned King; the impossibly steep Tiger Hill.
Close by is the looming Point 4875. It was in such unforgiving, barren mountains, that, in the summer of 1999, young Capt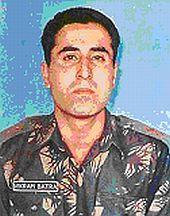 Vikram Batra, Param Veer Chakra, and 524 brave hearts like him willingly gave up their lives. Another 1,363 were wounded.
In June 1999, Vikram's battalion, 13 Jammu and Kashmir Rifles, was ordered to move to Dras and tasked to capture Point 5140. This peak on the Tololing Ridge not only led to Tiger Hill but was needed for sustenance of helicopter operations in the area.
Vikram and his men proudly held up the Tricolour on Point 5140 at 0435 hours on that bitterly cold June 20 morning, as he broadcast his funky success code: "Yeh Dil Mange More". On June 30, 1999, Vikram's battalion was later tasked to capture Point 4875 in the Mushkoh Valley.  It was his last battle.
He died on July 7, 1999, while trying to save another wounded officer colleague, from getting fatally shot. In so doing, he uncannily lived up to his forecasts: he was awarded the nations highest gallantry award; coming home wrapped in the national tricolour.
                                                                                                                         Capt Vikram Batra, PVC (Posthmous)In September 2010, I was invited to Sikkim, to participate in a military seminar. I later addressed young soldiers of a military formation deployed at the 14,300 feet high Nathu La Pass on the Indo-Chinese border on our work ethics.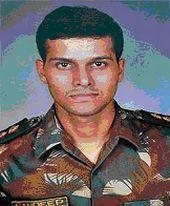 I had finished my address when a smart young officer walked up to me. He was a NSG colleague of Maj Sandeep Unnikrishnan, AC (Posthumous) and was at the iconic Taj Hotel on 26/11 with Sandeep.
Moved by my references to selflessness and courage under adversity, he spoke with deep feeling about his pride for this bravest of brave "mad cap" colleague, as he put it; a person forever taking the first step; putting his life at risk before his men could.
He lived the Indian Army's heroic "Follow Me" credo to the fullest, knowing that he would have to pay the price. Tragically, in the moments, preceding his death, he broke his own rules. "Do not come up, I will handle them", Unni selflessly told his men. He died in a hail of bullets
Major Sandeep Unnikrishnan, AC (Posthmous)  
What was it about these soldiers that was unique? They dreamt dreams of pretty girl friends; of great rank and honours as young officers do, so that's not unique. They were generous, thoughtful, gutsy and focused. Many young men and women also have these traits. They all had a sense of humour that women in particular so cherish in gentlemen. I guess some of us are humorous too.
What did set them apart is best expressed in the words of the great writer, Henry Ward Beecher: "In this world it is not what we take up, but what we give up, that makes us rich".  He was right.
These officers cheerfully and fearlessly gave up their most valued possession -- their lives -- for the idea of India. In the finest traditions of the Indian Army and the Chetwode Motto, they gave up their 'today' for our 'tomorrow'.
They passed out from the Indian Military Academy into the commissioned ranks of the Indian Army to the moving, timeless strains of Auld Lang Syne, Robert Burns's immortal, moving song reminiscing those days that will never return.
Let us, then, you and I, dear reader, "drink a cup o' remembrance for auld lang syne" to the deathless spirit of these officers on Army Day; a spirit that will be with us for ever, even though the officers have moved on, leaving us proud but broken hearted.
I think that we should rise up as a Nation, and never ever forget the sacrifices these soldiers have made in the name of Flag and Country. A practical and respectful way to do so is to look after them in life and in death, as well as their dependants morally and materially and in a way that does the uniformed forces and the country they serve proud.
It is also necessary to make the "corporate governance model of the Indian Army of "Naam, Namak and Nishan," the corporate governance model of emerging India.