Vellore is one of the two seats that the DMK alliance won by the narrowest of margins in 2019, observes N Sathiya Moorthy.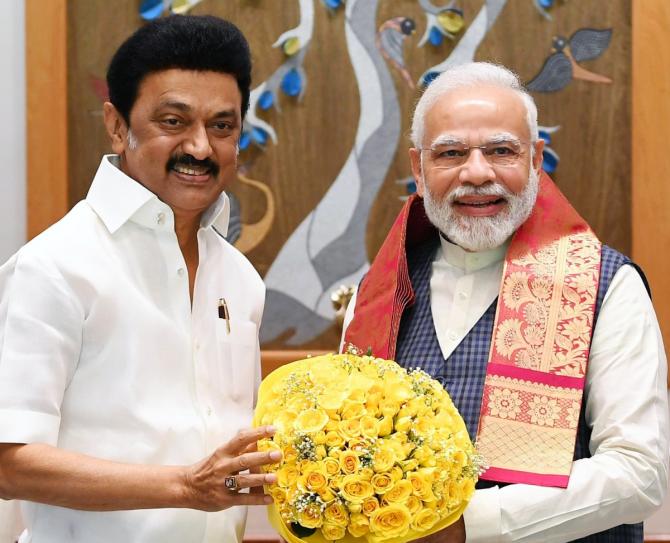 Days after an eastern India newspaper predicted that the ruling Bharatiya Janata Party at the Centre was actively considering the desirability of Prime Minister Narendra Modi seeking a Lok Sabha seat in Tamil Nadu along with Varanasi that he has been representing for two terms, local newspapers in Chennai refuse to 'speculate' along the lines.
Better or worse still, BJP cadres in the state are in utter disbelief, and confused over whether or not to believe the news report that linked all Modi'S pro-Tamil initiatives to such a possibility.
Flagging the possibility, the Kolkata-based Telegraph pegged the news analysis to Union Home Minister Amit A Shah's recent indication that a Tamil could become prime minister in the future.
Half-seriously, Chief Minister M K Stalin of the Dravida Munnetra Kazhagam proposed the names of Telangana Governor Tamizhisai Soundararajan and Union Minister of State L Murugan.
Political analysts considered the likes of Finance Minister Nirmala Sitharaman and External Affairs Minister S Jaishankar. Both are non-resident Tamils.
The claim now is that Shah had only Modi in mind when he spoke about a 'Tamil PM'.
The explanation is that Modi would become a Tamil when he gets to represent Tamil Nadu in Parliament.
It is unclear which of the two seats would Modi retain if he contested from two seats and won both, he having sacrificed his native seat from Vadodara, Gujarat, in favour of Varanasi in 2014.
In 2019, he contested from Varanasi alone, and won by a huge margin.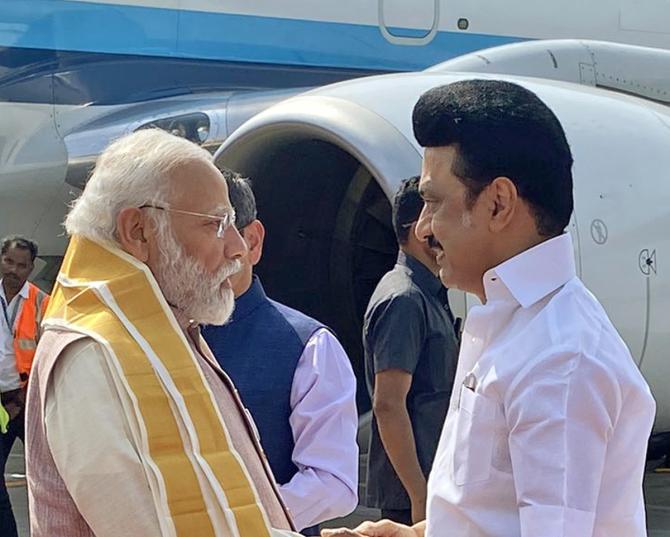 Speculation about Modi contesting from TN is now being attributed as the real reason for his past affinity towards the language and culture.
Be it his quoting Tamil poets Avvaiyar, Thiruvalluvar or Kaniyan Poonguntranar, the last one in the UN General Assembly, or his recent restoration of the Sengol to its pristine glory by installing it in the new Parliament building, the seat of the nation's democratic existence, they have all found a new meaning and purpose.
It was so at least in the eyes of analysts. They were often mystified by the PM's affinity to an ancient language, which at times he held as a contemporary though not a parallel to Sanskrit.
As a swayamsevak from a young age, he was bound to acknowledge the antiquity and greatness of Sanskrit.
Promoting Hindi as the 'national language' also came naturally to him. However, Tamil was alien to the traditional scheme -- or, so went the argument.
Now, they feel that the cat is out of the bag. According to reports that claimed that Modi was likely to contest from Tamil Nadu, too, his choice could be between Ramanathapuram and Kanyakumari, both southern coastal constituencies, with a district going with their names.
In context, it is pointed out how when inaugurating the Kasi Tamil Sangamam, another of his pan-Tamil initiatives, Modi had pointed out how Lord Shiva was the presiding deity in both Varanasi and Rameswaram, the latter an island town in the larger Ramanathapuram constituency, once a principality by the same name with its royalty.
The relevance of Kanyakumari to the BJP's political electoral calculations and early political successes should not be undermined, either.
After the Mandaicaud communal riots (1982) in the district and the Meenakshipuram conversions a year earlier in adjoining Tirunelveli district, since trifurcated, Kanyakumari had become the centre-piece of Hindutva politics in south India, even earlier to the successes in Karnataka.
But there are ironies. The BJP's Pon Radhakrishnan won the seat in 1999 and 2014, the first as a partner in the DMK-led alliance, and the latter on the party's own steam in a multi-cornered contest.
On both occasions, he became a minister of state under Prime Ministers Vajpayee and Modi, respectively.
Yet, in 2019, when the BJP swept the rest of the nation even better than in 2014 but lost equally badly in Tamil Nadu, Radhakrishnan, as an incumbent minister at the Centre, lost to H Vasanth Kumar of the traditional Congress rival by a record margin of 260,000 votes.
In comparison, his repeat defeat at the hands of the incumbent's son Vijay Vasanth in a by-election, caused by the Covid death of the father, by a margin of 137,000 votes was more honourable.
If the consideration is one of identifying a 'safe seat' for the PM, it is no different in Ramanathapuram, where the BJP's Nainar Nagendran, now the leader of the party's four-member group in the state assembly, lost by a substantial margin of 127,000 votes.
Nainar Nagendran polled 342,821 votes against Navas Kani, the Indian Union Muslim candidate of the DMK-Congress alliance, who polled 469,943 votes.
Incidentally, Navas Kani was in the news recently for clashing with state Minister S Rajakannappan on the dais of a state government function, in which Ramanathapuram District Collector Vishnu Chandran, among others, got pushed around.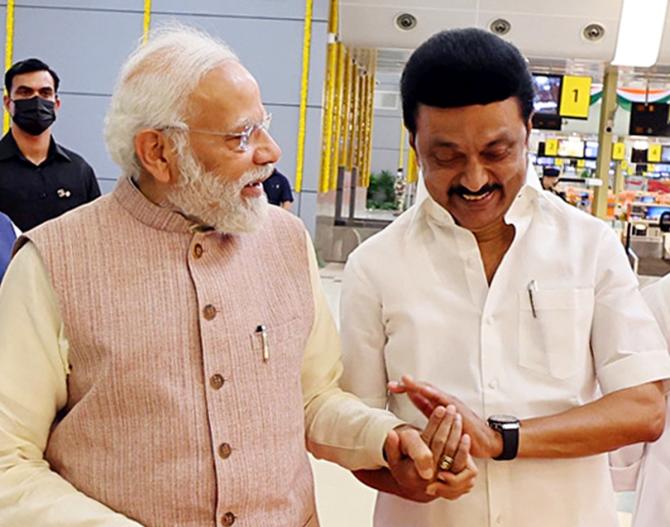 Present-generation BJP cadres are exhilarated by the possibility of the PM contesting from the state -- and its overall impact on the party's electoral performance, both across Tamil Nadu and possibly the neighbouring states, too.
If it is Kanyakumari, who knows, the BJP may for the first time bag the Thiruvananthapuram seat in neighbouring Kerala, by dislodging three-time Congress MP Shashi Tharoor -- or, so they feel.
However, according to BJP and other Sangh Parivar veterans from the era of Advani's rath yatra in the early 1990s or since the inception of the Jan Sangh parent in the early 1950s, both these seats could be dicey for the party, even if Modi is the candidate.
Modi contesting a seat from the state could polarise the Tamil electorate on anti-Hindutva ideological grounds more than in 2014 and 2019, they apprehend.
As they point out, Chief Minister Jayalalithaa-led ruling AIADMK won 37 of 39 Lok Sabha seats from the state in 2014, in what essentially was a three-cornered contest.
In the post-Jayalalithaa era, the ruling BJP-AIADMK alliance at the Centre and in the state drew a near blank when the DMK-Congress alliance with the Communist parties and others chipping in, won 38 of 39 seats.
For the BJP alliance, the AIADMK'S Ravindranath P, three-time chief minister O Panneerselvam's son, won a lone seat.
He bagged the native Theni seat by a relatively low margin of 70,000 votes against the Congress's 'outsider', E V K S Elangovan.
Today, for all intents and purposes, rival ex-CM Edappadi K Palaniswami leads the official, majority faction of the AIADMK, and the BJP has reportedly been unable to convince him to re-unite Amma's party, ahead of elections 2024.
Against this background, political observers have begun watching the northern Vellore constituency, where Amit Shah and Minister of State General V K Singh (retd) addressed meetings in quick succession.
Both were drowned in the cacophony caused by the Enforcement Directorate arrest of incumbent state Minister V Senthil Balaji, his hospitalisation, but the BJP's Vellore focus may remain.
Vellore is one of the two seats that the DMK alliance won by the narrowest of margins in 2019, the other being Chidambaram, which Viduthalai Chiruthaigal Katchi's Thol Thirumavalavan bagged by 3,000 votes.
In Vellore, the DMK's Kathir Anand, son of veteran general secretary and senior minister S Duraimurugan, won the seat by 8,000 votes in countermanded polling after the Election Commission's taxmen recovered cash bundles allegedly for distribution to voters from a family warehouse.
For the DMK's vote score to be so low in a constituency with a substantial Muslim population has not missed the BJP strategists' eyes -- or, so it seems.
What more, among the six assembly segments in the constituency, in Vaniyambadi, for instance, Asaduddin Owaisi's AIMIM candidate polled a substantial 10,000 votes in 2016. At the national level, critics dub the AIMIM as the BJP's 'B-Team'.
At Amit Shah's programmes in Vellore and South Chennai earlier, Puthiya Needhi Katchi founder A C Shanmugam was conspicuous by his presence. He was the alliance candidate in 2019.
The BJP's strategists expect that by fielding strong party candidates under its 'Lotus' symbol this time, of course with alliance support, they could obtain greater visibility in the northern districts that have remained a no-no for the party all along.
It is independent of their winning a seat or more from the region, but their hopes are that they could and should do so when the Modi magic is still working, even if elsewhere in the country.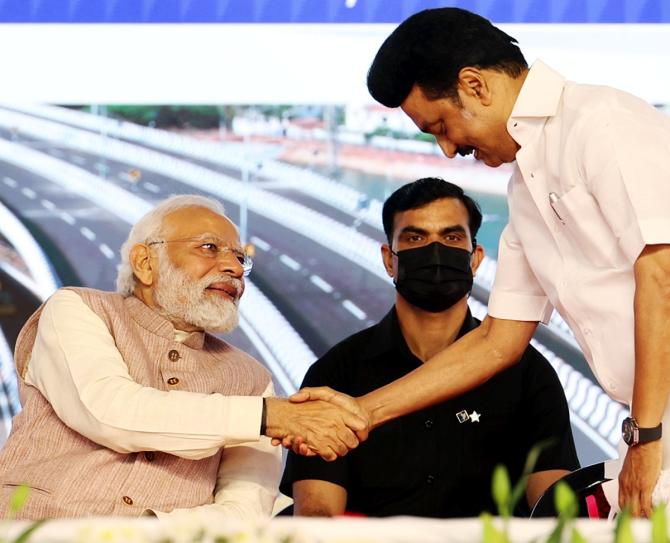 If nothing else, the frequent visits by BJP top-notch leaders to the state in the past months, expected to go up in the coming months, has underscored the kind of importance that the party has conferred on Tamil Nadu in terms of the lone ideological battleground that it has to win over, for the Hindutva ideology.
This is independent of raw speculation that Modi would contest from the state -- justifying the party's demands for more seats from the AIADMK ally.
If so, or even otherwise, the anti-DMK electoral alliance might find some indirect and unintended support if Tamil cinema's superstar Vijay enters the political scene, even if he does not launch a political party, as rumoured again, in time for the Lok Sabha polls.
Media speculation is that he will field candidates in all 234 constituencies in the 2026 assembly elections, riding on what is predicted as an anti-incumbency wave against the ruling DMK.
As if to give life to the speculation of past weeks, months and years, the star-actor -- supposedly charging Rs 150 crore-Rs 200 crore (Rs 1.5 billion to Rs 2 billion) per film -- used his Thalapathy Vijay Narpani Iyakkam (TVNI) to honour district-level exam toppers in the 10th and 12th classes.
What could not be missed was Vijay's advice for the students to read about Ambedkar, Periyar and Kamaraj -- all symbols of social justice in their own way. He also asked the students to insist that their parents did not fall for the cash-for-vote syndrome in the future.
Fans and others see it as Vijay's first step towards floating a political party of his own, now that there is space for someone with his kind of fan following, to manoeuvre around.
At 49, Vijay has been in Tamil films since 1984. According to trade analysts, he may also be the one actor after MGR to have a strong fan following among rural women, cutting across ages.
In comparison, others including Rajinikanth and Kamal Hassan, Ajith Kumar and Surya have strong male-centric fan clubs.
In his prime, Kamal was a strong attraction for teenage urban girls, but no one has really filled that space since.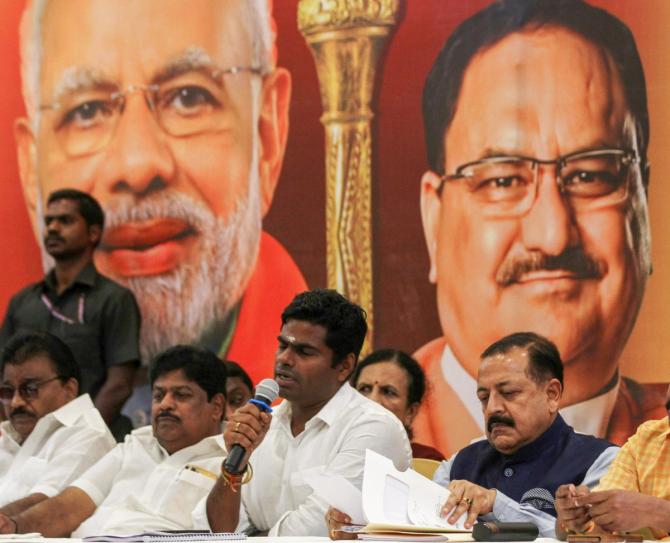 Others disagree. Accordingly, Vijay is no MGR nor can he aspire to be one, even if there is political space in the post-Jaya, post-Karunanidhi era, what with Stalin and EPS not aiming to be either as charismatic as either of them.
Between them, Stalin as CM has also been proving to be less ambitious and more trusting of aides, as against EPS, who may have grown too big for his shoes already.
In their calculations, independent of Vijay's welcome initiative to honour exam-toppers (which they hope he will continue year after year from now on), he may be playing the tried-and-trusted Rajini game of 'tickling and tricking' his fans and others to believe in his imminent electoral entry but without meaning it.
They see a parallel in Rajinikanth's career graph when he began penning and mouthing politically-loaded and/or socially relevant one-liners.
It began with Rajini's home-production Valli in 1993, for which he also penned the script, and mouthed proactive social punch-lines in a cameo role.
Camp Rajini had by then concluded that he would soon be over the hill, as he was already 43, and needed to pep up his films with something exclusive to Tamil film fans -- political lines, themes and characters.
Others in the camp also found a new opportunity coming Rajini's way, following MGR's death in 1987 and the election of an 'inexperienced' Jaya as chief minister with the rival DMK routed near-completely in the previous 1991 elections following the Rajiv Gandhi assassination.
To them, it meant a political vacuum that Rajini alone could fill. Maybe, this sent out wrong signals, and Jaya took it to heart, straining relations between the two more than anticipated.
The question is if Vijay's political one-liners outside the screen now is to boost expectations and business for his next movie Leo, which releases later this year -- and if he would repeat the Rajini act from now on before each of his releases.
The question has greater relevance as ahead of the previous election Vijay had distanced himself from his film-maker father S A Chandrashekar (SAC) after the latter had floated a political party bearing his son's name.
SAC was the maker of the Tamil original of Amitabh-Rajini-Hema Malini starrer Andhaa Kanoon, and even registered the new party with the Election Commission only to dissolve it after Vijay protested loud and clear, for his fans not to take that path -- and they readily obliged.
Yet, with the Hindutva social media activists dragging Vijay into every conversion-centric controversy as the family had taken to Christianity when he was still in his elementary school, that too with a name like Vijay Joseph, his political entry could still cut into the anti-BJP vote-bank that has proved to be substantial and decisive in election after election in the Dravidian state.
If proof is needed that the anti-Vijay campaign of the Hindutva activists, including some otherwise respectable BJP leaders, has not worked, it is all there at the box office.
Traditionally, Vijay has been a huge draw in Kerala, where people crave for his Tamil films either in the same language or in its dubbed version, for more than two decades.
In Tamil Nadu, starting on a low key and after bombing successively at the box office, Vijay became a box office sensation, again successively so -- the highest paid actor in South India -- only from around the time Hindutva activists began targeting him.
It only means that unlike in Bollywood where the 'Khan' tag has become a melancholy in recent years, Tamil film fans do not confuse their silver screen adulation with their political preferences.
MGR was a different kettle of fish, and had entered politics even as he was still up and coming -- and used his films to promote his political ideology and not the other way round.
There is a lesson for the BJP here. There is a greater lesson for Vijay too here.
N Sathiya Moorthy, veteran journalist and author, is a Chennai-based policy analyst and political commentator.
Feature Presentation: Rajesh Alva/Rediff.com