'I hope Prime Minister Modi will take the population bull by the horns,' says Sudhir Bisht.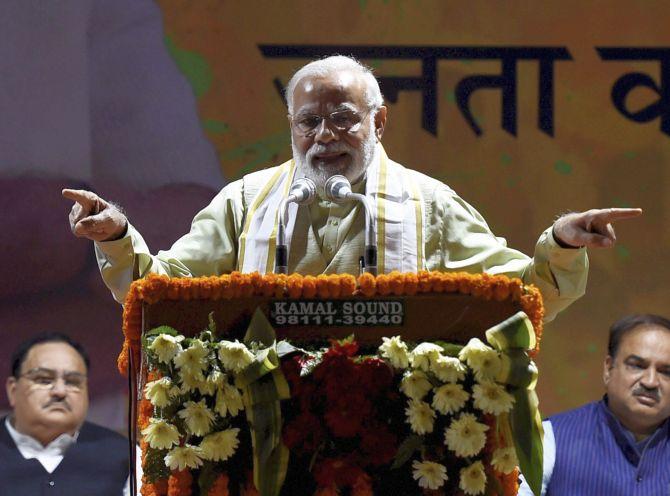 The Bharatiya Janata Party has won the Uttar Pradesh and Uttarakhand assembly elections very comfortably.
It has also been invited to form the government in Goa and in all likelihood, it will stake its claim to form the government in Manipur.
The BJP lost the Punjab assembly elections that it fought alongside its senior partner, the Shiromani Akali Dal, but it hasn't been able to induce any sadness in the BJP camp.
With a brilliant shoreline of 4:1 in Narendra Modi's favour, the legions of Modi admirers (me included) have started talking about what a cakewalk it will be for the prime minister to win the 2019 general election.
The phenomena that Modi has become, is acknowledged by one and all. P Chidambaram;, the former home/finance minister, tweeted a kind of jealous admiration for the PM: '@PChidambaram_IN: The victories in Uttar Pradesh and Uttarakhand have re-confirmed that Mr Narendra Modi is the most dominant political leader.'
Psephologist-turned-activist politician Yogendra Yadav tweeted his sense of fear at the BJP's growing stature: '@_yogendraYadav: BJP now enjoys political hegemony. Brute state power, electoral dominance and popular legitimacy. Counter hegemony now needs fresh narrative.'
Rahul Gandhi too congratulated the prime minister in an open tweet that wasn't addressed to the PM. But the PM's media team tracked the tweet and thanked the Congress vice-president: '@OfficeOfRG: I congratulate Shri Narendra Modi and the BJP on their victory in Uttar Pradesh & Uttarakhand.'
'@NarendraModi: Thank you. Long live democracy!'
Even though two-and-a-half year is a long time in politics, it is safe to predict that Narendra Modi will be tough to dislodge as prime minister in 2019.
At this juncture of euphoria, my thoughts are a bit off tangent. I congratulate the prime minister for his massive victory and I am sure that this will help him becoming PM yet again in 2019.
But I am also reminded of what Narendra Modi once said when he had not become PM. He had said in his chaste Hindi, 'Mai yeh kabhi nahi sochta ki mai kya ban sakta hoon; Mai hamesha yeh sochta hoon ki mai kya kar sakta hoon (I never think what I can become, I think of what I can achieve).'
These remarkable words won me over completely at the beginning of 2014.
'What I can become' versus 'What I can achieve' is something that differentiates Narendra Modi from every other prime minister that I have known in my lifetime.
Narendra Modi is passionate about Clean India and he has gone about the task of building toilets with missionary zeal.
Narendra Modi is keen about empowering the poorest of the poor and he has ensured that bank officials go to poor people and open their bank accounts at their door step.
He is obsessed about India regaining its image of a forward-looking nation and he has himself gone across the globe, meeting world leaders, giving them the confidence about a resurgent India and he has earned the respect of all the countries for our country.
On March 12, as Narendra Modi took to the podium to thank Team BJP for the emphatic win in the state assembly elections, he spoke about the new India.
To Prime Minister Modi the new India is one that is concerned with development.
I believe in the prime minister's broad vision of a new India, but being a nuts-and-bolts man, I want to lay down my expectations from the prime minister.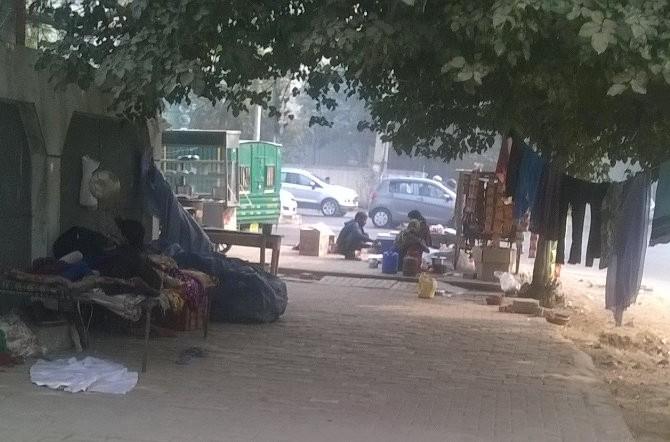 PM Modi often talks about lifting the poor out of their poverty. He has rolled out various measures to fulfill that mission, but I believe that he has not addressed the key question of poverty.
Why are we not able to fight poverty quickly, decisively and firmly?
The answer is because more and more poor kids keep getting born in India every minute.
One good indicator of a country's population growth is the 'Total Fertility Rate' or TFR, which is the average number of children expected to be born per woman during her entire reproductive period.
I do not want to go deep into the statistics of India's population, but I want to say that India's TFR is 2.4 against China's 1.66 and the US' is 1.86.
Ideally India's TFR should be 2.1 or 2.2, but it is well known that among the poorest of the poor sections, the TFR is as high as 4.
If more and more children get added to poor households, then India will never be able to eliminate poverty in the next 50 years.
I hope Prime Minister Modi will take the population bull by the horns and enunciate a clear national population policy for India.
I know sceptics will say that India's TFR has declined significantly over the years and with the spread of education, population stabilisation is inevitable.
I concede this, but I would say even at the risk of sounding alarmist that we can't wait to grow any further than our current population level.
Our cities are bursting at the seams and we need to start slowing down NOW.
If we wait for an entire population to get educated before the population starts to stabilise, then we will never be able to achieve anything substantial in the next 30 years.
The fruits of growing GDP can't be enjoyed if the population of poverty-stricken families keeps growing at double the rate than the population growth rate of well off, educated Indians.
Narendra Modi has often described India's population as an asset. I humbly beg to disagree.
If we had a billion plus people who were all healthy and wealthy and if we had a land area that was double or triple the one we currently have, I too would have called our population an asset.
But a billion plus people, a third of whom live on less than one (or is it two now?) dollar a day, is not my idea of an asset.
I am not advocating measures like forceful sterilisation or strict enforcement of a one child norm to address the growing population issue.
But I want a robust system of incentives and disincentives in place to encourage people to have a maximum of two children per family.
I am hoping that in the next two-and-a-half years, Prime Minister Modi will draw up a policy framework to address my concern for the need to slow down India's population growth NOW.
There are several areas where I would like our prime minister to carry out transformative changes.
I would want a new India where the reservation in jobs and academic institutions is passed on to only one or two generations in a family.
I would also want a mega states like Uttar Pradesh to be split into three smaller states to achieve administrative efficiency.
I would want the prime minister to carry out labour reforms quickly and public sector banks and some other organisations to be privatised with more speed.
I would also want the prime minister to continue with his Digital India initiative.
I wish the government continues with the incentives for less-cash transactions.
I want the prime minister to continue with his proposed Election Campaign reforms.
I want the PM to bring about the much talked about laws to deal with benami property.
The list is endless, but the dreams are entirely achievable.
I wish the prime minister all the success for his remaining term. And I wish that he gets a team that can achieve his vision of a New India.
His party has quite a few who can match his sense of urgency with their pace of work.
And if there are any gaps, he can fill them up with generous helpings from outside the political arena.
Sudhir Bisht, author and columnist, tweets at @sudhir_bisht