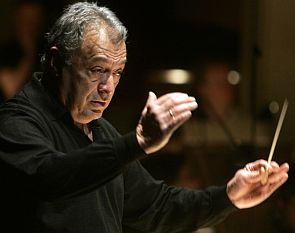 Music amidst conflict may sound like a great catch-line, and ageing conductors need such props, but it is not doing the people of Jammu and Kashmir any good, says Sherna Gandhy
In Parsi Gujarati we have a term for what Zubin Mehta is trying to be -- a dayo kagro, an overly earnest do-gooder bordering on the hypocritical.
Music may cross many boundaries, undoubtedly, but to try and make out like it can soothe major international conflicts or reconcile sworn enemies, is nothing short of farcical.
The famous conductor displays a love of gimmickry when he plays Wagner, a favourite of the late and unlamented Herr Hitler, in Israel, and takes the Israeli Philharmonic of which he is lifetime conductor, to perform before an audience of Arabs in Nazareth.
He claims that initial protests from the audience in Tel Aviv died down after a while and all was peace and goodwill.
Maybe. Wagner is not everybody's cup of tea, but (surprisingly) he has his following. And, he's been dead long enough for protests against him to be purely symbolic.
As for the audience in Nazareth, Palestinians probably have a good ear for music and appreciated the Israeli Philharmonic, one of the great orchestras of the world, without blaming its musicians for the hegemonic ambitions of the country as a whole.
But it hasn't changed anything on the ground. Both concerts gave Mehta a publicity boost, as all controversy does, and some bleeding-hearts congratulated him as some kind of apostle of peace -- which is how he sees himself probably -- but the bitter conflict continues unabated.
In Kashmir, he is trying to do much the same thing. If Kashmir's population had been dying to hear Beethoven, Haydn and Tchaikovsky, and had been prevented by its politicians from doing so, I would whole-heartedly back apro Zubin.
But most have probably not, and would have happily passed the rest of their lives in blissful ignorance.
But then apro Zubin would not have got his chance to strut and fret his hour upon the stage (which he does quite effectively, I must say). Mumbai is becoming pretty blasé about his concerts, which were a much looked forward to rarity at one time.
So the apostle of peace must, in cahoots with the German embassy, whose motives are somewhat obscure, stage a concert of the western classical greats in Srinagar.
The opposition to this grandstanding is entirely understandable. Kashmir is a troubled and tragic state, and none of its problems has been addressed by the Indian government. All our government does is keep insisting that levels of militancy have gone down and everything is normal.
Mehta and the Germans are buying into that myth when they decide to hold the concert there. Music amidst conflict may sound like a great catch-line, and ageing conductors need such props, but it is not doing the people of the state any good.
Mr Mehta may get his concert and, despite calls for bandhs from local politicians, there may not be any casualties. But that is probably because the Valley will be flooded with even more security than usual to ensure the safety of Mr Mehta and his band.
Music amidst the jackboots more likely.