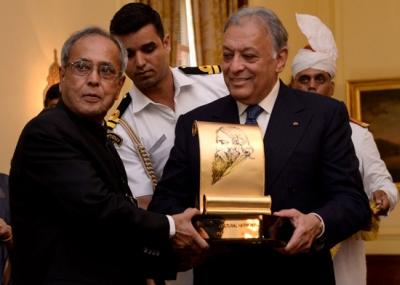 "I didn't choose Kashmir, Kashmir chose me."
This is how renowned international music conductor Zubin Mehta reacted when asked about the controversy over his concert on the banks of the Dal Lake in Srinagar on Saturday.
Mehta, an Indian-origin maestro in western classical music who conducts the Bavarian State Orchestra, refused to comment on the controversies surrounding the performance of his troupe in Shalimar Bagh gardens, saying he was just here to play music.
"I don't have anything to say to them (separatists and those opposing his concert)....we are playing our music," he said.
"I am extremely happy (about performing in Kashmir). I hope and wish for the blessings of the people and the country for our music," he said.
Mehta, who was on Friday decorated with the Tagore Award for Communal Harmony by President Pranab Mukherjee, said, "Music is the message of peace".
He and his team members will attempt to do that on Saturday at the Ehsaas-e-Kashmir (Feel of Kashmir) music concert.
While receiving the Tagore award from Mukherjee at the Rashtrapati Bhavan, Mehta said he needs blessings from everyone and that he and his troupe will "only be playing form our hearts" in Kashmir.
Mehta also had good wishes from the President, who wished that the celebrated musician would "enthrall" the people of Kashmir.
The President called Mehta a "distinguished son of India" and the country's "cultural ambassador".
Photograph Courtesy: http://presidentofindia.nic.in/