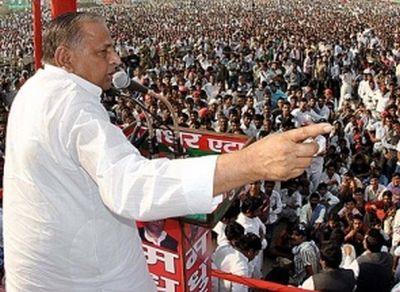 Samajwadi Party leader Mulayam Singh Yadav behaved entirely in character when he broke ranks with the Congress and backed the Bharatiya Janata Party in the monsoon session, says Aditi Phadnis
On June 12, 2012, they were a united front in a joint hunt for a President of India. On June 15, 2012, it became clear that Samajwadi Party supremo Mulayam Singh Yadav and Trinamool Congress supremo Mamata Banerjee were not on the same page. She wanted somebody 'neutral' like the late APJ Abdul Kalam. He didn't see what the problem was with supporting Congress candidate Pranab Mukherjee.

It took five rounds of negotiations by various United Progressive Alliance interlocutors between Sonia Gandhi and Yadav, including a meeting between the two leaders themselves, to drive a wedge in the Samajwadi Party-Trinamool Congress relationship. The Congress was banking on Yadav's famed 'flexibility'. Its calculation was correct.

And Banerjee had only the faintest hint that Yadav was going to betray her at the eleventh hour.

Around this time, a text message doing the rounds in Delhi was: "As a thank-you gesture, UPA govt proposes to put msy pic in place of u-turn signs across the country".

Yadav has never been a reliable ally. Chandra Shekhar was one of his mentors. But when it came to choosing a prime minister on that fateful day in Central Hall, Yadav backed V P Singh. When he couldn't get along with Singh he dumped him, the pretext being that Singh was negotiating with the Bharatiya Janata Party behind his back. He was then chief minister of Uttar Pradesh. Then, he made common cause with Shekhar.

That didn't last long. In 1999, after the fall of the Atal Bihari Vajpayee government, Yadav told the Congress he would support it. On the strength of that assurance, Gandhi announced she had 272 MPs. Then he backed out.

In 2002, SP was part of the People's Front, a coalition of non-Congress and non-BJP political parties. Kalam's name was floated by the then BJP-led National Democratic Alliance government at the Centre. The Left parties opposed Kalam and decided to field Captain Lakshmi Sehgal, a veteran freedom fighter from the Indian National Army. However, SP parted ways with the People's Front at the eleventh hour and supported Kalam's candidature. Though Left parties accused Yadav of betrayal, the SP chief got political mileage by supporting a 'Muslim' for the post of President.

The Left overlooked that. But the last straw was July 2008, when Yadav abandoned the Left and other third front parties to back the Congress on the Indo-US civil nuclear deal. (We know this is true because former prime minister Manmohan Singh recounted the circumstances to Karan Thapar in an interview). And when support to the Congress-led UPA government continued, former colleague Amar Singh, who was then party general secretary, said Yadav got him to sign the letter of support to the Congress because he wanted a back-up -- if he decided to pull out from the arrangement, he could always say it was not his signature on the letter but that of a party functionary who was no longer in the SP.

It is no surprise at all, therefore, when circa 2015, Yadav turned on the Congress during the monsoon session and demanded that it stop its disruption because 'some people' actually wanted Parliament to run.

If this wasn't so funny, it would be tragic. It was under Yadav's SP-led government in Uttar Pradesh that the worst atrocities on democracy took place. Mayawati was attacked and feared a physical threat to her life. It was violence against a woman, caste violence and every other kind of violence you can think of. During his regime, an advisory body to guide the UP government was set up undermining the cabinet and council of ministers, central to parliamentary democracy.

Despite this, you can't but have grudging respect for the man. When he backed Kalam for President the first time around, Vajpayee said in his praise: "Aap sachhe rashtravadi hain (You are a true nationalist)." This time, Prime Minister Narendra Modi paid him accolades and directed his party as well, to hail Yadav.

And so it goes on. The cases of disproportionate assets against the Yadav clan have mysteriously evaporated from the back burner they were on. He only has to ask and he will be given. And the Uttar Pradesh election where the BJP and the SP will face off, is very, very far away.