Some important simple truths about the issue may be more helpful than high sounding debates, asserts Mohammad Sajjad.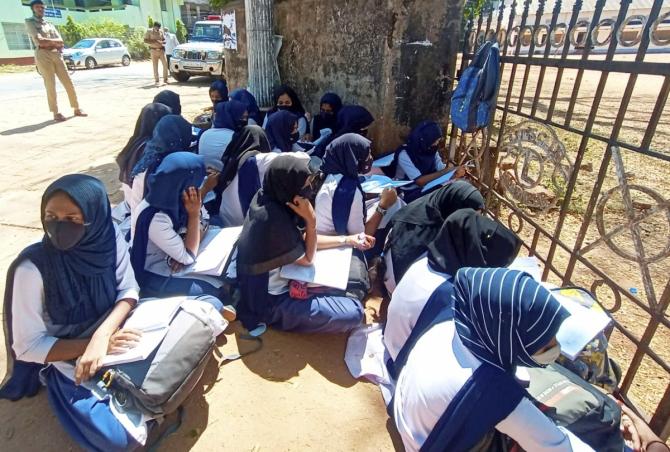 By now, the hijab (headscarf) row has acquired lot of political salience, possibly due to the added factor that far away from coastal Karnatka, elections for Uttar Pradesh legislative assembly is underway and where the incumbent regime has pitched hard for polarisation in great desperation.
Both Karnataka and UP are ruled by the BJP, a Hindu majoritarian outfit.
Coastal Karnataka and UP have both been undergoing massive communalisation for the last many decades.
Saffronisation of coastal Karnataka in recent decades have been explored in great detail by a young journalist, Greeshma Kuthar, in an 18-part report on FirstPost, April-August 2019; and by Professor Muzaffar Assadi, Economic and Political Weekly, February 1999 and June 2002).
My recent Urdu book, Bhagwa Siyasat aur Muslim Aqalliyat gives an account of such stories from across India.
This book is meant to help a segment of the Urdu knowing public to understand the power-play of communalisation, and thus enabling them to figure out, as to eventually, which kind of dangerously opportunistic political forces from both communities benefit out of such efforts towards competitive communalisation.
Genesis Of The Current Controversy
Reports suggest that on December 31, 2021, around six Muslim girls of a government school in Udupi (In Karnataka, senior secondary schools are called Pre-University colleges) insisted on wearing hijab.
During admission, they were informed about the rules and nobody had objected, said the college.
It must be added here that most of the schools do have dress codes.
The Aligarh Muslim University (AMU) too has got at least five senior secondary schools, including two exclusively for girls. All schools five have got dress codes.
By January 6, another college in Aikala, Karnataka, witnessed retaliation when students of saffron outfits wearing saffron shawls were on display through videos.
In retaliation, by January 21, 2022, a saffron outfit in coastal Karnataka, the Hindu Jagarana Vedike (HJV) warned the state government of launching a saffron shawl campaign.
NSUI (the Congress party's student wing) state vice president Farooq Bayabe intervened in the row by saying that 'Hijab fundamental rights of the Muslim girls are being denied by banning hijabs in college', and talked of going to the high court.
On January 25, the Karnataka government appointed a committee to decide about the dress code in such schools.
Without waiting for the committee's report, on January 28, the Islamist outfit, the Campus Front of India (affiliated to the Popular Front of India-PFI) jumped into the controversy to support the hijab issue. This outfit is supposed to have a sizeable presence particularly in those parts of India.
Moreover, the next election for the Karnataka legislative assembly is not far away.
On January 31, 2022, five girls approached the high court with a plea that the hijab is essential part of their religion.
The above timeline is needed to put the story in perspective and also in order to find out which kind of political actors exist in this narrative.
Incidentally, we see a strange coincidence. In May 2018, when Karnataka was having elections along with a by-election for Kairana (Muzaffarnagar, Uttar Pradesh), a very high-pitched controversy was raised around a 1938 portrait of Jinnah in the AMU Students Union Hall.
This issue was carried for many hours on some news television channels, known for its pro-BJP slant day in and day out.
Once again, while UP is going for polls, the hijab controversy of coastal Karnataka comes out.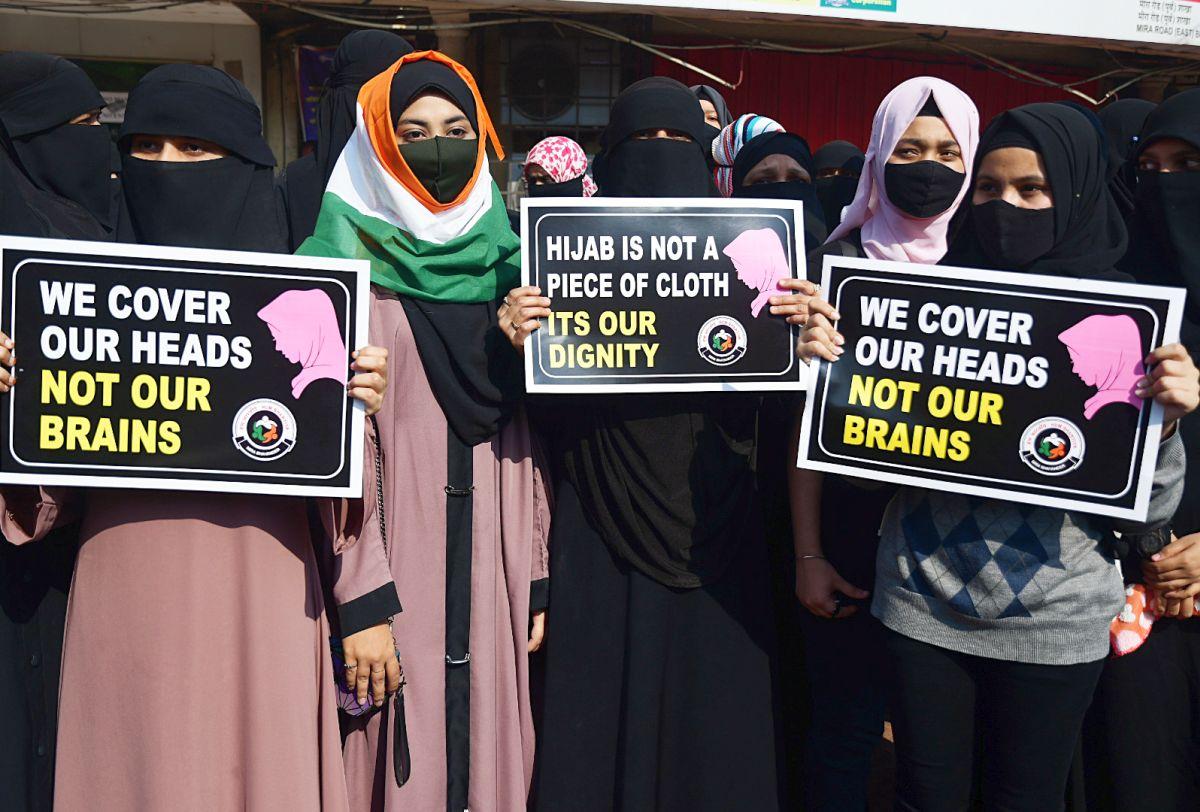 In this sHijab row, political organisations such as the NSUI, PFI and the Hindu Jagranna Vedike are to be seen playing their roles.
The Hindu Jagranna Vedike was more active against 'love jihad' in Mangaloru and adjoining parts of coastal Karnataka for the last many years.
While this hijab row was hotly debated in the media, 350 km away from Udupi, a college in Mandya hogged the limelight when a lone Muslim girl was heckled by dozens of saffron-clothed youth menacingly shouting slogans.
The brave girl responded to it with utmost confidence.
Soon after, the Jamiat-ul-Ulema-e-Hind announced a cash prize of Rs 5 lakhs to the girl, Muskan Khan.
One wonders if the Jamiat also offered the girl's family legal assistance so that the heckling youth could be apprehended by the law under relevant sections of the Indian Penal Code.
Arndt-Walter Emmerich, an Oxford scholar, whose 2020 book, Islamic Movements in India: Moderation and its Discontents is a sympathetic account of the PFI (SDPI is its electoral outfit); argued that the PFI fights legal battles against victimisation of Muslims.
Yet, the PFI have not as yet gone to fight legal battle against the youth heckling Muskan Khan, reportedly the daughter of an MIM leader in Mandya.
Our rulers demonstratively pretend to be standing for uplifting'oppressed' Muslim women.
Will they act befittingly against their own storm-troopers? This cumulative radicalisation of the youth opiated by religious extremism is already assuming menacing proportions.
Many of them are increasingly turning into lynching gangs and similar horrid crimes.
Snigdha Poonam's wonderfully explored and articulated reportage Dreamers: How Young Indians Are Changing Their Worlds explains us the phenomena and political economy of the radicalisation of our youth.
Going by social media debates, one finds various kinds of outlandish arguments from across the ideological divides.
School dress code is a norm, and in this case this dress code was already in force when the girls and their parents chose to get enrolled in such government girls schools in Udupi and rest of coastal Karnataka.
Far from this, it is being made out to be a case of freedom of sartorial choice, freedom of religion, symbol of Muslim regressivism, and so on.
Across the ideological divides, I see a case of partisan politics or selective amnesia.
At the risk of being charged of indulging in whataboutery, let me recall just a few years ago, AMU students organised tLitFest March 2017.
They had invited actress Swara Bhaskar as a speaker. Swara spoke without a dupatta, for which she was hooted by a section of students.
I can see some of those very hooters among those who are today shouting on social media in support of the hijab, invoking the arguments of sartorial freedom.
I repeat, AMU schools too have got dress code for all students.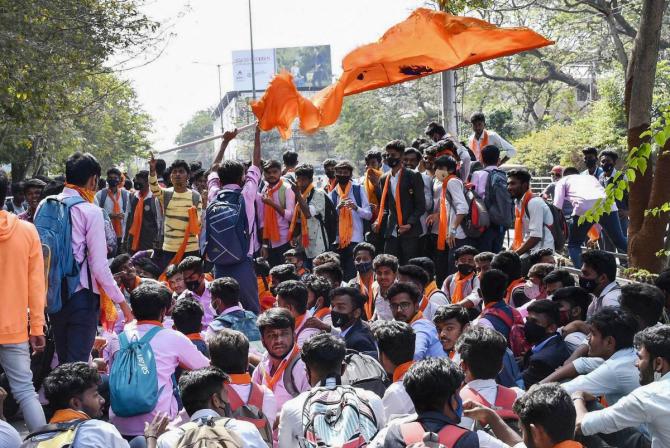 These sections of AMU students have chosen to forget what did they do with a Muslim girl student of journalism in 2006, when she was harassed for her jeans pant and T-shirt? The AMU administration was not seen prompt in taking appropriate action against them.
The girl student underwent trauma in her personal life long after that episode.
Barring a handful of teachers and students, most AMU insiders were either silent or on the side of the administration's wilful inaction.
Swara Bhaskar, however, didn't make it an issue, not even on social media. So did Arfa Khanam Sherwani of The Wire. She was trolled by the Muslim right wing in March 2019 for having tweeted a verse, Holi khelungi Keh K Bismillah. She didn't resist/combat it the way she speaks out against the majoritarian trollers.
This makes a case of Hindu liberals being soft on Muslim regressivism. Thus, arguably providing grist to the mill of Hindutva accusations! Such partisan roles have been corroding the credibility of liberal-secular forces.
This needs deep introspection rather than calling names of those asking for a sincere introspection and stock-taking.
In this current narrative of the hijab row too, the political actors operating openly as well as clandestinely are not being exposed adequately.
The truth that a large number of schools do have dress codes is being twisted.
This twist is la ittle more convenient because the schools of Karnataka are called 'colleges', and colleges are not supposed to have dress codes.
In short, a school dress code and sartorial freedom as a citizen are two different things.
My simple submission is that the political outfits thriving on communal polarisation can be exposed with bare truths associated with the episode, rather than complicating it with so many kinds of theoretical debates incomprehensible for the common masses.
This is the kind of deliberate act of complicating simple things which go on to help communal forces.
When will the anti-communal forces learn this art of saying things in simple words? That would possibly be a way forward in fighting the regressive forces.
Mohammad Sajjad teaches Modern and Contemporary History at Aligarh Muslim University and is the author of Muslim Politics in Bihar: Changing Contours (Routledge 2014/2018 reprint).
Feature Presentation: Aslam Hunani/Rediff.com