Why the Bihar defeat can be the best thing for him as PM, but only if he has the humility to read the writing on the wall, says Shekhar Gupta.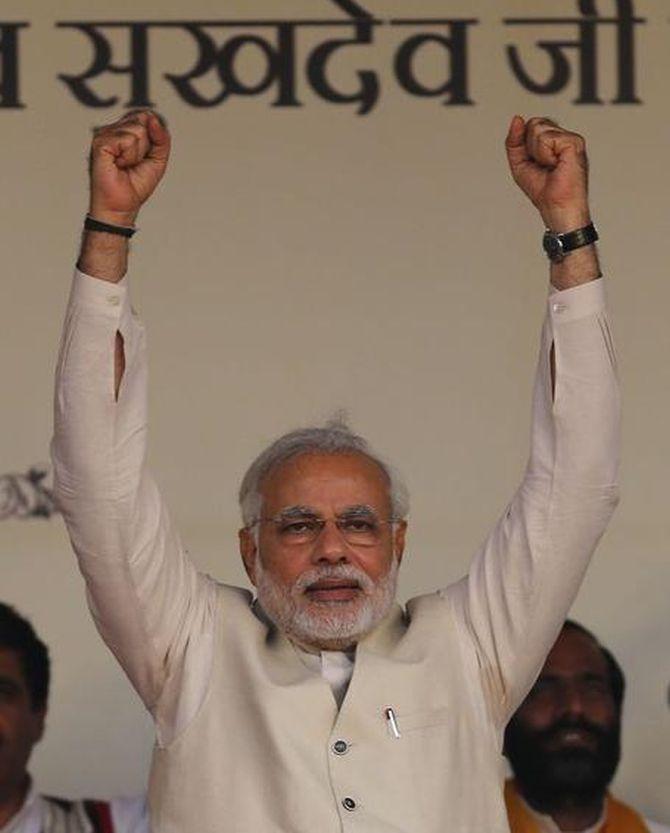 Bihar was never the most important state for Indian politics. Even in the period before Jharkhand was carved out of it, it was a distant second to Uttar Pradesh in the number of MPs it sent to Lok Sabha.
Today, with 40 MPs, it is only the fourth largest after UP, Maharashtra and West Bengal, with Tamil Nadu a close fifth. But it is the equivalent of what in American politics is described as the bellwether state.
It is an audacious line to write, but a close look at politics of the past 50 years will tell you that unlike Bengal, now what Bihar thinks today, India thinks tomorrow.
The first setbacks to the Congress were delivered here in the mid-60s, starting with the rise of lower-middle caste alliances in 1967, and the phenomenon then spread until Indira Gandhi put it down briefly. It was then the JP movement in 1974 and finally, the rise of Lalu Yadav.
In each case the change in the state had a decisive impact on national politics. The latest election result is a turning point of comparable significance.
The Congress inherited power after Independence and ruled unchallenged for nearly half a century because the Opposition was divided. But once its rivals started to merge forces and resources, politics changed. Everything happens much faster in these hyper-connected times. So what took decades in the past has just taken 18 months now. The power of IOU, or the Index of Opposition Unity, is now well understood.
Bihar has reaffirmed it, and it will set the template for forthcoming state elections. It is too early to start guesswork on what may happen in Assam, West Bengal and Tamil Nadu. But in Assam, the Congress, Badruddin Ajmal's AIUDF and the Left will review their politics. So will the Left and Congress in West Bengal and in Tamil Nadu, where the BJP was expecting to make a significant entry. It will need to take a fresh look at its prospects.
Bihar isn't the first setback Narendra Modi has suffered since May 2014. Delhi was the first. But it is a half-state, AAP was considered a sui generis phenomenon and thus unlikely to make a national impact. Bihar is the real thing.
Modi will, therefore, need to make two important calls. One, how does he readjust his governance with the fantasy of a quick increase of numbers in the Rajya Sabha fully demolished? Will he now agree to talk to the Opposition and establish a working equation of decency to have Parliament functioning and bills passed?
This is tougher than it sounds. It would entail Modi getting out of campaign mode and settling down to calmer, old-fashioned, governance.
Two, he will have to take a call on his politics. The Modi-(Amit) Shah leadership model will be under questioning. The prominence given to Amit Shah in Bihar, where his portrait was used along with Modi's on election posters and where he addressed five rallies a day, indicated that he had been anointed as the number two in the party after Modi. This Gujarati takeover was internally resented. It will now be questioned.
So the call Modi will need to make is, does he loosen his control over the party? Does he become more like a full-time prime minister and not lead every state election as frontally as in Delhi and now Bihar?
Further, he needs no more evidence after Bihar that polarisation cannot deliver election victories to him, that in India of 2015 there is no vote for beating up anybody, and that Pakistan and terrorism may be issues of great passion and partisanship on warrior news channels and Twitter, but not in the world of real public opinion. He and Shah showed a lack of understanding of the Bihari mind. Their campaign was disrespectful of its political wisdom.
In years, I haven't seen something sillier than the 'relaunch' of brand Emperor Ashoka. Hopefully they will be smart enough not to take this imperiousness elsewhere in India. This will affect, most of all, the project of taking Assam through polarisation.
The second call is Modi's and will be of greater consequence to his partymen. The first was what matters to India at a non-partisan level. It will be wonderful if Modi now brings the focus back on governance with greater commitment than image-building, electoral politics and divisive campaigning.
In short, it will be a real gain if this setback persuades him to become more prime ministerial. He should now be calling the top Opposition leaders, improving the parliamentary environment and building some real momentum on governance. He should also be speaking out on divisiveness and intolerance and distance himself from abusive social media armies, irresponsible bigoted colleagues, party-men and sundry sycophants who bring no value but only contribute to building an aura of negativity around his government.
The Bihar verdict also settles any remaining doubts that the Modi momentum of the summer of 2014 is now fully over. Elections, voter choices, public opinion will now be determined by performance.
If you apply this test to Bihar, results will be self-explanatory. Four of the central portfolios most important in terms of public opinion and popular satisfaction are agriculture, telecom, food and skill development. Ministers for all of these, Radhe Mohan Singh, Ravi Shankar Prasad, Ram Vilas Paswan and Rajiv Pratap Rudy, come from Bihar and have been campaigning there full-time. Each portfolio is a disaster.
Dal prices are at historic peaks, agriculture has stalled as the minister does no more than hold forth on 'Jaivik kheti' (organic farming), the promise of two crore (20 million) new jobs is a joke and, if this is a smartphone generation, call drops, rising tariffs and fishy ambiguity on Net neutrality also infuriate it.
In fact, the most effective Nitish line in this campaign was his mocking of Prasad as the Call-Drop Minister. Or in describing his BSNL as Bhai Sahib Nahin Lagega.
Modi's 2014 victory was based on a promise. That cheque has been cashed. Now he will be judged on performance and delivery: Governance, real figures, inflation, growth, jobs, social cohesion, irrespective of how awe-inspiring his oratorical performance might be for his delirious NRI audience at Wembley.
Bihar has stopped his electoral juggernaut. It can still be the best thing for him as prime minister, but only if he has the humility to accept this reality.