'If you put colour-coded internal security maps of India in May 2014 and now, the picture won't be flattering to Modi.'
'Failures on internal security are piling up and can break Modi's momentum,' says Shekhar Gupta.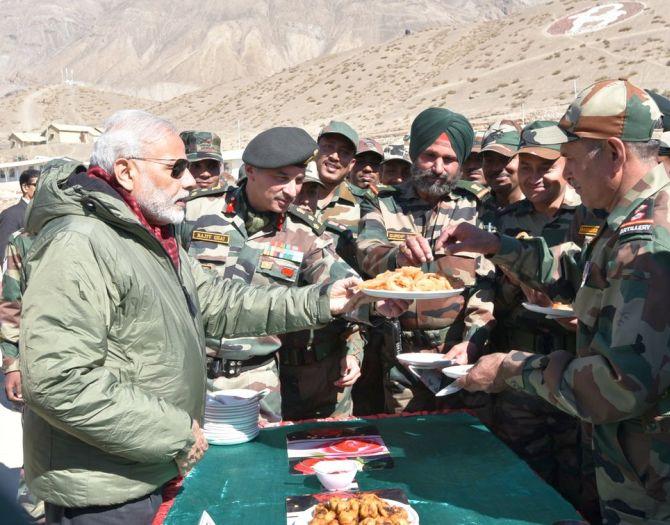 So how exactly did the Indian State respond to internal security setbacks when there was no Twitter? Almost exactly as it does now when there is Twitter.
The National Democratic Alliance playbook is in fact quite similar to the United Progressive Alliance's.
Except now it begins with the launch of some familiar verbal missiles: 'Cowardly', 'treacherous', 'anti-national' and, of course, that weapon of mass destruction for all evil that Dr Manmohan Singh had made notorious, 'dastardly'.
After the tweeted outrage come high-level meetings, promises that soldiers' sacrifices won't go in vain and, if it is too embarrassing a setback, like the April 24 incident in Bastar, attending the funerals.
Inevitably then, in the next 48 hours, if not earlier, something else will become the stink of the day and this will be forgotten.
As Bastar was, after Kupwara. Which was put in the shade within hours by Vinod Khanna's demise.
One surgical strike (post-Uri) apart, this government's responses are essentially similar to that of the UPA's, which the Bharatiya Janata Party leaders lambasted so brutally.
Smriti Irani's taunt of sending bangles (odd metaphor for a proud, independent and powerful woman, one must add) has been dug out by her critics.
Then Gujarat chief minister Narendra Modi himself landed up right next to the Oberoi hotel while the National Security Guard was still fighting terrorists there during the 26/11 attacks, unusual for the chief minister of an adjoining state.
Then prime minister Manmohan Singh, then Union home ministers Shivraj Patil and Sushil Kumar Shinde were all objects of derision.
There was an entire series of missteps and stupidities that convinced popular opinion that the UPA was weak on internal security; and its leadership worse than spineless.
With both domestic jihadis and Maoists, they were seen to be complicit.
On Muslim groups, the Congress party's two-facedness after the Batla House encounter in Delhi (where known Indian Mujahideen terrorists and a police inspector were killed) confirmed fears that the party was playing vote bank politics.
This was particularly bad as the party prevaricated after awarding the highest peacetime gallantry award, the Ashok Chakra, to the inspector posthumously.
On the Maoists, two things confirmed the same impression.
First, the political vetoing of P Chidambaram's drive against the Maoists which ultimately saw two politburo members being killed and some arrested.
And second, the co-opting of Dr Binayak Sen, convicted on sedition charges (and then given a reprieve), on an important committee of the Planning Commission.
Much post-2014 analysis of the BJP landslide has focused on UPA-2's economic policy paralysis. But an impression of pusillanimity on internal security challenges also turned disillusionment into a catastrophic anti-incumbency.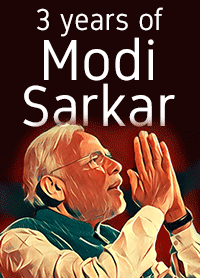 Three years into his term, how would the prime minister assess his internal security balance sheet?
Kashmir was reasonably calm in 2014, now it is on fire. We know that the valley has seen violent upsurges before, but any Kashmir veteran will tell you that today's alienation is unprecedented.
The government's bold move in aligning with the rival Peoples Democratic Party has collapsed, mostly for the top leadership's inability to reconcile conflicting ideologies.
The unnatural alliance had moral, strategic and political justification because any other arrangement after the last election would have re-enacted a version of the two-nation theory, splitting the state between 'Muslim' valley and 'Hindu' Jammu.
For the alliance to work, the BJP should have been willing to show more patience, and not distract Mufti Mohammad Sayeed over the beef ban and Masarat Alam's release.
His untimely demise didn't help. The net result was angry and violent chaos.
In the Maoist zone, the Modi government had shown progress until the two latest setbacks exposed its audacious road-building drive without adequate intelligence and paramilitary build-up.
There was one particular raid on a large Maoist camp that succeeded in killing a large number of them including some ranking leaders, and it had seemed the government was rolling back the threat.
The two recent incidents, however, have seen poor response by the security forces, humiliating command failures and easy loss of prized weapons.
Over the past two months, the Maoists have looted the jungle guerrilla warfare's equivalent of a battalion worth of top-of-the line weapons: Assault rifles, light machine guns, grenade-launchers, VHF radio sets and bullet-proof vests.
They have also had the time to stay back and leave enough reminder of their intent by mutilating some jawans' bodies.
The Central Reserve Police Force brass has denied it to avoid embarrassment to itself and rage among the troops.
But gory pictures are circulating among them and even if responsible sections of the media won't publish these, the troops are seeing them.
This isn't the script Modi had promised in 2014.
Please note that the Bastar ambush took place at 11.30 in the morning in summer, giving enough daylight for a tough government that routinely talks 'hot pursuit' in foreign territory to interdict the killers, and set up a chase.
Fresh, better-trained troops could be inducted using helicopters. One reason it wasn't done is the forces simply don't have that wherewithal.
Three years into the 'tough, nationalist' NDA government, this lack of preparedness is exactly what the BJP had criticised the UPA for.
The NDA's internal security balance sheet has plenty of red elsewhere too.
Nagaland is in a much deeper crisis and Manipur's border districts have seen a revival of insurgency.
The Naga peace talks have lost their way and, for the first time, the Nationalist Socialist Council of Nagaland factions have carried out raids in adjoining districts of Nagaland.
If you put colour-coded internal security maps of India in May 2014 and now, the picture won't be flattering to Modi.
Euphoria over surgical strikes helped him clear the pall of failure after Gurdaspur, Pathankot and Uri. But you can't keep cashing the same cheque again and again.
He and his party have been able to manage the loss of control in Kashmir through deft political messaging in the mainland -- blaming Pakistan, rising Islamism, soldiers versus the stone-throwing traitors -- helped along, indeed, by warrior news channels.
It might have even helped the party polarise the voters to its benefit.
But the tactic is dangerous and unsustainable. It is just one Kupwara-like incident ending, god forbid, in an Uri-like carnage. Or a forces' contingent, under stress for months losing nerve and control, opening up at a violent mob and, god forbid again, opening up to leave behind another Gawkadal-type massacre.
That one, remember, was 27 years ago, and remains a scar. None of these scenarios, unfortunately, is unrealistic.
Weaving Kashmir into the larger, cynical proposition of partisan politics may work until then. But continuing Maoist and Northeast troubles, frequent depredations of gau rakshaks, and rising casualties among the security forces will sour the national mood and cost the BJP.
It cannot afford to look weak, clueless and waffling on these issues. Modi's popularity and skills at messaging are formidable, but can't cover for continuing loss of life and control.
Soon enough, it will be seen as weakness and incompetence.
Failures on internal security are now piling up and can break Modi's momentum.
Electoral history tells us that when people get angry over things like these, they don't bother sending you bangles.
They can just choose to not vote for you.
IMAGE:Prime Minister Narendra Modi with soldiers in Himachal Pradesh. Photograph: Kind courtesy @narendramodi/Twitter