'Isn't it in India's long-term interests that Tibet-related issues do not remain a point of discord in Sino-Indian relations?' asks Ambassador M K Bhadrakumar.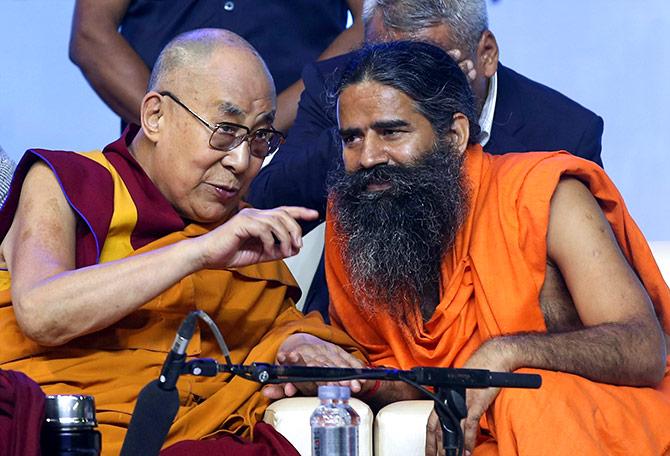 A sensational report by a Japanese publication that Prime Minister Narendra D Modi discussed a Faustian deal on Tibet with Chinese President Xi Jinping stretches credulity.
The report, citing Indian sources, claimed that the Modi government is dumping the Tibetan issue in anticipation of the Dalai Lama's death as a quid pro quo by Beijing on a partial border settlement.
It is a curious report, to say the least.
First, one would like to think that Modi being a staunch Hindu, will not possibly discuss the life after someone's death who is still alive. Period.
Second, Xi has a stated position, repeated ad nauseum, that China will never make concessions on its territories.
Third, even if such a diabolical exchange had taken place at Wuhan on an explosive topic (which had contributed to the 1962 conflict), it cannot possibly become bazaar gossip.
India is not a banana republic.
So, why has such an attempt been made to scandalise Modi as someone raring to dump the 'Tibetan cause'?
One reason could be that the Japanese publication, which has a record of Sinophobia, simply vandalised the Wuhan summit in a continuing attempt to stall any improvement in India-China relations. Quite possibly, motivated Indians put the publication onto it.
For, it is no secret that Modi's initiative to improve relations with China lacks acceptability within sections of our so-called 'strategic community' -- think-tanks, media, 'China experts' and so on -- who for reasons of their own have convinced themselves that Sino-Indian geopolitical rivalry must inexorably run its course until Delhi can negotiate with Beijing from a position of strength.
Having said that, the fact remains that there has been a flurry of media reports lately on Tibet. They have focused attention on the tumultuous life and times of the Karmapa Lama.
In particular, following his recent remarks about returning to India after a year-long sojourn in the United States, there is an animated discussion going on regarding the topic.
It appears that the Indian security establishment, which viewed him as a 'Chinese spy' and had kept him under close surveillance for almost two decades in a remote monastery in Dharamsala, has had a profound rethink in recent weeks and is now beseeching him to come back to India.
It seems that the Indian agencies have made a seductive offer of prime land (a 5-acre sprawling estate) in Delhi to set up the Karmapa's headquarters on a grand scale.
Many of these reports are so obviously based on 'spin' by intelligence agencies. Now, spooks are creators perfectly capable of constructing a world that works on the same emotional basis as successful soap operas.
So, what is the soap opera here about?
Put differently: How come the government has had a change of heart with regard to the 32-year-old Karmapa in the downstream of the Wuhan summit in end-April?
More to the point, the Karmapa has been living in America for over a year and it is inconceivable that the CIA never got to know about his presence on a lavish 150-acre estate in the Wharton state forest area in New Jersey that has been 'gifted' to him -- purportedly by a Taiwanese couple.
In fact, his remarks about his intention to return to India were transmitted by Radio Free Asia, which is known to be a US intelligence outfit.
To be sure, the whole sordid soap opera stinks to the heavens.
As the Japanese publication report hints, there are all sorts of interest groups (within and outside India), who want the Trans-Himalayan gravy train to Lhasa to keep running.
Isn't it in India's long-term interests that Tibet-related issues do not remain a point of discord in Sino-Indian relations?
It is Modi's call, finally.
After all, this is a bitter legacy which is not his creation and, therefore, he is best placed than to put a full stop to the delusional belief that we are holding a 'Tibet card' with a unique potential to leverage Chinese policies toward India.