Narendra Modi promised to be A B de Villiers but has batted like a Geoff Boycott, says T C A Srinivasa-Raghavan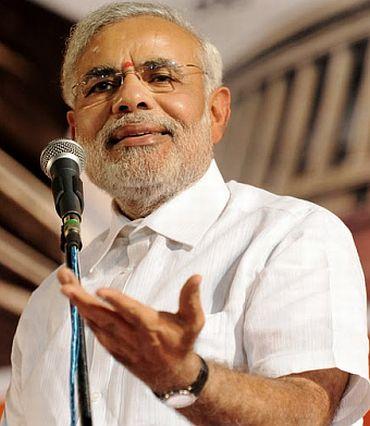 Over the last couple of weeks, Prime Minister Narendra Modi's ministers have been busy telling people how good the government really is. It reminds me of the Latin saying, vasa vana plurimum sonant (an empty vessel makes the most noise).

The ministers are also genuinely puzzled as to why last year's supporters have turned into critics this year, some of them very trenchant. Well, here's one explanation from Brutus, of Julius Caesar fame:

"There is a tide in the affairs of men/Which taken at the flood/leads on to fortune/Omitted, all the voyage of their life/Is bound in shallows and in miseries."
That about sums Modi's first 365 days in office. He is the first prime minister who is being blamed not for his acts of commission but for his acts of omission, which are several and varied.
As our cricket coach used to say to the batsmen, "If you can't hit half-volleys, go and read the Hanuman chalisa". Let alone swinging and missing, Modi has chosen to block.
He promised to be A B de Villiers. But he has turned out to be a Geoffrey Boycott -- or even worse, a Ken Barrington, a painful grafter, not a bold stroke-maker.
That's not what the spectators paid for. So, is it any wonder they are booing him now?
But Modi will not be the first one to disappoint in this manner. He is in excellent company. Indeed, it seems to be an iron law of politics that everyone who comes in with a bang very quickly disappoints the voters.
Indira Gandhi won the 1971 Lok Sabha elections with a huge majority on the garibi hatao slogan. Then she swept the states in 1972 after cutting Pakistan up into two. The Economist, always a bit silly, called her the Empress of India.
But by mid-1973, she was in trouble. The Opposition came together over inflation and corruption.
Then in 1977, the Janata Party did to the Congress what Modi has done to it in 2014. But by mid-1978, it was in deep political trouble, even though the economy was doing better than ever before.

The trouble started within the party but soon spread outside as the Congress revived under Indira Gandhi and Sanjay Gandhi. By mid-1979, the show was over and the government fell.

In 1984, Rajiv Gandhi, after Indira Gandhi's horrible assassination, won as many as 415 seats out of the 543 in the Lok Sabha. By mid-1986, he was in deep political trouble, which became full-blown by early 1987 when he sacked V P Singh.

Then came Bofors and after that, it was all downhill for him. He never recovered.

Between 1985 and 2015, no party won a majority. This suggests that a majority is no guarantee of success. On the contrary, it is the coalitions that have done well between 1991 and 2014. Throughout most of this period, the two key indicators of economic success of any government - low inflation and high capital formation - have held up well.

The story has been exactly the same in other countries - a big electoral victory has never guaranteed success. The UK, France, Germany, Japan and the US, which are comparable democracies, have all had this dismaying experience.
The point is this: Modi has confused repair with change. When he needed to change the tap, he has been content to replace the washer.
In 2014, after three long years of United Progressive Alliance botching, India was ready for some really big time change. Modi could have thrown out the kitchen sink, let alone the tap. Instead, with frozen feet, he has been content to replace the pipes below it.

His acts of commission are not in doubt and were badly needed. But what is necessary is seldom sufficient.
Besides, as P Chidambaram's non-stop mumbling shows (called monamona in Tamil) practically any government at any point in time -- including the UPA during its death throes in 2013 -- can compile very impressive lists. In late-2012, a very senior official handed me one such list for my education and, perchance, amplification.
The real question is whether there has been a fundamental change in the way India is governed, whether there is a new DOS, a basic structural modification. And the answer is an emphatic no.
The moment has passed. Narendra Modi has blown it to such an extent that even Rahul Gandhi is making fun of him.
He is going to find it hard to recover from here.