'As is very obvious, a threat to the nation and mere promise of action -- forget performance -- is enough to unite Indians,' points out Saisuresh Sivaswamy.
IMAGE: Prime Minister Narendra Modi with a mace at the Aishbagh Ramleela in Lucknow, October 11, 2016, marking the beginning of what observers say is the Bharatiya Janata Party's election campaign for the 2017 Uttar Pradesh assembly election. Photograph: Press Information Bureau
Two weeks after Indian Special Forces crossed the Line of Control to liquidate terrorists, the event reverberates across the political landscape.
Much has been said of the decision to cross a line that was held sacrosanct even during the ugly Kargil faceoff of 1999 -- both in favour and against -- but through the verbal miasma that is settling on the political discourse, the real picture lies obscured.
Irrelevant questions have been thrown about since India's DGMO made his startling disclosure in a typically understated, take-no-questions media briefing, giving the government time and scope to walk away.
Of the inquisitors, two stand out. Congress vice-president Rahul Gandhi and Delhi Chief Minister Arvind Kejriwal.
It can be no coincidence that these two leaders are also the most apolitical in the country. While this quality has led one to taste electoral victory in quick time, it has done no wonders for the other, despite his valiant attempt at forging a career in politics.
There must be a reason that other veteran politicians, who can sense the ramifications of a move even before the opponent makes them, are not part of this shouting, slanging match, their criticism if any muted if not guarded.
They must be seeing something in the unfolding drama that goes beyond the single act of sending troops over the LoC, that has made them hold their fire.
Oh, what joy fools must feel rushing into where even angels fear to tread!
Prime Minister Narendra Modi must be a happy man. For this is exactly how he must have wanted things to pan out, even as he plays the above-it-all chief executive to the hilt.
A deeply political leader, Modi has been working on his re-election since May 16, 2014, when he crafted electoral history almost single-handedly.
Every election victory, he knew, needs three things. The vote-catcher; an opponent; and the message.
The 2014 win did not come on a platter, or overnight. It had been long in planning, as the September surgical strikes had been, and it was executed like one. If Pakistan had been lulled by India's inaction all along in the face of grave provocation, so had the Congress failed to read their opponent fully.
2014 was special. It brought together a fortuitous combinations of factors that worked in the Bharatiya Janata Party candidates' favour.
Public memory, Modi knew, was not just short, it had become almost Ghajini-esque. So the United Progressive Alliance government's impressive record of years of economic growth was rubbished by the last two years of slowdown -- slowdown, mind, not negative growth.
Corruption in India is Ravana-esque, it gets slayed every year only to rise again. Corruption is not an issue that exercises India unduly, Indians in their native wisdom know it's the grease that keeps the wheels of their life moving.
And finally, Modi knew that while the UPA had achievements to its credit -- he has, after all, co-opted a few of them -- it was hobbled by the fact that these came under a non-Nehru family leader and hence the party cannot go to town with them -- its claim now of surgical strikes across the LoC during its rule being a case in point.
It was Modi's genius to forge these disparate elements into an astra that brought the Congress structure crashing down.
So did the Congress not see the challenge emerge before them? They simply refused to see it, proving that none was so blind as them.
One of the things that got the UPA good press -- or NDA 1, for that matter -- was that they took along a media entourage whenever the prime minister travelled abroad. That it enabled the two pillars of democracy to get to know each other, was the best part about it. Tongues and egos loosen at high altitudes and spirited conversations -- most of it off the record -- ensue.
One particular exchange involving a minister of state springs to mind. At that time Modi challenging the UPA was in the realm of speculation, and asked about it, the MoS was dismissive. Assuming Modi emerged as the PM candidate, "unhe hum kyon harayen, unhe toh Mussalman hi haradega."
And further: "Arre bhai, BJP hai hi kahaan? They don't exist in the South, or East. Haan, thoda bahut they have a base the west and north, but is that enough? Their best case scenario is they will be the single largest party, but who will support them? So it is back to 1996!"
Going into 2014 this thinking was the Congress' one fatal error. They dismissed their opponent as inconsequential, and the threat he posed as insignificant.
But Modi proved a master class, and neutralised the Congress' hoary claims to power.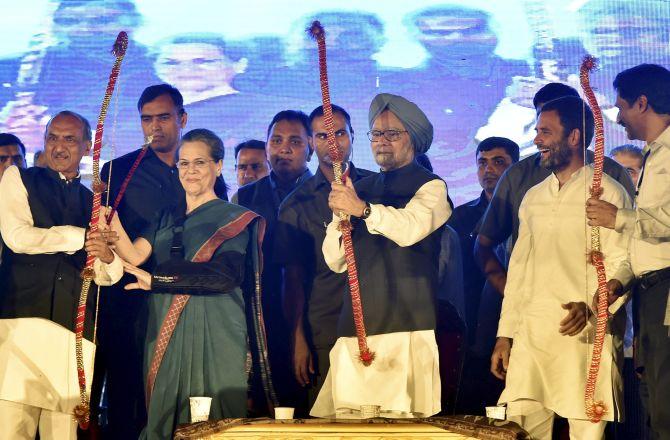 IMAGE: Congress President Sonia Gandhi, former PM Manmohan Singh and Congress vice-president Rahul Gandhi at the Nav Shri Dharmic Leela Committee's Dussehra celebrations at the Red Fort Ground in New Delhi, October 11, 2016. Photograph: Kamal Singh/PTI Photo
Two-and-a-half years away from Round 2, in which it anyway is not expected to fare well, the Congress is once again misreading Modi.
Modi could have sent the Special Forces across the LoC any time after May 2014, but there is a reason why he chose to do so now.
The 2014 mandate was widely read as being one for Vikas (development), and that's how Modi would ideally like to be remembered. As the man who eradicated poverty in his country. 'Sapno ka Bharat banaoonga,' he had said at Madison Square Garden, but it has taken him so long to realise that it will remain just that. A dream.
The economy, for various reasons, has not broken out of the UPA's dying years jinx. Whatever growth is happening is not creating new jobs, at least not enough of them. The dismal latest IIP data says it all. Nor is agriculture out of its crisis.
The combined message from all this gloom is that 2019 cannot be fought on the development plank. It's going to be a long haul for whoever comes to power so there's no point highlighting it. Modi has read the tea leaves right, but it doesn't seem like the Congress leadership has.
So if not development, then what?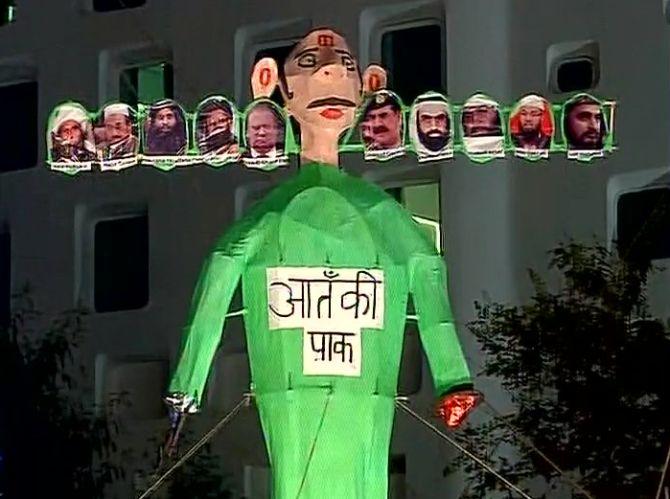 IMAGE: Ravan's effigy at the IP Extension in New Delhi with photographs of Pakistan Prime Minister Nawaz Sharif, army chief General Raheel Sharif, Lashkar-e-Tayiba terrorist Muhammed Saeed and other terrorists. The text reads, 'Aatanki Pak (terrorist Pakistan).' Photograph: ANI
For someone who fashions himself after Sardar, there is really no other option left before Modi. Pakistan had been used before in the Gujarat assembly elections -- not directly, but through the persona of 'Mian Musharraf' -- and paid rich dividends.
The message for 2019 won't be as crude, and possibly revolve around the cross-border threat to the nation, with Pakistan being the subliminal message. This, at least, is the picture emerging from transposing the events of the last two weeks on to 2019.
As is very obvious, a threat to the nation and mere promise of action -- forget performance -- is enough to unite Indians, and it is a wise Congress leadership that can counter such a plank, not a rash one.
So will the Congress once again misread Modi?