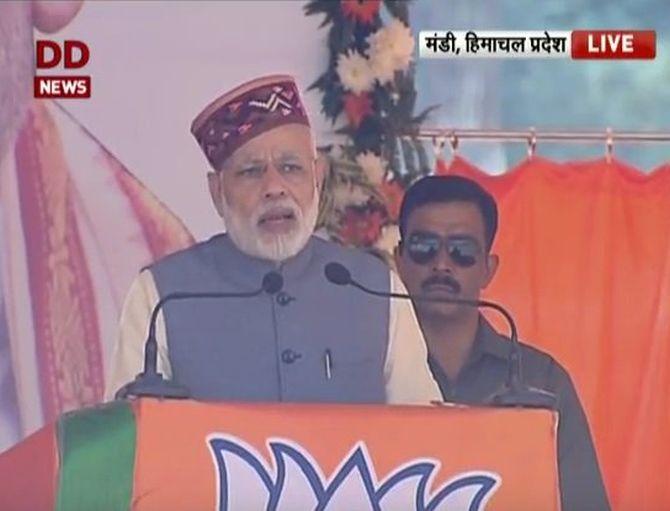 A little while earlier in the evening, a journalist from a well-known Delhi newspaper phoned me up for a 'byte' on Prime Minister Narendra Modi's enigmatic remark on Tuesday at a Bharatiya Janata Party rally in Mandi in Himachal Pradesh that the Indian Army 'is no less' than the Israeli army about 'doing such a thing' as our surgical strikes on the Line of Control on September 29.
That set me thinking. I first told my interlocutor evasively that it all depends on the audience Modi had in mind. Modi has an inscrutable mind because he only said the other day to his own folks, 'No more chest-thumbing, guys,' and now he himself did precisely that.
So, my interlocutor asked whether Modi had in mind the electorate in Uttar Pradesh that Modi had in mind.
I doubted it, because all those street-smart Tiwaris and Thakurs and Yadavs are not going to vote on the basis of such a flippant remark on election day -- not even the headstrong Jat in the western edges of UP.
Now, what about the international impact? I said Modi got his facts wrong. Because, in the last big war Israel fought, the Lebanon War in 2006, it got so nicely checkmated -- and, by a resistance movement known as Hezbollah -- that for another decade the Israeli army has been staying home.
Modi's reverie is about a mythical world where Moshe Dayan (the Israeli defence minister during its wars in the 1960s) lived -- and died.
The Israeli army's forte now is to do sly things such as to give support to the Al Qaeda affiliate Nusra in Syria to advance the 'regime change' agenda.
Or, to undertake reprisals on Palestinian communities living in the West Bank and Gaza whenever a rocket is fired from that side into Israel.
Surely, Modi can't be having such 'tit-for-tat' in mind, which are, after all, a manifestation of the stalemate in the Arab-Israeli conflict and Israel's helplessness to shift the calculus of strategic balance decisively in its favour through political or military means.
Internationally, Israeli army operations have been deemed excessive and adversely commented upon by the UN and the human rights bodies. Therefore, it is not a smart analogy for Modi to dwell upon when India is campaigning for permanent membership of the UN Security Council.
In diplomatic terms, Modi may have even created some embarrassment for India. The Palestinian ambassador in Delhi must be a sad man. His Arab counterparts in Chanakyapuri must be furious that Modi admires the Israeli army, which humiliated the Muslim Middle East and rubbed the Arab nose in the dust.
Minister of State for External Affairs M J Akbar must now host a party in Hyderabad House to say, 'Sorry, Excellencies, you know our prime minister.'
It is entirely conceivable that even Israelis may disapprove of Modi's remark. They never hide behind alibis.
Here, on the contrary, we are still quibbling whether the surgical strikes were conducted 'along' the LoC or 'across' the LoC. The government refuses to be categorical.
The Israeli generals speak up like generals and won't expect merit certificates from civilians who never fought a war. Their television cameras will proudly display the audacity of their valorous acts on the battlefield. They will carry war trophies.
They won't allow themselves to be portrayed on billboards in inner towns as sidekicks of some political parties.
Curiously, Modi seemed to have been unaware that government officials in Delhi admitted on Tuesday that similar military operations were undertaken by previous Congress governments also.
So, if the Indian Army has finally graduated to the level of the classy Israeli army in valour and professionalism, shouldn't the credit go to Pranab Mukherjee and A K Antony?
Given the above, then, why did Modi say such a thing?
As you know, I am always for simple explanations even when complicated people are involved. Remember, only the day before, Defence Minister Manohar Parrikar had said something about surgical strikes -- 'I wonder that a prime minister from the land of Mahatma Gandhi and a defence minister from Goa which has no martial race and surgical strikes... maybe the RSS teaching was there, but this was a very different kind of combination.'
Now, Modi couldn't have liked such a cavalier remark. Indeed, Parrikar should never have bracketed himself with Modi. That was an act of blasphemy that could invite divine retribution.
Parrikar was free to speak for himself. Period.
On top of it, he referred to Modi as Gandhian! Parrikar could have just glanced through Facebook to know that if the 'core constituency' adores Modi, it is because they see him as the antithesis of Gandhiji.
Gandhiji's chest wasn't even 40" broad. He was a slightly built man -- a sparrow one feels protective about. Yet, if we admire his toughness, it is about the grit of the mind of a frail-looking man who took on a superpower.
To my mind, Modi put Parrikar on the mat by making such a 'Martian' remark in Mandi.
Modi would prefer to wear the Martian look and take the credit for surgical strikes. He may not even want to share it with the RSS -- leave alone with Parrikar.