For now, says Kishore Singh, the #MeToo movement has not looked sufficiently back in history, but too many of us know such offenders and continue to socialise amidst them.
Illustration: Uttam Ghosh/Rediff.com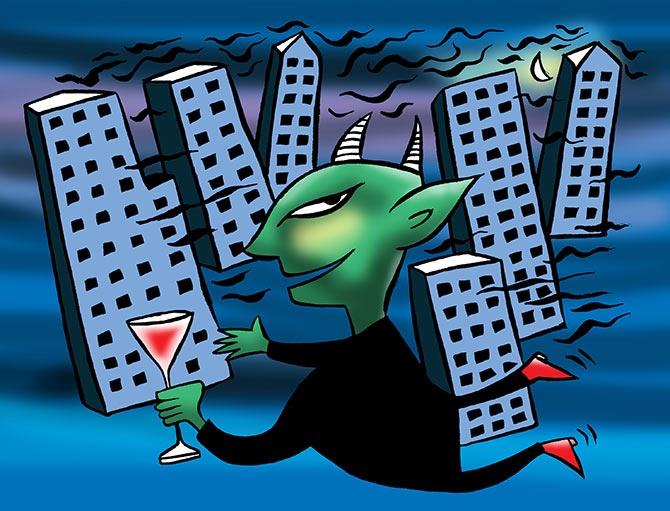 If people are known by the company they keep, the 1980s qualified as particularly toxic times.
New Delhi then was vastly different from the megapolis it is today, but in at least one respect it continues to drag its fee -- enabling the security of its working women.
There were fewer women in offices then, though certain professions attracted a larger number of them -- advertising, journalism, travel, hospitality, design, fashion, interiors and other so-called 'soft' options.
It was a time also of rebellion, a hangover from the '70s, so "liberated" women who expressed their views freely, smoked and -- worse -- drank, were considered of "loose" character.
Any promotion or notch of professional success was put down to "sleeping with the boss". The terms "women" and "achievement" together represented an oxymoron for many.
Such was the level of patriarchy that these same women found little support even in their own homes.
Any reason was sufficient to cause fights -- late working hours, travel for work, a child's illness or poor report card in school.
If they reported to work on holidays such as today's Karva Chauth, husbands sulked; if they didn't, colleagues sniggered. Ambition was undesirable in women.
Then, as now, it was the men who were insecure. They would storm offices where their wives worked to accuse them of having affairs and create a scene.
Should a woman let her guard down, she was considered up for grabs, a property to be commented on.
Almost no office could provide a secure enough environment for them, and certainly not shield them from snide remarks and lewd suggestions.
Too many women I knew then -- who remain friends still -- either separated, or divorced, adding to the insinuations that flew casually around them.
They were branded hussies while their "poor" husbands revelled in collegial sympathy.
Those who wonder why women did not complain or walk out can have little idea about those illiberal times.
If you wanted to or, worse, needed to, work, you certainly couldn't count on gender parity.
Women needed to be on guard -- always. Flirtation was seized as opportunity. Platonic friendships were deemed laughable.
Boorish male behaviour was taken for granted, even condoned. Taunting women who chose to work was par for the course.
These plucky professionals paved the way for forthcoming generations of millennials in the workplace, but at great cost to their self-esteem and respect.
If some of them are now feeling emboldened to speak out, it is because they have kept those feelings suppressed for too long.
Uncouth colleagues stymied their promotions and scuttled professional opportunities.
As male colleagues, those of us who looked on and tolerated such behaviour are at least as culpable as those who perpetrated it.
For now, the #MeToo movement has not looked sufficiently back in history -- as has happened in Hollywood -- but too many of us know such offenders and continue to socialise amidst them.
Should that Pandora's Box open, its whiplash will take down several icons of respectability.
Can age and seniority be a reason to excuse them?
Should the lax code of the times be reason to pardon them?
Rather than you and I be a judge of that, it should be left to those women now in their 50s and 60s to decide that course of action.
But fear their wrath, for as the poet John Donne said, '...,em>Never send to know for whom the bells tolls; it tolls for thee.'