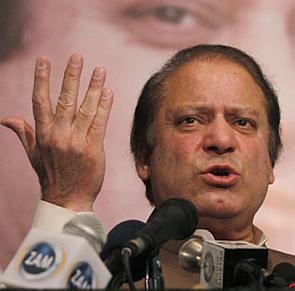 The biggest success of Nawaz Sharif's visit to India is that it will lessen mistrust between the two countries, writes Amir Mateen from Islamabad.
As Pakistan Prime Minister Nawaz Sharif dares to attend prime minister-designate Narendra Modi's oath-taking, India exudes two contrasting signals of simultaneous patronising and showing humility to its neighbours.
The ceremony has all the trappings of a royal coronation at the Delhi darbar where regional satraps, call them SAARC heads, have been seemingly called in for attendance. Over 3000 well-chosen guests will witness the majestic opening of the "make-or-break" BJP government today.
And why not? It is only the second time in India's history that a non-Congress government has won a simple majority. India reversed its ever-growing politics of caste and regionalism by voting a single party into power after three decades. Even Modi seems overwhelmed over the victory margin.
The Delhi darbar is awash with Bollywood-style pomp and imagery that Modi perfected during his electoral campaign. Indian media is abuzz about the sound and light show that it promises to be. Hamid Karzai, we are told, will finally have a fashion competitor to beat his trademark multi-coloured Uzbek robe.
Media speculates on Modi's wardrobe. Will he wear a chikankari kurta to copy Shah Rukh Khan in Kabhi Khushi Kabhi Gham or sport a Bal Thackeray look with his glamorous lungi-kurta in dark colours, as portrayed by Amitabh Bachan in Sarkar? Or perhaps replay his Gujarati Ram-Leela dash with short rounded Angarakhu along with thickly folded turban.
A Times of India report advises that it would be apt for Modi to flaunt a classy Jodha-Akbar look: 'With a string of pearls in his neck and an elaborate Moghul headgear to match, he will be sending the right signals to the world about India's Ganga-Jamuna tehzeeb.'
Well, if Modi is Emperor Akbar incarnate, what does this make the SAARC heads? Not his Navratans, we hope.
Amid all this official pomposity and the media's glamour buzz, a subliminal modesty is also at display. Modi the prime minister comes across as far more modest than the Modi the candidate. His election bravado has given way to an appeasing demeanour not just for his rivals in his party but for his regional competitors too. The invitation to SAARC heads could also be seen as part of his post-election transformation.
It was a masterstroke to invite Nawaz Sharif among SAARC heads. It would have raised a few eyebrows if he had singled out Sharif. His jibes at the Congress for "serving biryani" to Pakistan amidst the killings on the LoC are still fresh in public memory. Many thought that it would take from six months to a year before Modi could make a positive overture to Pakistan -- if at all he wanted to or the conditions favoured him.
But it goes without saying that Modi's problems with India's neighbours go far beyond Pakistan.
Modi needs to appease Bangladesh as he fought his campaign in West Bengal on the plank of throwing out Bangladeshi Muslims (as opposed to Hindus for whom he believes Mother India is their natural home -- as Israel is for the Jews).
India's relations with Nepal are far from perfect. Its ties with the Maldives are even worse, especially when the tiny State dared to stop India from taking over its most important airport through a construction contract.
The most significant move was to invite Sri Lanka's President Mahinda Rajapaksa, much to the chagrin of Tamil Nadu Chief Minister Jayalalithaa who kept the Congress hostage to her Tamil allies and LTTE supporters. Whether these overtures are a repeat of the Gujral doctrine, which favoured rapprochement with India's neighbours or just a ceremonial compulsion, only time will tell.
This is particularly true about Pakistan.
Modi will have to balance any peace initiative -- favoured by corporate India -- with his right-wing supporters. This is why both sides are cautious about not generating too many hopes from this meeting and terming the event as, at best, an "ice-breaker".
Sharif's acceptance of the invitation will definitely help Modi if he would want to restore the Pak-India dialogue at some stage. Afghanistan is one issue where both countries may not have the liberty of time. As the United States heads for the drawdown of its forces, Pakistan and India need to work out an understanding on its aftermath, if they want to avoid yet another proxy war. The issue over Indian consulate's office in Herat is a case in point.
Whatever the case, this event may pave the way for a more concrete meeting and agenda when both Nawaz and Modi will be together at the United Nations meet in New York in September.
Sharif showed guts and wisdom in visiting Delhi. He ought to have done this in any case because mending fences with India was part of his election promises. He could not afford to dither at the first opportunity that came his way after a year. It was also part of the PPP and the PTI but Imran Khan seems to be having second thoughts on reasons that we would not like to speculate about.
This decision has belied the impression generally held in India that we do not have civilian supremacy in Pakistan and that Islamabad and Rawalpindi are not on the same page as India. This is just a symbolic visit and the who-betrayed-what scenario should come into focus when we cross those bridges. At this stage, this restores Pakistan's respect as a participatory democracy and as an independent polity.
The biggest success of the visit is that it will lessen mistrust between the two countries. Next time a terrorist incident happens in India, as it happens almost daily in Pakistan because we can't control our non-State actors, Modi will have a better understanding that the PakistanState may not be involved as a rule. It was our alleged backing, more than the tragic incident, which angered India over the Mumbai massacre.
It will take a while before Pak-India relations get normalised, if they do at all, but Sharif has thrown the ball back in India's court for sure. And the world sees this.
Perhaps both countries need to get out of their phobias against each other. Pakistan needs to compete with India not with the zealotry expressed by the fringe Dawa fanatics but economically.
Our defence budget, which never crossed Rs 2 billion for five decades, has crossed now Rs 30 billion. This will bleed us to death.
India too needs to act big if it aspires to be part of the big league. As journalist Shekhar Gupta rightly pointed out, Modi does not need to have a 56 inch chest to control India's neighbours but a 156-inch heart to appease them.