'My curiosity remained regarding what predominantly middle class Bengalis who frequent my shop do with so many wooden trays,' says Keya Sarkar.
Illustration: Uttam Ghosh/Rediff.com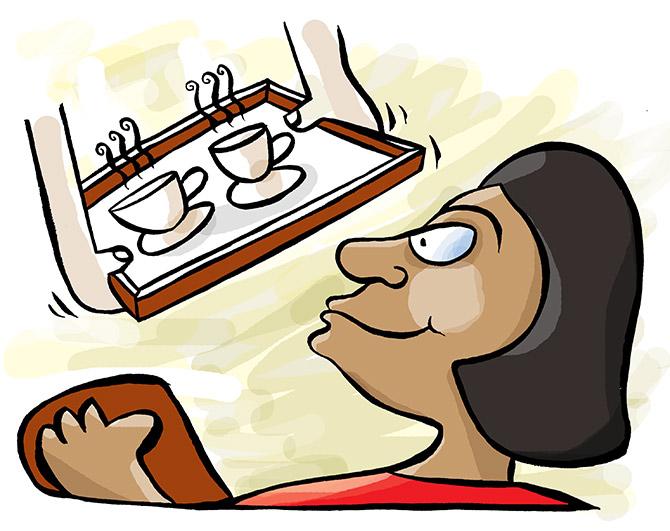 Among the many artisans I work with for my craft shop in Santiniketan the person who works in wood is truly a find.
I just have to squiggle an idea on paper and Sunil comes back with a product far superior to what I had imagined.
Thanks to him we are able to fashion chopping boards, platters, photo frames and mirror frames, napkin holders and wooden fridge magnets, lampshades and more.
What is truly amazing is that many of these things, Sunil, a man from Ahmadpur, a small town two stations from Santiniketan, may have never used himself.
But once I explain to him the usage of a particular item he comprehends it completely and fashions something spectacular even though it is completely alien to his background.
But as I, in my enthusiasm, made trays and platters, napkin holders and cheese knives I wondered who my buyers would be in small town Santiniketan.
I was in for a surprise.
When I compared my item wise sales numbers month on month, figures for wood products were not only healthy, but rising.
Since I spend little time at the shop, concentrating as I do in my workshop to take care of production I seldom get an opportunity to meet my customers.
So I have little idea of the profile of customers who seemed to share my enthusiasm for woodcraft.
But my curiosity remained regarding what predominantly middle class Bengalis (both residents and tourists) who frequent my shop do with so many trays.
A trip to Kolkata recently seemed to provide a clue. We visited a couple of elderly relatives and friends. At most places we were fed in true Bengali style.
And strangely there emerged a pattern to this feeding.
From the time we entered, the hostess first offered us fresh lime or some equivalent brought in separate trays for the two of us and placed individually on small tables placed before us.
Those trays would be removed and after a decent gap more trays would be brought in with tea. And then some more, bearing food.
While each item appears sequentially, the man of the house basically sits and oversees the operation and keeps repeating that everything is made at home -- his voice full of pride for his wife's abilities!
The hostess keeps emerging from the kitchen with food in hand till we get to the sweets.
It is only then that she allows herself to sit down signaling to you that the end of the food festival is near.
There is, we noticed, no attempt at conversation other than that related to the food or beverage being served or no attempt to eat together. The host and hostess just watch you eat.
It's a feeling akin to going to a beauty salon where from the time you enter girls take over serially processing your beauty routine and simultaneously trying to entice you with more exotic treatments so that who emerges from the parlour is a new you.
The only difference is that you don't pay a bill but instead make polite noises about how good the food was and promise to return for more.
It is only when you get into the car that you rue allowing your over anxious hosts to throw your diet regime for a complete toss.
But the business person in me is secretly happy. Just the plethora of tray requirements warms my heart.
Amidst the plastic and the steel surely an occasional wood tray would set the home décor of these zealous feeders apart.