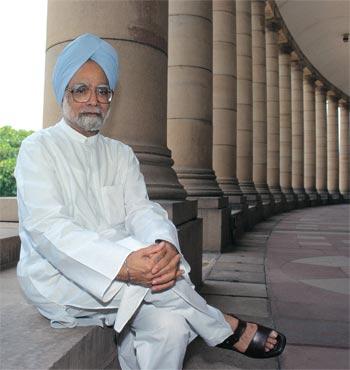 In the present prime minister, the BJP has its weakest possible opponent.
Why don't they let him stay there, asks A Ganesh Nadar.
Why is the Bharatiya Janata Party asking for Prime Minister Manmohan Singh's resignation? Don't they realise that he is their biggest asset?
I doubt BJP President Rajnath Singh will figure that out! When the BJP was routed in the 2009 Lok Sabha election, Rajnath Singh was celebrating his victory.
At his home in New Delhi a band was playing and the house was filled with lackeys. He was telling them, "You know, how many chief ministers come to my house and wait for hours to meet me? I meet them for only 10, 15 minutes as I am very busy." A man with such a large ego would not be able to figure out the basics.
In the present prime minister, the BJP has its weakest possible opponent. Why don't they let him stay there?
No one really knows how many scams the prime minister has presided over. Let me mention the ones I can recall.
The helicopter scam, where people go to jail for bribing an Indian agent. Everyone knows that to secure a deal in India you have to bribe people, especially in the ruling party. Dr Singh ignores the event.
A Raja presides over the mother of all scams with more zeroes than any other known case till date. Dr Singh calls it 'coalition dharma.'
Raja has now come out with a 100-page press statement, saying his fellow Tamil P Chidambaram and the prime minister were privy to his shenanigans.
P C Chacko is head of the Joint Parliamentary Committee probing the spectrum scam and appears intent to defend the prime minister and the Congress party at all costs. He refuses to allow Raja to speak before the JPC and declares that the prime minister is innocent.
The former president of the Maldives takes refuge in our high commission in Male. He is allowed to leave only after the Maldivians assure India they will not arrest him. He leaves the embassy and is promptly arrested. What does Dr Singh do? He stays silent.
The Sri Lankan navy regularly beats up, arrests, shoots Tamil fishermen. Dr Singh acts as if he does not know what is happening beyond the Vindhyas. The Tamil Nadu assembly passes a resolution saying retrieve Katchatheevu. He ignores it. The DMK moves the Supreme Court to retrieve Katchatheevu. Dr Singh continues with his maun vrat.
The Chinese intrude into India territory and stay put for over a week. Salman Khurshid insists he will go to China. Mulayam Singh Yadav calls the Congress cowards on the floor of the Lok Sabha. Dr Singh's maun vrat would have been the envy of Sage Vishwamitra.
In the Coalgate scam, the law minister and two joint secretaries meet CBI officers and reportedly delete any negative reference to the prime minister and his office. The Supreme Court comes down heavily on this, but Dr Singh stays quiet.
In the Railgate scam a nephew of a Cabinet colleague is caught red-handed taking a bribe of Rs 90 lakhs/Rs 9 million. What does the prime minister do? Nothing! A true disciple of P V Narasimha Rao who once famously said, 'Not taking a decision is also a decision.'
Sonia Gandhi has to step in to sack two ministers.
Here is a prime minister who can be attacked for numerous scams he ignored and policy paralysis that has affected his government for its second term. He would be a sitting duck for the 2014 election, but Rajnath Singh wants him to resign. Some people just don't realise it when they have it good.
If the prime minister does resign, dear Rajnathji, the alternate you may encounter could be Rahul Gandhi.
Just remember that when you take on Rahul Gandhi you are taking on the memory of Rajiv Gandhi, Indira Gandhi, Jawaharlal Nehru and Motilal Nehru. And there is a large mass of Indians who don't realise that Mahatma Gandhi does not belong to this family.
Sonia Gandhi is formidable and has led the UPA to victory not once but twice. With Rahul Gandhi beside her she will be invincible.
So, dear Rajnathji, please leave Doctorsaab alone if you harbour any hope in the next Lok Sabha election.