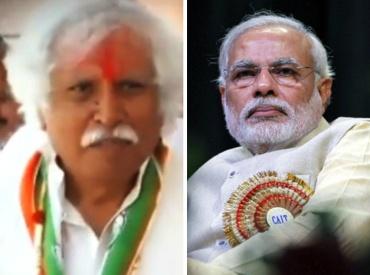 Narendra Modi's mother washed utensils to make a living. Madhusudan Mistry's grandmother, who brought him up, was a vegetable vendor. Mistry's trajectory from poverty to membership of the all powerful Congress Working Committee is moving.
The man who has Rahul Gandhi's ear and is all set to take on Narendra Modi in Vadodara speaks to Rediff.com's Sheela Bhatt in a fascinating interview.
On the eve of the Lok Sabha election Priyanka Vadra's presence is being felt strongly within the Congress.
The daughter of the Gandhi-Nehru dynasty is trying to save the Congress from a complete rout as its detractors and around a dozen pre-election surveys predict.
Her idea seems to be to 'go aggressive' and take the Bharatiya Janata Party prime ministerial candidate Narendra Modi's assault head on.
At least in the distribution of election tickets, the Congress is showing confident political movements and showcasing a mood to fight it out against the BJP's propaganda machinery.
Madhusudan Mistry, a new political entrant to the Gandhi darbar, has been asked to fight from Vadodara, challenge Modi no less.
Some three months ago, Mistry claims, he had expressed his desire to take on Modi. There is a strong Gujarati word, daaz (loosely translated into heart filled with rage), which Mistry says he carries against Modi for long.
Mistry and Priyanka were on the same page on challenging Modi in Vadodara.
Sonia Gandhi didn't take time to approve the idea.
The move to pit Mistry against Modi is considered symbolic, but is interesting nevertheless.
Mistry, like Modi, has risen from a humble background. Both are Gujarati OBCs.
Mistry doesn't believe in rituals, but always wears a rudrakash. He claims he believes in panchmahabhut (fire, water, air, sky, earth, the five elements).
He ran into a controversy for helping churches in Gujarat do social work among the tribals.
Every time he fights an election he faces allegations of being sympathetic to Christians.
Modi and Mistry have both worked in the social field, living among the people. Mistry had his own non-government organisation, Disha, operating in the tribal Panchamahal district and Sabarkantha, while Modi worked through the Rashtriya Swayamsevak Sangh in urban and non-urban areas of Gujarat including Vadodara.
Modi's mother Heeraben washed utensils to make a living. Mistry's maternal grandmother, who brought him up, was a vegetable vendor.
Much before Mistry was nominated to fight against Modi in Vadodara he had spoken to Rediff.com about his life and the difficult times he has endured.
His trajectory from poverty to membership of the all powerful Congress Working Committee is moving.
Mistry was born into a family of masons. He spent his early childhood in Kundanlal chawl near the Asarva village of Ahmedabad. He has a tragic family background. His mother Tulsiben married thrice. Dhanjibhai, Mistry's father was his mother's first husband.
"My mama (maternal uncle) told me that soon after my birth, my father didn't return home one day. He simply disappeared from our lives," Mistry recalls.
"Later, my mother married again. She had one daughter from the second marriage. That marriage ended in divorce, then she married a third time. My relation ended with her when she left me behind with my maternal grandmother. I was breastfed by my naani. I considered her my mother."
Without displaying any emotion, Mistry says, "My relatives claim I was born on January 3, 1945. I hope so."
His relationship with his mother turned so bitter and they were so cut off from each other's lives that Mistry found out about his mother's death much later.
Mistry is deeply attached to his family. He got married in 1969 and has three daughters and one son.
He encountered deprivation early because his maternal uncle, his guardian, had a minor job in a Rajgir textile mill. The family was too large to sustain on his uncle's salary. In 1967, some 11 textiles mills shut down in Ahmedabad and that brought misery for thousands of families.
"My naani earned a small amount selling vegetables. When I was around four years old I would carry the weighing scale and walk for hours behind my naani." Twice a day grandmother and grandson would go from house to house to sell vegetables.
Later, when he entered school, he valued money more because by then his maternal grandfather, a skilled mason, had retired from the military hospital.
"My first job in life was to hold the wooden seedi (ladder) for masons, for a whole day, in under-construction buildings. I was paid Re 1 a day for it."
"I have done every small job for small sums of money. Asarwa was a mini India. I had Tamilians, Haryanvis, Saurashtrians, Rajasthanis, Muslims and many Dalits as my neighbours. We were poor. We used to go with our goats to search for grass every day, we had to collect cow dung from the streets for my grandma, so that she could cook. We used to loaf around in nearby farms where we had free nuts, mangoes and berries."
"Even though I am in the CWC I haven't changed," asserts Mistry. "My lifestyle is the same. I can sleep on the floor with my two pillows. I can still eat onion and roti. At short notice, I can leave Delhi. I haven't spread my wings much in Delhi."
Mistry studied in a school many kilometres away. He never bought a book for himself, not even in higher classes. "I had a friend with whom I shared text books. I would sleep till 2 am when my friend would finish reading the books. Then I would get up and study his books before appearing for the exams."
Walking up and down more than 15 km every day to attend high school was tough for him, Mistry remembers. The R C Shah Nutan School was more than seven km from his chawl.
He has many memories of when money was a constant constraint. "In the 1960s Ahmedabad had many cases of smallpox and malaria. I was a victim of both. Those days it would cost Rs 5 for an injection to treat malaria. We could not afford it."
When his family shifted to the Sadar Bazaar area, which is known as mini Brazil, he had some fun in life. Sadar Bazaar residents were not enamoured of cricket but they loved football those days. Mistry too became football crazy.
"I was lucky to have a good number of friends. Some gave me clothes to wear and some gave me a house to live in. Some gave me books and some paid my college fees. Jagdish Shah and Harish Patel are two such friends. I have not forgotten any of them and I will never forget."
During vacations, Mistry worked in the Ahmedabad military compound colouring pots with organic colours. He got a proper mason's job when he was employed by the contractor who built the inspector general's office in Ahmedabad.
Mistry remembers he was employed full-time to mix cement and sand when the Food Corporation of India godowns were built in Ahmedabad. He did all kinds of small-time jobs during school vacations that included jobs as badli kamdar (temporary worker) in the textile mills.
For many years he worked as an office peon, clerk and colour mixer. He used to earn Rs 75 a month for the temporary jobs. Mistry did his BA in arts from Ahmedabad. When Rediff.com asked, "What was your ambition then?" he replied, "To study at Vadodara's M S University."
With the help of friends and charity he did his master's from Vadodara in geography. Mistry would cook twice a day for his friends during his college days in exchange for free accommodation.
His family, he says, wanted to see him earn something with his skills. His uncle forced him to join a diploma course at the Indian Technical Institute. So Mistry, who today helps the Congress party screen and narrow down candidates for the general election in 543 seats, did a 'moulding' course at the ITI, Saraspur.
He became skilled and worthy to be employed as a 'turner.'
Then his MA in geography got him a job as a lecturer in an Ahmedabad college in 1970.
This job changed his life forever. He joined the Majdoor Mahajan Sangh, a labour union established by Mahatma Gandhi, with the help of Ela Bhatt of the Self-Employed Women's Association. He worked among mill workers, rickshaw drivers and other poor people for some eight years.
He studied labour laws and became an expert in fighting cases of worker dismissals, suspension etc. Legendary leaders like Shankerlal Banker, Shyamaprasad Vasavada, Khandubhai Desai and Arvind Buch mentored him.
Then came another break. He got a scholarship at Oxford for a diploma in development studies. He went to Ruskin College for a year and came into the big league in social work.
In the UK he attended lectures and was influenced by European liberals. He also got a job at Oxfam-India and returned to Gujarat with a plum job. He founded his NGO, Disha, in 1985, and also held the Oxfam job for six years.
Now connected with important social leaders and their groups, Mistry ran into controversy for siding with Christian missionaries, a charge he continues to face even now.
His political engagement started with Praja Socialist Party leader Brahmakumar Bhatt, who later joined the Congress. Mistry campaigned for Bhatt in the Jamalpur area of Ahmedabad and later also for the Congress's Karsandas Parmar and C D Patel.
He stoutly denies that he ever worked for the RSS. In 1987, when then BJP stalwart Shankarsinh Vaghela was passing through Godhra, his car was stuck for an hour due to a tribal rally. When he enquired he discovered that Mistry had organised the rally for tribal rights. Vaghela was impressed.
Later, Vaghela sent another BJP stalwart, Suryakant Acharya, to understand tribal issues so that the RSS-BJP could start working for these communities. Acharya met Mistry for three hours. In 1994, the BJP election manifesto contained all the tribal demands that Mistry was fighting for. The BJP asked Mistry to join the party, but he refused.
When Vaghela left the BJP and founded his Rashtriya Janata Party, Mistry was made its president. Later, the RJP merged with the Congress and Mistry got his first chance to fight a Lok Sabha election from Sabarkantha in 2002.
He won the by-election, and won again in the 2004 general election. He lost the 2009 election by 17,000 votes.
Mistry not only has a labour movement background, he also has extensive understanding of tribal issues. Also, since he has worked in Oxfam, he can file reports neatly and impressively.
He impressed Congress Vice-President Rahul Gandhi because his drafting is good and he could work relentlessly for long hours. Mistry gives credit for his rise to Sonia Gandhi's political secretary Ahmed Patel too.
Most Congressmen fail to understand what impresses Rahul Gandhi so much about Mistry that he gives him so many important responsibilities.
When Rediff.com asked Mistry the same question, he says, "I give 100 percent to my work. I don't compromise. I am blunt. I have come to Delhi to work. I exactly know what should be my agenda and when to exit."
Asked about his experience with Rahul Gandhi, Mistry draws a portrait of his leader on expected lines.
"I had a chance to interact with him during the Karnataka and Kerala elections. We normally discuss issues about the organisation. He has an open mind. He is receptive. He does in-depth thinking on issues worrying the Congress. He asks questions all the time. I can say the Congress is not a closed shop. Here, there is upward mobility for everyone if you prove your merit."
Probed about the current mood in the party, he says, "We are political leaders. We don't lose confidence. If we lose confidence, then it is the end of the leadership and everything else."
Excerpts from the interview with Mistry after he was nominated to fight Modi from Vadodara:
Why are you taking on Modi?
I always believed that you need humanity, dharma nirpekshta (secularism) to be a prime minister. You can't be communal to sit in the top chair.
In Karnataka, he tried communal politics, but didn't succeed.
See, he was home minister when so many police encounters took place. Do you think people are mad? Would they believe that Modi did not know at all about it?
I am asking why your magic didn't work in the Karnataka assembly election? You can change your image with PR work, but you can't change reality.
But why a direct fight?
I always wanted to fight him. Mane ena per daaz che (I carry rage within me against him).
I was waiting for just such a chance. I am not unknown to Vadodara. I got my degree here. My sentiments for Vadodara has, maybe, drawn me here.
It is Modi's home turf. He is the strongest leader in Gujarat.
In that case, why is he not resigning as chief minister and creating a level playing field?
I have defeated him in Sabarkantha. I got six seats out of seven seats in my constituency in the last election. Modi could do nothing.
What are the issues in Vadodara?
There are plenty. Farmer suicides, poor roads, malnutrition...
Do you know that after 2004 Modi has not published the human index development report?
Do you know that more than four lakh farmers are waiting for electricity connections in the state?
The election is about personalities too.
So? What personality? You only print what he says.
If I criticise him, the media doesn't show it. If you spend money you can build your image.
What's the main motivation behind your decision?
See, this man (Modi) is a manipulator.
He is anti-poor, anti-tribal, anti-Muslim and anti-working classes. Gujarat was never like this.
Are you nervous or confident?
Who, me? Just wait and see. Come and join the election campaign.
Your party is not strong enough in the state.
Not just the Congress, there are many apolitical people who are going to help me. Give money and resources. They are telling me -- 'We don't want this man (Modi)!'
What about caste?
What is Modi's caste? Modi and Mistry will fight each other.
Both of us were poor. He served tea, I was a mason.
But Vadodara will vote for 'Prime Minister Modi'.
Who made him PM? That is what you think. Where are you going to get 272? People are clever. They know to win votes he has created this slogan.
There is an anti-Congress mood in the country.
That is your perception. We don't think so. I have done a survey of 412 seats. I know what the ground realities are. All Congress tickets have passed through me.
Which issue will get you votes?
Our candidates will win. Every constituency has certain equations. If you put up candidate A the people react in a certain way and put up candidate B the equation changes.
What mahaul (anti-Congress mood) you are talking about will affect only some floating votes and nothing more.
We will form the United Progressive Alliance-III.
Image: Madhusudan Mistry, left, and Narendra Modi.
Yesterday Sheela said: When the Gandhi family played too safe
On Tuesday, Sheela said: Priyanka is chief of staff in Rahul's office
On Monday, Sheela said: Why Modi had to get rid of Harin Pathak
Will Mistry be able to halt Modi in Vadodara? Vote below!