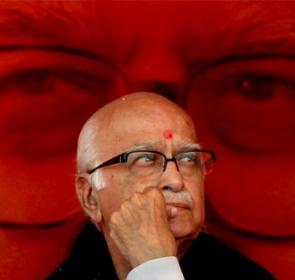 L K Advani has less to lose because he has actually lost what is vital in politics.
His support base within the BJP is lost because the party thinks Advani can't help it regain power. But since Narendra Modi is vulnerable, Advani, now and then, hits the headlines.
Rediff.com's Sheela Bhatt explains the Advani Affair.
Behind the drama of the last two days over the Gandhinagar Lok Sabha seat is the clash of egos between the Bharatiya Janata Party's prime ministerial candidate Narendra Modi and the sulking Lal Kishenchand Advani, who failed twice in his attempts to become PM.
Onlookers and neutral observers will vouch that both men are cunning and capable of teaching a lesson or two to the other.
Both men know the politics of posturing, symbolism and how to change the course of political happenings in their favour.
Both men have advisors who can misguide the party and eventually mess up the party's image.
Both men know each other too well to hit at the right time and find each other's weaknesses in the nick of time.
Advani, who built the BJP up from scratch, behaves emotionally in public and plots with logic in private, to make Modi look small at a time when he is taking the party to new heights with guts and clarity.
Deepak Chopra, Advani's secretary, and some of his confidants are sending private messages to the media, presenting Advani's 'views'.
Modi maintains a silence, but his team plays games behind the scenes.
Advani is playing the card of an Elder Statesman who believes in retaining old world values in the Sangh family, while the Modi team plays psychological games and does everything, without getting caught, to provoke the old man.
The problem for Advani is that it is not just Modi who is gunning for him, there are many BJP leaders, party cadres and BJP supporters who want Modi at the top and are sending a clear message to Advani to retire from politics.
Both sides are ruthless in sending loaded messages to each other; in the process, the BJP's image of being united, when power is knocking at its door, is dented.
Modi is more vulnerable than Advani because he is trying hard to expand his catchment area in the country. His clash with Advani is greatly hurting his image.
Advani has less to lose because he has actually lost what is vital in politics. His support base within the BJP is lost because the party thinks Advani can't help it regain power. Since Modi is vulnerable in the given situation, Advani, now and then, hits the headlines.
Modi wanted to ensure that if the BJP wins as per his plans, no alternative or a minimum challenge to him exists within the party post-election. So he wanted Advani, who carries both experience and ambition, to retire.
Modi tried to send enough messages to Advani to ensure that he faded into oblivion keeping his image intact. Advani was told, some six months ago, that he is on a weak wicket in Gandhinagar, and that there is anti-incumbency against him. These messages created fear and insecurity in the Advani camp.
As recently as February Modi showed his ruthless side to Advani.
The BJP's Gujarat unit has built a posh headquarters near Koba circle on the Ahmedabad highway, worth around 40 crores (Rs 400 million).
According to reports in the local media, it is located on a 11,705 square metre plot, and has a well-designed reception area, waiting room, state president's office, rooms for various office-bearers like general secretaries, vice-presidents.
It also has a media centre, arrangements for central office-bearers, conference rooms, a huge auditorium, a 120-seat conference hall, library with digitisation facility, a cafeteria, and with wi-fi network coverage in the entire office.
The complex has room for anyone you name -- except it does not have a room for Advani, the BJP MP from the city!
The BJP's old headquarters is in the Khanpur area of old Ahmedabad, where Advani has had his office since 1992. He was not allotted any space in the new building.
Its inauguration took place in Advani and Modi's presence in February.
For the last many years, Advani has not been invited either to the Vibrant Gujarat event or to any other important events, by the BJP's state unit, without Modi's permission.
In Gujarat, Advani does not get party support in the natural course of things.
In the game of survival of the fittest, Modi has outgrown Advani, but the latter keeps playing up his past achievements to remain at the centre of things.
The Indian Express recently published a section on who the newspaper considered its 100 most powerful Indians.
On it, Modi was reckoned the most powerful, in the first position while Advani was at number 15.
Advani was behind Arun Jaitley and just two notches above Amit Shah, Advani's polling agent for the Gandhinagar Lok Sabha seat all these years.
The perception within the BJP and the Rashtriya Swayamsevak Sangh is: Advani=the past, and Modi=the future.
Advani's supporters argue that it was he who stood behind Modi in his weak moments between 2002 and 2004 after the Gujarat riots.
When Keshubhai Patel did the rounds of Advani's home in New Delhi, to regain power in Gandhinagar, saying, 'Modi party khatam karshe (Modi will decimate the party),' Advani repeatedly told Patel, 'There is none like Modi.'
What changed the equations between the two men is debatable. Their prime ministerial ambition is just one dividing factor. An Ahmedabad-based observer, who is close to Modi, told Rediff.com, "Advani understood Modi's energy and power after the riots. He knew well that what Modi means, he does. I don't know consciously, or was it unconsciously, Advani also tried to restrict Modi as a regional leader and a mere chief minister."
"Whenever he praised Modi and Gujarat he ensured that he was praising the Modi who faced riots under his rule. At an early Vibrant Gujarat, Advani stunned the audience by talking about Modi and also regretting the riots of 2002 in the same breath."
The Modi-Advani feud is a non-event for Modi's loyal constituency except that Advani is able to harm the party's reputation because now and then he is able to show the world how the BJP's younger generation is marching ahead without paying respect to individuals like him and by not preserving old world values.
Advani is fighting for an illusion, while Modi is for real.
Advani's statement on Thursday was a sorry one where he got illusory satisfaction of how Modi came to him and how he is now ready to fight from Gandhinagar.
For Advani, Modi's visit to his home was so important that he mentioned it in a media statement which actually shows that Modi won in spite of going against his grain and visiting Advani for 50 minutes.
After Advani's statement came an open letter from an RSS thinker to Advani. The e-mail said, 'The harm you (Advani) have caused by your antics to the BJP is incalculable. Modi on the other hand has conducted himself in an exemplary manner as befitting a swayamsevak... Sir, I know I am crying in the wilderness, but I also know I am giving voice to how hundreds of thousands of Hindus are feeling now.'
At the inauguration of the BJP's Gujarat headquarters in February, Modi said, in Advani's presence, 'Once the Jan Sangh (the earlier avatar of the BJP) decided to contest 100 seats (in Gujarat), and do you know how we found 100 contestants? A co-passenger in a bus was asked whether he would like to contest an election! One who had the capacity to spend Rs 250 for deposit money was given a ticket. Saving the deposit money was important. Hardly one candidate would save his deposit out of 100, and a feast of sweets was celebrated with that saved deposit money.'
Times have changed in the Sangh family and how!
In the course of all that has occurred in the last couple of days, Advani has ensured that the responsibility for winning his election rests firmly on Modi's shoulders.
After the drama ended, a staunch Modi supporter said, "Even if the BJP wins 250 seats, if Advani loses from Gandhinagar it will lead to political suicide for Modi."
It's difficult then to judge who won: Modi or Advani!
Yesterday, Sheela said: Narendra vs Narendra in Vadodara!
Is Advani being unfair to Modi? Vote below!