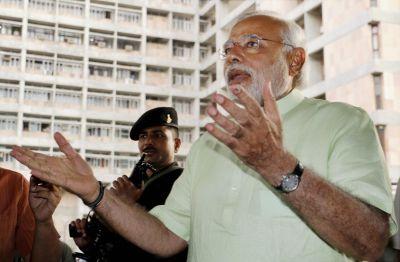 'The lack of zeal to serve the country in the mammoth government machinery will be the biggest challenge for Narendra Modi and his government as he tries to change things; there will be not just resistance, but a lack of response to begin with.'
If Narendra Modi becomes prime minister, Sheela Bhatt/Rediff.com says the issue of human resources, lack of talent and value system in governance will be his biggest challenge.
Even though New Delhi's political class, the pundits and senior mediapersons don't welcome the idea of Narendra Modi becoming prime minister, all the debates and discussions veer only around Modi and Modi.
Modi is an unknown commodity and senior mediapersons and non-BJP politicians find the idea of a Rashtriya Swayamsevak Sangh pracharak sworn in as prime minister impossible to stomach.
An article, astounding by any which way you read it, in a daily newspaper has an experienced journalist saying she is unable to decide if Modi will be like America's Barack Obama, Japan's Shinzo Abe, Sri Lanka's Mahinda Rajapaksa, Israel's late Ariel Sharon, Singapore's Lee Kuan Yew or Goh Chok Tong.
In New Delhi's power centre the jury is still out, with people saying the Bharatiya Janata Party is likely to get 200 seats and the National Democratic Alliance may touch the range of 230 seats or a little more. Allies will be needed and Modi's personality, or the scare that he generates, will not make post-result developments smooth.
Whatever be the result on May 16, this particular attitude is actually born from the arrogance of New Delhi.
When tectonic changes are about to take place in New Delhi, most bureaucrats, most of the old media hacks, and old-time politicians don't talk much about the emerging leader, the potential of new ideas, or about the workability of the new set-up, but they always judge the situation from how they will be fitted into the new order and how their interests will be better served in the new climate.
This is true of the outgoing Congress, and also of other vested interests well-entrenched in New Delhi.
Their personal biases and selfish positions create a huge confusion when the transition of power is taking place. On Raisina Hill, this confusion abounds right now.
A regime change, with Modi at the helm or without Modi, is itself not doubted by anyone.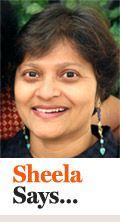 As a new government will be a reality soon, it is quite thrilling to see how old faces with new ambitions and some new greedy faces have started emerging.
The national dailies are dishing out various names for the new PMO and the possible shape of the NDA Cabinet.
There is hardly any freshness. It is so because in its political and administrative system India faces a dearth of good talent, people with high values, and people with a committed ability to build institutions.
Not his RSS background, not his penchant for hype, not the baggage of the 2002 riots or of any related cases, not his arrogance, not his stubborn nature, not his uncontrollable habit of paraphrasing and putting into jargon events, processes and his promises, but if Narendra Modi becomes the prime minister of India, the issue of human resources, lack of talent and a value system in governance will turn out to be his biggest challenge.
Surely, his money-centric propaganda machinery that disturbs many people will not hamper his governance. The Indian system can take in its stride many weaknesses and deformities of political parties and its leaders. It will absorb the Modi style of autocratic governance, too, but his main problem will be a paucity of great brains.
In India, particularly in New Delhi, there is not enough of an army of thinking civil servants, visionary executives at the middle level, or enough apolitical managers who can help build new institutions.
It was shocking to hear so late in the day from Manish Tiwari that the information and broadcasting ministry is quite redundant. 'In today's time and age you don't need a ministry of information and broadcasting. It belongs to another time and era, an era that is past,' he said the day he stepped down as minister. There are so many such revolutionary decisions waiting to be taken in New Delhi that one wonders what exactly stopped the United Progressive Alliance from taking a few.
There is a similar feeling about the uselessness or otherwise of the Planning Commission.
Ajit Doval, director of the Intelligence Bureau from 2004 to 2005, is one of the names doing the rounds for the post of National Security Advisor if Modi becomes PM.
Doval told Rediff.com, "The post of NSA requires a new charter. It has to be result-oriented. It requires to become goal-specific." While raising the fundamental question, Doval asked, "What's the accountability of the NSA in the current system? Does his advice make him responsible for any failure?"
For many decades, we see in Shastri Bhavan, Nirman Bhavan, Krishi Bhavan, Rail Bhavan and Yojna Bhavan a degeneration of work culture all over. Various ministries operate from these Bhavans. But they are edifices of mismanagement, under-performance and shabby processes.
We don't see people with great values serve the people; we don't hear debates over doing things with ethics and, above all, there is no desire to set high standards in these government offices.
In the higher bureaucracy the standards are compromised much more than at the lower level. What strikes you here is the degenerated atmosphere and despair among some rare bureaucrats who strive hard to work with integrity.
The lack of zeal to serve the country in the mammoth government machinery will be the biggest challenge for Modi and his government as he tries to change things; there will be not just resistance, but a lack of response to begin with.
Prime Minister Manmohan Singh's biggest weakness was that he never understood the Congress party's absolutely legitimate political necessity to run the government in a certain way to help the party garner goodwill among the people. He didn't understand the enormous significance of political symbolism while running the government.
Modi will be the exact opposite. He understands only the value of political symbolism. He cares only for the people whose votes he eyes.
So, how will Modi go about his politically savvy aim with the help of cobweb-filled and moth-ridden bureaucratic structures?
Without making the media important, without allowing Parliament to overshadow his power, and without making his own party a parallel power centre, Modi will strive hard to achieve the goals he has promised the people this election. In doing so, he will have to shake up the Kumbhkarans in the ministries who lack discipline, space and zeal.
In the last 10 years we haven't seen much difference in governance, in delivery systems and in various secretaries of the Government of India. Few E Sreedharans have sparkled here and there and made our lives a little bearable, but the delivery system of general administration, of law and order is painfully corrupt or slow.
Only a few hours are left for the election results to start pouring in, and this is where the thrill lies, in thinking about Modi's possible or hopelessly difficult arrival.
It seems Modi is very well aware of the issue.
In one recent interview he said, 'Look at what's happening in the capital. Delhi is being controlled by a cabal that has vested interests in the status quo. I will break the status quo. That must be making them uncomfortable and prompting them to level unsubstantiated charges against me.'
When asked what should be the new government's priorities, Modi said, 'To be in charge. Currently, no one is in charge.'
Modi's expected arrival is creating so much heat and turbulence because he wants 'to be in charge.'
Now, this is his biggest poll promise of all. Really.
Image: Narendra Modi at a meeting with BJP legislators in Gandhinagar, Gujarat, on Tuesday, May 13, 2014. Photograph: PTI Photo.
Can Modi change the Indian bureaucracy? Vote below!