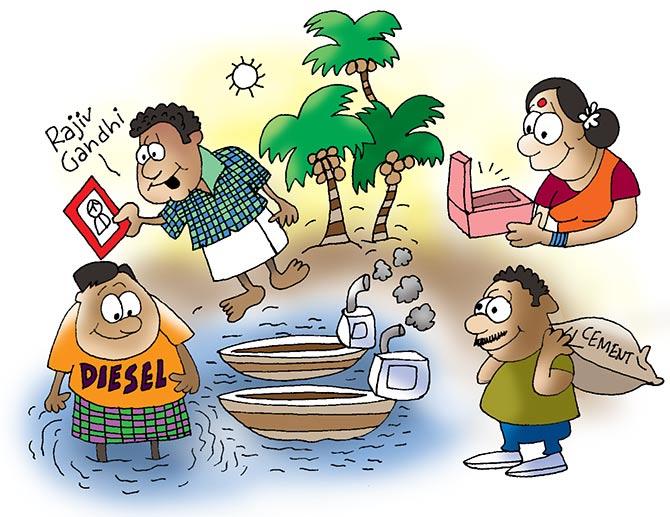 A Ganesh Nadar's tales from the campaign trail.
In Kanyakumari, the highlight of my election coverage was when I showed Bharatiya Janata Party leader Arun Jaitley's photograph to a J Jayalalithaa supporter and asked her who it was. "Rajiv Gandhi" was the prompt reply.
****
Here one of the candidates had a coconut grove that gave two lakh coconuts every two months and the other candidate had 61 shops and a television channel. In Tamil Nadu, money always wins but this time around the coconut grove won.
****
In Tirunelveli, the biggest topic was the Dravida Munnetra Kazhagam candidate. People were saying the candidate, a builder, carried money around in cement sacks. He still lost.
****
Theni near Madurai was fun. This place has had a Congress MP for 10 years. He was distributing money even while the Election Commission cameras were around. He still lost.
****
In Mayiladuthurai, Mani Shankar Aiyar compared Narendra Modi to Hitler when speaking to rediff.com. He also said it was like Germany in 1937, where Hitler won the elections. He also called Modi a poisonous snake and a scorpion. Modi won both his seats while Mani came fourth here.
****
In Chennai, a voter in Velacherry in the suburbs was happy that some party workers gave him a lunch box on the way to the voting booth. His wife was even happier. When she opened the box she found two thousand rupee notes in it.
****
Rajampettai in Andhra has no star hotels but its candidate is a star. She is a former United Progressive Alliance minister and contesting on a BJP ticket. D Purandeswari is the daughter of former chief minister N T Rama Rao. But the Modi wave did not help her and she lost.
****
Arun Jaitley bought a house in Amritsar and he still lost. Obviously the voters did not like the idea of him staying there. He was overheard telling his friends that he will wait for five years and then sell it. He would use the profit to fight the next elections.
****
Varanasi was the crowning glory of Elections 2014. In this timeless city the roads are bad, power fails regularly, traffic jams are the order of the day. But the food is fantastic and cheap. You can eat on the streets at all hours.
****
At the Dashashwamedh Ghat which is the oldest and holiest of the bathing ghats, the water smells of diesel. It is the diesel from the motor boats that stand there. They tell you that the water is dirty so you should go the opposite bank and bathe, only Rs 20 for a return ticket.
****
Now if they shifted the boats to another place, the water would not smell of diesel. There would be no reason to cross over to the opposite bank. But there are 60,000 boatmen and you cannot shift them during elections.
****
I did do Ganga snaan one morning. Because I don't like the smell of diesel, I took a shower again at the hotel. The manager assured me that my sins were washed away and Ganga maiya would not be upset if I had another bath.
****
When I went shopping for Banaras saris, my driver Kamlesh was very happy. "The shopkeeper will give me a free sari for Diwali because I brought him a customer," he said.
****
At the Uttar Pradesh tourism bungalow, the gardener Shankar was also the cook, waiter and cashier. And when he went anywhere he just left his nephew to look after us. That his nephew was not on the staff did not bother him or the guests.
****
There was a huge group from Punjab who had come there to canvass for Aam Aadmi Party candidate Arvind Kejriwal. They had a tempo with a music system. They would play film songs and dance on the streets. Once they attracted a crowd they would ask people to vote for AAP. They had two brooms mounted on the tempo.
****
I went to Delhi on the day of counting. Counted sheep at the Congress headquarters and was showered with rose petals at the BJP headquarters. They also gave us ladoos. The boxes had Narendra Modi's picture on it. I thought of home where all government gifts have Jayalalithaa's picture.
Illustration: Uttam Ghosh/Rediff.com