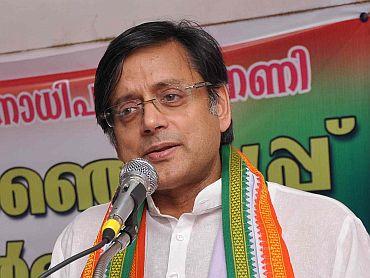 On Monday, soon after the election results were out, Ambassador T P Sreenivasan contributed a column to Rediff.com, 'Lessons for Shashi Tharoor from diminished victory', to which the newly re-elected MP from Thiruvananthapuram responds.
TPS: As you can imagine, I was both taken aback and deeply hurt by this disparaging, patronising and churlish piece. I had heard for some time that you had been saying such things behind my back, but had chosen not to believe it. There was no hint of your true feelings when you came to my home to congratulate me on my election victory.
As one who called himself a friend, you could have picked up the phone at any time and shared your concerns with me on any of the issues you have alluded to in this article. Instead you have chosen to publish it in this manner and circulate it further on various email lists, many of whose members have written privately to me to tell me what they think of your conduct.
I had not intended to react, because in public life I have had to put up with many disappointments and betrayals. But seeing that your article has prompted many to dissect and discuss my alleged failings, I feel it is time that I put the record straight.
1. You have repeated the BJP canard that I won only because of minority votes. I won the votes of all communities, including many Nadars and Nairs, despite the naked communal appeals to those communities of the CPI and BJP candidates respectively.
The reason I did so well in the three rural districts is my development work and frequent presence there. All the way from Kovalam to Karode people voted for me because I single-handedly and on my own initiative unblocked the 40-year logjam on building the NH-47 bypass, for which marker stones had been laid in 1974 but which had stayed frozen since then.
Various VIP MPs had come and gone, but the road had never been built. I got it restored in the government's budget, got the central government to allocate the funds, pursued the gazette notifications, personally chased the surveyors so their work was done before the notification lapsed, got the land acquisition cleared -- and the first few cheques changed hands earlier this year.
The voters saw an MP who delivers -- and voted for him. People of all communities -- Nadars, Nairs, Latin Christians and others -- live in the areas that will be transformed by the bypass becoming a reality.
Similarly in Parassala, after 30 years of unsuccessful requests for train stops in their constituency, I used my personal connections with the Chairman of the Railway Board to get 6 trains, including four express trains, to stop there. People who had been spending 50 rupees on daily bus fare to TVM and are now getting to town in half the time for 10 rupees, all voted for me.
None of this has anything to do with caste or creed, but are in response to the MP's work.
2. Your slighting use of the phrase "less corrupt", which you have separately made clear was a reference to the so-called IPL scam, turns my stomach. You are perfectly well aware that I was never involved in a scam of any sort in the IPL -- I was brought down because my support for the Kochi team's winning bid antagonised some powerful political cricketing interests embodied by Lalit Modi, whose attack on me revealed his own deep corruption and malfeasance, as a result of which he has fled the country and been a fugitive from justice for four years.
Sunanda (Dr Tharoor's late wife) and I did not make a single rupee from our brief involvement in IPL and have co-operated extensively with the detailed investigation conducted by the Enforcement Directorate into the entire issue.
It is because the government realised I was completely free of any taint of wrongdoing that I was restored as a Minister. Why would a "friend" repeat such unsubstantiated allegations and use a contemptible phrase like "less corrupt" as if I have ever been corrupt in any way?
3. The campaign team of 2009 whose absence you lament in 2014 -- are these the same people whose lack of connection to Trivandrum and alleged political immaturity you disparaged in your book about my first election? As you and I discussed, I had regretted that, as a government servant now, you could not take part in my campaign. Aside from you, who else was missing who could have made a specific contribution to the Thiruvananthapuram election?
Not one of my supporters from abroad in 2009 had turned against me in 2014; those who did not come from abroad had specific reasons, related to their current work, for not being able to do so. They were not missed politically.
4. I am the last person to surround himself with sycophants. I have never done so throughout my working life and everyone who has worked for me will testify to my openness to different points of view, my willingness to consider unsolicited advice and my enjoyment of being challenged by my subordinates.
As for "ego" and "disdain for people" no one who has ever met me can accuse me of such qualities. Indeed I am repeatedly told how accessible and friendly I am to people of all walks of life; cleaners and security people at the airport, drivers of official vehicles, domestic staff of politicians, say I am the only Minister who has ever spoken to them personally while serving as a Minister, and taken an interest in their well-being.
These are not signs of "ego" or "disdain": those who have said such things betray their lack of personal contact with me. Perhaps the problem is that I have spent more time with grassroots workers than with retired civil servants?
5. You mention a "perception of involvement in my wife's death" as if this was a legitimate perception rather than a concoction of a sensationalist media and opportunistic rivals; and you suggest I should have resigned and not have contested the elections that I went on to win.
Resigned for what? If I had harmed my wife, let alone murdered her as the BJP and CPM alleged, resignation is hardly enough; I should be hanged. But when everyone in close contact with Sunanda and myself, including her father, brothers and son, had NO doubt whatsoever that I was blameless for her entirely natural death, what should I resign for? Because heartless irresponsible journalists chose to exploit my personal tragedy to improve their TRPs and sales?
To resign in the face of unjustified allegations would be an act of cowardice. Resignation also implies taking responsibility: Responsibility for what? For other people's perceptions? Don't you see how preposterous your advocacy of such a course is?
There is no complaint against me by any person connected to Sunanda, no charge sheet or FIR or investigation of me; indeed, in Sunanda's tragic death there is neither a crime nor a criminal. The CBI's forensic lab spent two-and-a-half months looking for poison that wasn't there, simply because of unsubstantiated allegations that she had been poisoned. They have now confirmed there was no basis for that story. So you feel I should have resigned over unsubstantiated allegations that I knew had no basis?
Instead of a friend who shares my grief about the untimely loss of my young and vibrant wife, I have one who wants me to accept responsibility for it and give up the trust of the voters of Trivandrum? To prove what exactly? To satisfy whose interest?
6. You discredit my work for my constituents as involving little more than the spending of MP funds. Clearly you have not read any of my annual reports -- though you could have been proud that I was the first MP in India, and for many years the only one, to issue an annual report to his constituents -- most of which go well beyond the spending of MP funds. Indeed, MP fund expenditure usually appears as an annex to the reports.
Two examples of such work are in point 1 of my answer to you above. Any one interested in copies of my 48-page five-year report in Malayalam should send their postal address to Praveen@tharoor.in and we will be happy to mail it to them.
7. "He made no secret of his influence with the Gandhi family." I challenge anyone, friend or foe, to point to one example of my having professed any such influence in private or in public. This is the kind of statement deliberately put about by my enemies to discredit me in the eyes of both the Gandhi family and its detractors.
8. "If Tharoor learns his lessons", you conclude. Thanks to you, I have learned one valuable lesson. It was unnecessarily painful but is much appreciated.
Dr Shashi Tharoor, M.P.
Member of Parliament for Thiruvananthapuram
Lok Sabha.