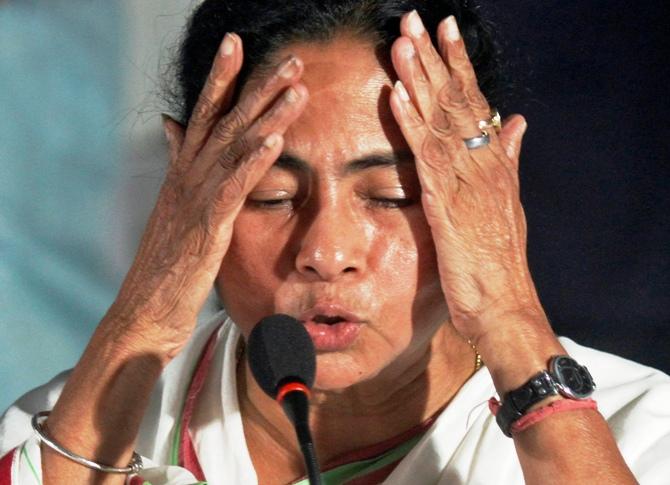 There is indeed a Bengal Model but it is one which negates generational aspiration, generates animus, thrives on bloodletting and political vendetta, reiterates outdated ideas of vote bank politics, is shorn of any vision or roadmap for reconstruction and is fast depleting the levels of a legitimate tolerance, says Dr Anirban Ganguly.
A veteran leader of the Trinamool Congress once confessed to me in a rare moment of candour --perhaps induced by the salubrious mountain air while driving up a particular range of hills in the northeast -- that it was extremely tedious for any sensible leader to stick long to Mamata Banerjee's brand of politics.
"You know," he said with a tinge of regret and resignation, "there is hardly any thinking; there is hardly any cerebral effort, hardly any recognition or respect in her company." The leader revealed that he was sticking to the eccentricities of the maverick leader because that was the only way he could survive in West Bengal politics, especially from the district he came from.
I shall not reveal his name, as that would badly stymie, whatever chance he has to win the current elections, and would make him vulnerable to a barrage of Didi's choicest expletives and to being sidelined in the party.
Dinesh Trivedi, Mani Shankar Aiyar -- who had once held aloft with flourish the Trinamool flag as a founding member, Pankaj Banerjee -- the now disappeared but once firebrand leader of opposition in Bengal, P A Sangma -- bruised from his experiment with the Nationalist Trinamool Congress, the late Ajit Kumar Panja -- had he been alive, and some of Mamata's current crop of colleagues, especially in the cabinet, would all vouch for what I have revealed.
The politics that Mamata perpetuates and promotes is essentially the expressions of a mind which is obsessively paranoid and only survives on confrontation, delusions of grandeur, threats of elimination and through the appeasement of a particular religious community. So acute is Mamata's suffering from delusions of grandeur that about two months back she had started talking of "a pre-paid federal front" which would form the next government at the Centre with her as the queen-bee. The spectre of 50,000 odd empty chairs at the Ramlila Ground and her trusted lieutenants singing nostalgic Bollywood tunes to fluttering Trinamool flags, has, it seems, interrupted those hallucinations.
Her negative attributes may have won for Mamata her battle with the Left-front but in Bengal today, with a steep rise in the aspiration and demand for the politics of positive fulfilment, Mamata appears to be out of depth and her role seems to have been limited to being the catalyst that threw out the oppressive three decade's Left rule. Today she comes across as being truly incapable of reinventing herself to respond to new aspirations of the people of Bengal.
What Mamata has done is to replicate the Left's brand of negative politics by adding to it her own distinctly unbalanced approach to issues and situation. While the Left appeased and ghettoised the minorities of Bengal, Mamata has ensured that she thrives by keeping them further ghettoised. While the aspirational sections among the minorities look towards a forward movement, "Didi" is satisfied by handing out doles and by controlling them for her political ends. What has actually happened in Bengal in the last three years is that the entire "lumpen-proletariat" lot that the "bhadralok" Communists had nurtured and abetted over the years have now switched allegiance to "Didi".
The situation thus, for the common man, who had voted for an epochal change by booting the Left front out, remains much the same. Quotidian life in Mamata's Bengal remains plagued by instability, lawlessness, belligerence, intimidation, violence spilling out of intra-party feuds and the proverbial demand for "chanda" (hafta) from the party affiliated local club just because you have slogged and have done well in life! Poriborton in Bengal is a false one, an illusion of poriborton that has done the ordinary voter no good.
The only effect of this false poriborton has been the open expression of appeasement politics. The border villages in Bengal are unsafe and women cower in fear because hoodlums of local cattle-trafficking gangs have a free run under protection of political groups. While the Left changed the demographic pattern of the state by encouraging infiltration in order to create a captive vote-bank, Mamata has allowed the issue to build up by giving a free run to groups that encourage and protect infiltrators. So great is the fascination of some Trinamool leaders with radical Islam, that it led a few of them to provide shelter to some of the most rabid elements of the Jamaat who fled Bangladesh. Rediff.com brought notice to this disturbing fact early this year and yet Mamata managed to erase the issue with her hectoring on secularism.
Imams openly dictate policy and guide 'Didi'. The moment the Imam of the Tipu Sultan Masjid, the voluble Barkati -- who had earlier threatened Mamata with rejection if she did not fulfil the community's agenda -- directed Mamata to be "critical of Narendra Modi" just the way Rahul Gandhi is, she jumped into the fray with renewed vigour and a replenished stock of expletives against the BJP leader and his party. Interestingly it is the same Imam who revels in always telling his listeners "you must understand who ruled Hindustan for 1,000 years."
Similarly when the general secretary of a fringe group, the All Bengal Minority Youth Federation ordered the chief minister to not meet the US envoy, Mamata, succumbing to the dictate backed out. While Mamata talks of not supporting a "riotous government" and lectures on secularism and harmony, her own turf of Bengal saw communal clashes rise to an all time high in 2013 and stood at 106 from 12 in 2008 and 2009. Hundreds of communal clashes have taken place over three years in rural Bengal under "Didi's" stewardship with groups trying to snatch away temple land, ancestral properties and especially targeting women. And true to her intolerant nature, Mamata regularly lets loose her state machinery against those who try to resist or highlight these atrocities committed under her watch.
Mamata has emerged, not as the pan-Bengal leader that the people yearned for, but as a rather maverick and myopic manager who tries to keep her flock afloat simply by lecturing, cajoling and threatening -- staging a series of dramas. Devoid of any defining vision or direction, West Bengal under Mamata Banerjee is fast turning into a political cesspool.
When an "articulate" Trinamool leader talked of the "Bengal Model", he had probably not taken into account the reality as it was -- yes, there is indeed a Bengal Model but it is one which negates generational aspiration, generates animus, thrives on bloodletting and political vendetta, reiterates outdated ideas of vote bank politics, is shorn of any vision or roadmap for reconstruction and is fast depleting the levels of a legitimate tolerance.
Such a model is not for India nor is it for Bengal!
Dr Anirban Ganguly is director, Dr Syama Prasad Mookerjee Research Foundation, New Delhi.