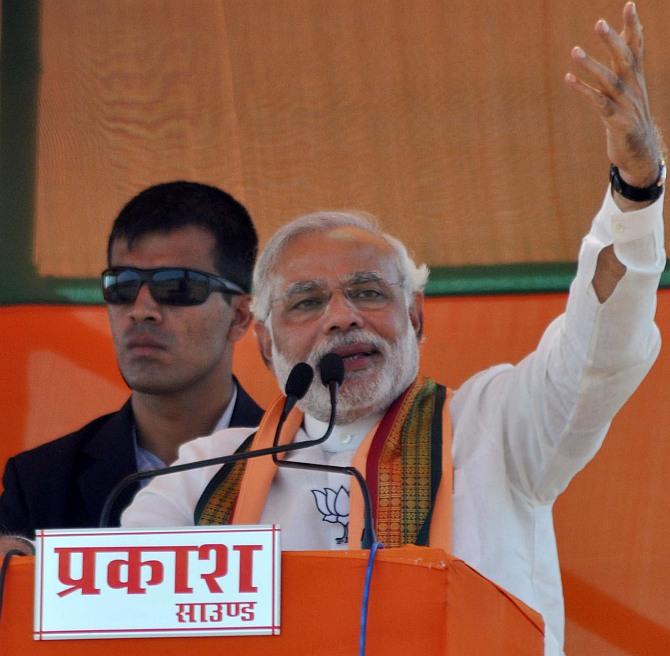 U R Ananthamurthy's assertion of leaving the country if Modi is voted to power is an affront to the deep sense of the Indian voters who have time and again shown a certain sagacity and wisdom of judgement. It certainly shows a 'corruption of the mind' on his part and not on the one he chooses to irrationally oppose, says Dr Anirban Ganguly.
The first occasions in the march of Indian democracy which should have prompted the venerable professor U R Ananthamurthy to decouple his sense of belongingness from India ought to have been the period which ranged from 1975 to 1977. It was a phase when an acute assault on Indian democracy and humanism was unleashed in name of protecting national integrity. Professor Ananthamurthy did not then contemplate leaving India as this assault was perpetrated by those with whose politics he perhaps closely identified.
I am not aware if he had spoken out in support of a large number of senior national leaders and parliamentarians from the opposition who were lodged in Bangalore jail during this period. I am not sure whether he spoke out in support of Jayaprakash Narayan, who was then waging a death-struggle against a growing fascist tendency in our national life.
The second occasion when Ananthamurthy could still redeem his past omission and consider migrating from the shores of India was when a pogrom was perpetrated on the hapless Sikhs of this country. Contrary to perception, this pogrom was not limited to Delhi alone but was also actuated in other parts of the country -- especially in states that were ruled by a political party whose governments have, over the years, repeatedly showered Ananthamurthy with awards, accolades and academic positions.
Referring to this pogrom, the late Justice V M Tarkunde, with whose political views Ananthamurthy can perhaps better identify, is on record having said in his meticulously investigated report that the 1984 "rioting was organised by a number of unscrupulous politicians who are habitually associated with anti-social elements."
These politicians, it is common knowledge now, belonged to a political party by which Ananthamurthy has always stood and in support of whose candidate from Bangalore South this parliamentary elections he has issued a statement. Therefore when he says that he will have no "belongingness to an India represented by Modi", Ananthamurthy is being plainly intellectually dishonest. His past record, even if it shows some kind of intellectual excellence, remains morally and ethically deficient.
The investigations into the 1984 pogrom have nailed a number of leaders directly affiliated to the political party of which Ananthamurthy has been a near lifelong beneficiary. Yet he chooses to ignore that fact as he chooses to ignore the fact that even after 12 long years of the most minute and excruciating investigation, neither a single charge sheet nor even an FIR has been filed against Narendra Modi in 2002 Gujarat riot cases. For Ananthamurthy the word dictator comes quite easy and he calls Narendra Modi a dictator again conveniently overlooking the fact that Modi has repeatedly and publicly reiterated the following: "Hang me if I am guilty." Did we ever hear anyone even as much as apologise for wrongs and excesses actually committed during the Emergency or the anti-Sikh pogroms?
Ananthamurthy has suddenly been disturbed about what he calls the "sidelining of senior leaders", why this sudden interest in the affairs of a party he always loved to hate and oppose is difficult to understand. Why does he not rather consider reminding his Communist and Leftist friends on how they should not have treated the highly respected Nripen Chakrabarty of Tripura, one of the most honest Communist leaders in India on whose hard work the entire Left edifice still rests in that far flung state. He can also impart some homilies to his Leftist friends on how not to treat young, upcoming and ideologically motivated leaders in their circles -- he can perhaps question them on why these sorts, after years of dedicated work and campaigning, faced expulsion just because they pushed for a more ideologically rooted Left movement in India?
Ananthamurthy's assertions that Muslims root for Narendra Modi out of a sense of insecurity, hardly merit a response. The realities on the ground are for all to see and have been open to scrutiny for quite a while now. In the 2012 assembly elections around 25 percent Muslims voted for Modi decisively grounding that charge. Referring to this phenomenon, a number of dispassionate academic and journalistic observers, the latest from the West, Andy Marino, have asked whether or not this swelling support is because under Modi the conditions of Muslims in Gujarat have improved. It is a question that needs to be genuinely answered.
But the ideology Ananthamurthy subscribes to has instead always thrived on perpetuating a mentality that encourages and sustains ghettoisation and denominational divisiveness among a section of our people.
Ananthamurthy further exposes his delink from the ground realities when he speaks of Modi's development model being one sided. A short point would perhaps make the professor and his sponsors ponder. Keen to push up the socio-economic development of the most backward classes, Modi, as one observer put it, "without much hype" apart from providing 15 percent reservation for admissions in government schools and hostels also set up a loan-scholarship -- in line with the former maharaja of Baroda the late Sayaji Rao who financed Dr B R Ambedkar's studies abroad -- for students from the most backward classes to help them study in foreign countries.
For paucity of space I am not entering into detailing some other such schemes like the 'Kanya Kelavani Nidhi' an innovative programme for the education of the girl child, perhaps the only of its kind in the country, the 'Swantah Sukhaya' scheme which allows government officials of the state to freely work out their dream projects -- all quite unique schemes in the governance annals of this country. The fact is, as a senior journalist has noted in a private conversation, Narendra Modi's style of governance has brought an end to dole-culture and has rather been an enabling approach. Surely this has unnerved the proponents of the Left and the Congress who have, over the last six odd decades, sustained themselves on solely furthering a dole-mentality.
Had Ananthamurthy possessed a genuine concern for the roots, identity, spirit and symbolism of Indian civilisation he should have perhaps best avoided siding or championing with a political mentality and ideology that has always negated the essentials of Indian civilisation and has thrived and bloated itself on politics of negativity which has throttled all positive and elevating aspirations and hopes.
Moreover his assertion of leaving the country if Modi is voted to power is an affront to the deep sense of the Indian voters who have time and again shown a certain sagacity and wisdom of judgement. It certainly shows a 'corruption of the mind' on his part and not on the one he chooses to irrationally oppose.
As it stands today, Modi symbolises a certain civilisational aspiration -- those who are out of depth with the deeper realities of the present moment or are burdened and conditioned with an ideology that has outlived its utility are the ones who are incapable of gauging this -- U R Ananthamurthy is one of those prominent among them. He has clearly failed to read India.
Dr Anirban Ganguly is director, Dr Syama Prasad Mookerjee Research Foundation, New Delhi.