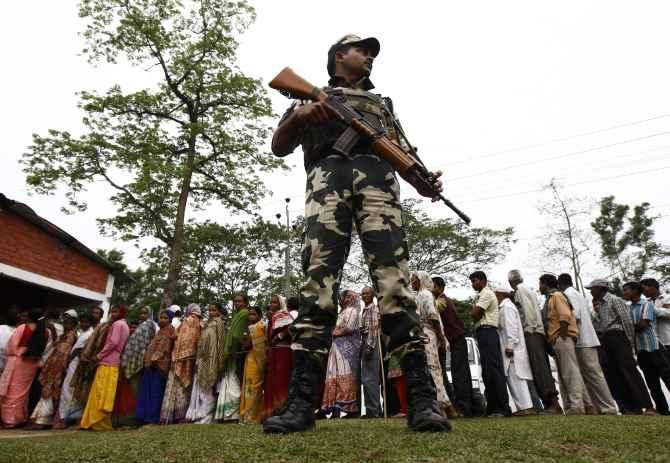 'Advani's observation on Modi, an attempt to cut the BJP's prime ministerial nominee down to size, billing him a mere event manager like Vijay Raaz in Mira Nair's film Monsoon Wedding, speaks volumes about their differences.'
'In the coming days, the Congress and BJP may lock horns over the AgustaWestland chopper deal. In an Italian court, Guido Haschke, one of the accused middlemen who allegedly bribed the Indian side, has sought a plea bargain to reduce his jail term if convicted. On or around April 11, we will know how much Haschke is ready to reveal.'
Rediff.com's Sheela Bhatt detects which way the political wind is blowing these days.
The first votes in Election 2014 were cast today in Assam and Tripura.
You may follow the dates of polling here all the way through the season, and all the news and more here.
As the ball has been set rolling, how do things look from New Delhi? A checklist:
One: Narendra Modi, with his intimidating audacity, against all odds, and in spite of the indelible blot from the 2002 riots, has achieved spectacular success in reaching out to nooks and corners on the campaign trail.
Whatever be the Bharatiya Janata Party's final tally, Modi with his meticulous planning of human resources, focus on young minds, clarity of political message and unlimited money power, has reached the interiors of India.
Modi has rewritten the political chapter by his 'direct selling' marketing method to reach out to the voters.
India's great oral tradition has done marvels for Modi. Rahul Gandhi, political pundits and television debates dissect the Gujarat model day in and day out. It seems the exercise has proved futile, without a substantial direct effect on ground zero.
People in and around Varanasi and Azamgarh see the Gujarat model differently, and from different sources. Their source, they say, is "Chacha ka ladka" or they proudly claim a connection to Gujarat saying, "Padosi ki beti byahi hai Gujarat main" ("The neighbour's daughter is married in Gujarat").
To put it simply, the Bhojpuri-speaking middle class says in Purvanchal, "Gujarat badhiya hai (Gujarat is great)."
When you ask for an elaborate explanation, what they narrate is how their relatives and friends carry home tales of social and the economic condition in Surat, Ahmedabad and Baroda's industrial belt where the government and police don't come in their way unless you cross the Lakshman Rekha.
Believe it or not, it is not about Modi, it is about Gujarat.
Modi has brilliantly and cunningly turned this unwritten goodwill among the lower middle class and working class UP-wallahs into an election plank outside Gujarat.
Similar goodwill and much more glamour exists for Mumbai, but no leader had thought of turning it into a platform to build his or her political career like Modi did.
It usually takes one generation to spread oneself in the Hindi belt, but Modi only took some five, six years. It is so because along with the people's real life experiences, Modi's image of a strong Hindutva leader has travelled across the Gangetic belt.
Everybody on the dusty track from Varanasi to Azamgarh knew not only Modi, but what he stands for. There is no confusion about Modi's pluses and minuses in the minds of people who are away from the urban areas and totally disconnected with the culture of television debates.
Even Muslims in this part of UP can share carefully analysed criticism of Modi. Rediff.com exchanged ideas in the teachers's common room at the Shibli National College, a 125-year-old influential educational institution in Azamgarh. It was a debate among a small but informed group where Muslim professors shared their sharply critical assessment of UP society.
Incidentally, everyone in the teachers's common room addressed Modi as "Modiji".
Two: In the coming days, the Congress and BJP may lock horns over the AgustaWestland chopper deal.
In an Italian court, Guido Haschke, one of the accused middlemen who allegedly bribed the Indian side, has sought a plea bargain to reduce his jail term if convicted.
On or around April 11, we will know how much Haschke is ready to reveal.
The Central Bureau of Investigation has filed a First Information Report in the case, accusing former Air Chief Air Chief Marshal S P Tyagi and advocate Gautam Khaitan among others for alleged cheating and criminal conspiracy in the Rs 3,600 crore (Rs 35 billion) VVIP helicopter deal.
The bribe money is in the vicinity of Rs 362 crores (Rs 3.62 billion), paid to finalise the 12 helicopter deal in AgustaWestland's favour, the CBI FIR alleges.
Along with Air Chief Marshal Tyagi and his relatives, Satish Bagrodia, former Union minister Santosh Bagrodia's brother, and Pratap Aggarwal, chairman and managing director, IDS Infotech, Chandigarh, have also been booked in the case.
If Haschke names any Indian politician, it will become the most explosive news in an exciting poll season.
Political bigwigs have, so far, not been legally dragged into the case because Italian financial experts reportedly told the court that there is no paper trail or link or any evidence to prove that actual work was done by the middlemen for AgustaWestland in return for payments.
But wait till the English translation of Haschke's Italian statement is made available by interested parties.
Read here for background on the case.
Sources in the government and the Italian media suggest there is pressure from the Italian government to inter-link the chopper scam with the fate of the two Italian marines arrested for killing two Kerala fisherman in the Indian Ocean in 2012. Italy is bent upon saving its marines any which way possible.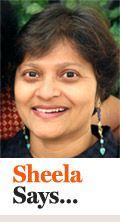 Three: Have you seen Monsoon Wedding?
Do you remember the absolutely brilliant Vijay Raaz, that paan-chewing event manager in a cheap safari suit clutching a pouch under his arm?
L K Advani noted on Saturday that he would 'not call Narendrabhai my protege (because Modi was anchored by Dr Murli Manohar Joshi first), but I have never seen a more brilliant and efficient event manager than him.'
'And this event management capacity he had brought to governance also,' Advani added.
Easily, this is the most acidic comment made on Modi by any political leader of stature in public.
Advani's observation on Modi, an attempt to cut the BJP's prime ministerial nominee down to size, billing him a mere event manager like Vijay Raaz in Mira Nair's film Monsoon Wedding, speaks volumes about their differences.
What Advani didn't say but implied, obviously, is that Modi is neither a visionary nor a man with convictions or ideology, as event managers only provide logistics. Nothing more, nothing less.
But Modi fever among his fans is so intense that these days nothing negative sticks to him. Only Advani could hurl such humiliation on target, right inside the lion's den, when Modi accompanied him to file his nomination papers in Gandhinagar.
This is incredible infighting within the BJP without any visible end to it.
Four: The Modi-led BJP is marching ahead in the election race in spite of serious internal differences.
The sulking by L K Advani-Murli Manohar Joshi-Sushma Swaraj is unlikely to impact the voting pattern for or against the BJP.
It is so because the anti-Congress vote, caste combination, the high cost of living, and the people's aspirations that Modi may govern the country better, are all impacting the public mood.
The importance of the BJP's sulking brigade lies in the post-election situation. But, then, who knows what lies ahead?
Five: The Congress's old guard are rebelling against Rahul Gandhi. Janardhan Dwivedi spoke at a most delicate time in the party's contemporary history, of how Rajiv Gandhi had told him about his daughter Priyanka's political talent.
Rajiv, Dwivedi recalls, personally told him about his daughter's politically astute mind in 1990.
Many Congressmen older than Dwivedi claim that even Indira Gandhi thought her granddaughter Priyanka was politically sharp and best suited for a political career!
Six: Many sympathisers of Rahul Gandhi think he should not have projected himself alone either on the hoardings or on video.
Images of Jawaharlal Nehru, Indira Gandhi and Rajiv Gandhi are a must to sell Rahul among voters emotionally connected to the Congress dynasty.
Any Congress reminder is incomplete without Rahul and Priyanka's great grandpa, grandma and papa.
Also, Congress critics feel Rahul Gandhi's Dettol-laced speeches don't help when young and middle-aged voters are excited, agitated and so engaged in elections. Rahul's speeches are as good as cucumber raita, says a South Gujarat-based Congressman whose heart bleeds for Rahul.
"Whatever mistakes Rahul Gandhi makes in these elections don't matter to me. Even if he fails to help the UPA (United Progressive Alliance) retain power, I know for sure, in my lifetime, he will be the PM one day."
Seven: Everyone talks about the mood of Muslims in UP, but someone should measure the frustration of Brahmins of UP, too.
The man in charge of the BJP's election strategy in UP, Amit Shah's strategy this time was to:
'Re-invent OBCs' for the BJP;
Insist that Modi intensely address the youth of UP;
Make peace with Rajnath Singh by giving some important seats to Thakurs;
Keep alive the emotion of 'Hindu identity' in UP;
And, plan well to pull the rug from under the feet of the old and failed BJP leaders before ticket distribution began.
Expectedly, Shah is least perturbed by all the hullabaloo over his highly provocative speech in Raajhar village, 40 km from Muzaffarnagar, about 'voting in revenge'. Shah has proved, once again, that he is ruthless in implementing his game-plan.
Last year, the first thing Shah did after arriving in Lucknow was to call all the BJP leaders in UP who had lost election after election. He asked the losers: 'Why did you lose?'
Shah noted down pointers to the party's defeat and moved on to build his strategy.
Do you want a surprise? Amit Shah takes the Congress seriously, always, unlike the chattering class on Twitter who bleed for Modi and mock the Congress.
If someone is losing, it doesn't mean they don't remain a force in politics is what Shah thinks.
On April 1, Shah traveled to Varanasi to reassess Modi's position. He judged the political trends if a member of the Gandhi family were to come in as a big surprise to take on Modi, or if local strongman Ajay Rai is nominated by the Congress as its candidate.
Modi's Varanasi campaign is being handled by a Saurashtrian, Sunil Oza, under Shah's supervision.
Many candidates agree to contest an election knowing fully well that they are pitted against a stronger opponent, but they see an opportunity to collect huge funds. They don't mind defeats that make them richer.
Eight: Which is the biggest pointer so far to where the Indian polity is heading?
While releasing the BJP manifesto on Monday, Modi said his party's policy is all about good governance and development.
Who said exactly this just last week, do you know?
The Congress candidate from Gautam Buddh Nagar, Ramesh Chand Tomar, while leaving his party in the lurch.
Tomar joined the BJP with just a week left for the Lok Sabha poll in his constituency.
The embarrassment for the Congress from his desertion is much more severe than retired IAS officer Bhagirath Prasad's decision to join the BJP a day after the Congress declared him its candidate from Bhind, Madhya Pradesh.
Here, the Congress could nominate a new candidate, but in the case of Gautam Buddh Nagar, Tomar left the Congress in an acutely embarrassing situation as it could not put up another candidate because the last date for filing nomination had ended -- the election is on Thursday, April 10.
When turncoat Tomar joined the BJP and hugged Modi tightly on a public platform, the picture was worth millions. 'I decided to join the BJP because of Narendra Modi,' Tomar said then, 'as he has promised good governance and development.'
Ramesh Chand Tomar's slap to the Congress is a pointer to which way the Indian political wind is blowing.
Image: A polling station in Nakhrai village in Assam's Tinsukia district on Monday, April 7, 2014. Photograph: Rupak De Chowdhuri/Reuters.
Should the BJP's manifesto, titled Ek Bharat, Shreshtha Bharat, really have been called, Anek Bharat, Shreshtha Bharat? Vote below!