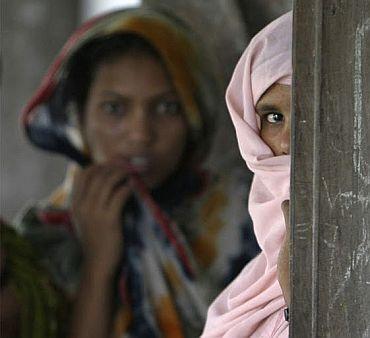 ''Why do sections of Muslims seem to prefer Lalu and Mulayam who symbolise wilful neglect of governance and development?'
'In this election, secularism is less at stake. What is more at stake is the degenerative, cynical, opportunistic, and discredit-worthy misuse of secularism by the non-BJP leaders and their social constituencies,' says Mohammad Sajjad.
Economic development? Or, secularism combining the empowerment of disadvantaged sections?
Is it really an either-or-situation?
This is the question that seems to have taken centre-stage in the 16th general election. To me it is ironical that over a period of time the political leaders and formations claiming to be committed to pluralism-secularism have reduced India's politics to this undesirable binary.
The question is, why doesn't or can't the practice of secularism combine economic development? Or is it really an appropriate question?
Let us begin with Bihar, my land of birth as well as my area of research, and where around 17 percent of the electorate is Muslim.
My conversations with a cross-section of the highly stratified and diversified Muslim electorate of Bihar revealed that they remain divided between the now discredited Rashtriya Janata Dal of Lalu Yadav in alliance with the equally discredited Congress, which leads the United Progressive Alliance government at the Centre.
The historically subjugated communities of Muslims looked relatively clear about their choice, showing their preference for Nitish Kumar as he is said to have done a lot for these groups.
The category of backward castes stand divided as do the lower and upper backward castes.
Bihar's Muslims have around 41 communities. Of them, 37 are on the list of backward castes, and of these 37 most are listed in the lower backward, now popularised as 'Ati Pichhrha' who have got reservations (preferential treatment) in the rural and urban local bodies that discharge a large number of developmental schemes.
Moreover, in each such category, 50 percent of the seats are reserved for women.
Unsurprisingly, most of these lower backward Muslims, called 'Pasmanda', have appreciation for Chief Minister Nitish Kumar, whose breaking off his alliance with the Bharatiya Janata Party in June 2013 has removed whatever little apprehension these Muslims could have had about the Janata Dal-United.
However, once you converse with the 'Ashraaf' communities of Bihar Muslims you will find them considerably confused between Nitish Kumar's JD-U and Lalu's RJD.
Mainly because during the Lalu-Rabri Devi raj (1990 to 2005), even though psychosocial empowerment -- more through rhetoric -- was provided to them, most of the state's patronage went to the 'Ashraaf' (Syeds, Shaikhs, Pathans) who don't constitute more than 25 per cent of Bihar's Muslims.
Lalu had extracted his protection votes from the 'Pasmanda', who usually suffered most in riots like the Riga-Sitamarhi riot of October 1992. Beyond a point of time they were not going to be content merely with protection, they now demanded promotion and empowerment.
Lalu refused to oblige even though they were organising and asserting through the 'Backward Muslim Morcha' (1994) and the 'Pasmanda Muslim Mahaz' (1998).
Thus, the question arises, why don't a majority of 'Ashraaf' Muslims seem to go for the JD-U?
Why do they overlook the considerably contained organised crime and fast-paced judicial conviction of around a dozen gangster politicians; the augmented supply of electricity; the enhanced agricultural production; better roads, bridges, and quite visible rural development?
Their argument stained with apprehension is: Nitish might go back to the NDA, which may perpetrate a pogrom like Gujarat 2002, notwithstanding his known aversion and assertion against Narendra Modi even while he was in the NDA.
Leaving this question there in Bihar, I moved on to interact with the Muslims of Uttar Pradesh, where they constitute around 18 per cent of the electorate and in a good number of seats are above 20 per ceent, hence of crucial electoral importance.
Quite a few of the students, teachers, and other employees of the Aligarh Muslim University seem to be in love with the Samajwadi Party of Mulayam Singh Yadav. They are campaigning for his party in Aligarh and elsewhere.
A few weeks back there was an attempt to welcome him to the AMU campus, to enhance his electoral prospects, but he had to cancel his visit amid protests.
Now, one wonders, even after a series of gruesome communal violence and massive dislocation of riot victims, mainly of the disadvantaged groups of Muslims, in Muzaffarnagar, not far from Aligarh, why do these (educated elite) Muslims continue to be with Mulayam?
More so, when the performance of the Akhilesh Yadav-led Samajwadi Party government in UP is horribly bad in terms of law and order, roads, electricity, etc.
Here, also, the intra-Muslim diversities manifests too prominently, not only in socio-economic terms but also in terms of electoral preferences as well.
The articulate and vocal sections of the Pasmanda-Dalit Muslims have made it known that their groups will be voting for Mayawati's Bahujan Samaj Party. I asked many of them if a majority of Muslims (the Pasmanda-Dalit segment of Muslims) are going in for the BSP in UP and for the JD-U in Bihar, then at least in order to avoid a split in Muslim votes (which will put the BJP at an advantage), why don't they join them?
Like Bihar, this segment of UP Muslims, too, offers the same argument: Mayawati may join the NDA.
The vexing question is: Why do sections of Muslims seem to prefer Lalu and Mulayam who symbolise wilful neglect of governance and development?
And the bigger question is: If at all Narendra Modi's 'pogrom image' is really so dreadful for the Muslim electorate, why don't they unite against the BJP, sinking their Pasmanda-Ashraaf division?
Why are they varying along caste-class lines in their electoral preferences at least in Bihar and UP, which together elect 120 parliamentarians out of a total of 543?
If at all Modi's 'pogrom image' is so repulsive for the Muslims, then why don't sections of Muslims get frightened with Mulayam as well?
An equally relevant question is: When will India's secular democracy provide space for its Muslim electorate to go beyond the logic of security so that their political participation and engagement involve questions of development and empowerment?
Is it appropriate to reduce the definition of secularism merely to anti-BJP and anti-NDA politics? Can this reductionism really contribute to strengthening and deepening secularism in India?
The fact of the matter is, because of this duplicity of character being displayed specifically by Ashraaf Muslims, the biggest disservice has been done to the cause of secularism, and considerably because of this, the appeal, validity, and sheen of secularism as an electoral slogan has faded miserably.
Howsoever tactically Narendra Modi has been smart enough to have largely avoided invoking communally divisive issues at least in this election campaign, and has rather preferred to talk of 'development', the statistical fact of which is of course contested by his opponents.
This is unlike the Congress, which has approached a thoroughly discredited cleric named Ahmed Bukhari to issue an appeal to Muslims to support the Congress. Amit Shah's recent statement of 'revenge' in Muzaffarnagar has, however, become an exception to the 'not-so-communal' Modi style of campaign in this election.
Thus, in this election, secularism per se is less at stake. What is more at stake is the degenerative, cynical, opportunistic, and discredit-worthy misuse of secularism by the non-BJP leaders and their social constituencies.
Mohammad Sajjad is an assistant professor, Centre of Advanced Study in History, Aligarh Muslim University. He is the author of two recently published books: Muslim Politics in Bihar: Changing Contours (Routledge, 2014), and Contesting Colonialism and Separatism: Muslims of Muzaffarpur since 1857, Primus, Delhi 2014.